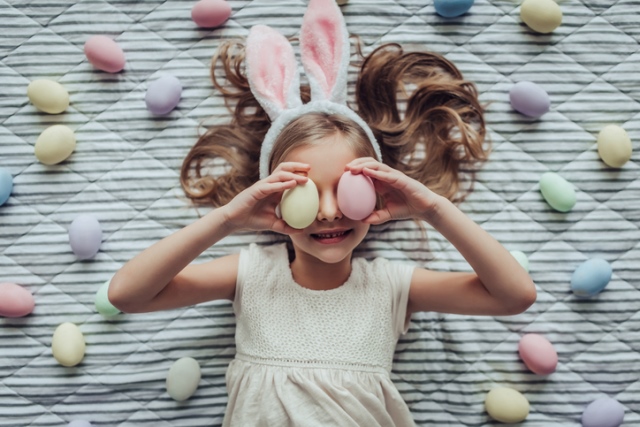 Still not sure where to enjoy Easter brunch? Well, hop to it! From specialty pancakes and cocktails to over-the-top brunch buffets, these Valley restaurants are going all out for the Easter holiday (April 1). Be sure to make reservations and check each restaurant's Web site for full menus and pricing.
Sanctuary on Camelback will be hosting a luxurious three-course prix fixe brunch (from 10:30 a.m. to 2:30 p.m.) with dish options like green chili pork stew, sweet corn and lobster chowder, miso-glazed Chilean seabass, spring veggie frittata and much more. Diners also have the option to enjoy a brunch buffet in the Views (from 10 a.m. to 2 p.m.), which will include a variety of seasonal favorites and carving stations.  And families shouldn't miss the egg hunt on the Sunset Garden at 9:30 a.m., which is open to hotel guests and spa members only.
Easter fun at The Wigwam kicks off on March 31 when families can stop by and enjoy breakfast with the Easter Bunny in the Wigwam Ballroom from 8 to 11 a.m. The resort also hosts a brunch buffet in the Wigwam Ballroom from 10 a.m. to 2 p.m. as well as a four-course prix fixe Easter brunch at the signature Litchfield's restaurants from 10 a.m. to 2 p.m.
Whether you are seeking luxury or a family-friendly spread, Omni Scottsdale Resort & Spa at Montelucia has a dining option for you. The Easter Bunny Breakfast on Saturday, March 31, features a full breakfast buffet plus kids activities for all ages including cookie decorating, crafts, an egg hunt plus photo opportunities with the Easter Bunny. On Sunday, April 1, take part in an Easter Brunch featuring pastries, a made-to-order crepe station, tapas bar, salads, on-ice items, paella, carving-board dishes, decadent desserts and much more in honor of the holiday. Reservations are taken by Haley Hill at 480.627.3111.
El Chorro dishes up a fab holiday buffet with a breakfast station, a carving stations, hearty entrees, tasty desserts and, of course, the restaurant's famous sticky buns. Some of the tasty dishes expected at the buffet include herb-marinated, slow-roasted turkey, dijon-and-honey-baked ham, ginger-saffron Scottish salmon, banana pancakes with macadamia nut sauce, carrot cakes, coconut macaroons and festive Easter cupcakes.
There's not just one, but two chances to do Easter at The Phoenician. The resort hosts Easter brunch on its 5th floor from 10 a.m. to 1:30 p.m., featuring live entertainment and a decadent buffet (with a griddle station, a saute station, indulgent breakfast eats, sushi and sashimi, fresh salads and much more). Then, from 5 to 10 p.m., J&G Steakhouse is dishing up a festive three-course dinner with the likes of salmon tartare, grilled lamb chops, seared scallops and many more options. For all reservations, call 480.423.2530. (The steakhouse's regular menu will also be available.)
Chefs from Fairmont Scottsdale's four restaurants are coming together to create one elaborate culinary feast in the Palomino Ballroom of the AAA Five-Diamond resort. With a whimsical indoor garden theme of fanciful trees, tea party sets and parasols, brunch features popular selections from Bourbon Steak, La Hacienda, Ironwood American Kitchen and Toro Latin Restaurant & Rum Bar, accompanied by decadent desserts from the resort's pastry shop. Easter Brunch will be served from 9 a.m. to 3 p.m. For hotel and brunch guests, egg hunts will take place every half hour, 10 a.m. to 4 p.m. on Sunset Lawn, and families can enjoy pics with the Easter Bunny and fun-filled activities at Bunnyland and Wonderland.
Hyatt Regency Scottsdale Resort & Spa's Easter Celebration features a brunch buffet in SWB, live music, a"larger-than-life" Easter egg, a very special petting zoo and Mr. and Mrs. Cottontail as they host their 31st annual Easter Egg Hunt (available to all resort guests and those joining us for Easter brunch). The Easter Brunch Buffet will be offering a variety of favorites like omelets made-to-order, soups, French toast, salads, sushi, pasta and more. There is even a special children's buffet. Brunch will be served from 10 a.m. to 4 p.m.
A bountiful brunch buffet, complete with irresistible desserts and included mimosas for adults, will be presented at CORE Kitchen & Wine Bar at The Ritz-Carlton, Dove Mountain this Easter Sunday. The special celebration will feature appetizers, made-to-order sushi, a fresh raw bar, soups, salads, breakfast and brunch selections, a chef's carving station, main courses, vegetables, sides and desserts.
Bring the family to celebrate Easter at Hearth '61 at Mountain Shadows with a scenic egg hunt complete with games, mimosas and Bloody Marys on the Mountain Shadows Lawn from 9 to 10 a.m. Then, indulge in a brunch buffet available from 9:30 a.m. to 2 p.m. Guests can enjoy a selection of  fresh salads, made-to-order eggs and delectable entrées and a dessert table.
LON's  at the Hermosa Inn offers a three-course Easter brunch, from 10 a.m. to 2:45 p.m. A cast iron skillet of LON's famous fresh baked brioche monkey bread welcomes diners as they then choose between six appetizers, six entrees and three desserts.
Four Seasons Resort Scottsdale at Troon North's annual Easter buffet will be served from 10 a.m. to 2 p.m. in Talavera, while Proof, an American Canteen, also will offer a brunch buffet from 7 a.m. to 1 p.m. as well as Easter Sunday Sauce Dinner specials. Kids will enjoy a bouncy house, Easter-themed crafts, egg decorating and face-painting. Plus, the resort's youngest guests can participate in two egg hunts at 10 a.m. and 1 p.m. Plus, the Easter Bunny will make special appearances throughout the day. Easter activities will be open to resort guests as well as Talavera and Proof brunch guests.
The Scottsdale Resort at McCormick Ranch, A Destination Hotel provides families with the perfect setting to join together and celebrate Easter. Enjoy a farm fresh Easter Brunch in the Vista Verde Dining Room from 10 a.m. to 3 p.m. Following the gourmet meal, guests are invited to enjoy an afternoon of family activities hosted in the resort's picturesque Bennie's Courtyard.
JW Marriott Desert Ridge Resort & Spa offers a variety of buffets and menus that will make every bunny very happy. Wildflower Ballroom & Terrace offers a sunrise breakfast buffet from 6:30 a.m. to noon; stonegrill has a brunch experience from 10 a.m. to 3 p.m.; and MERITAGE, an urban tavern offers a decadent Easter dinner from 5 to 10 p.m.
T. Cook's at Royal Palms is offering two options for Easter Brunch. T. Cook's Easter brunch takes place from 10:30 a.m. to 3 p.m. which includes a chilled starter buffet, choice of entrée and dessert buffet. The Easter Ballroom Buffet, which is not bookable online, takes places from 9:30 a.m. to 2 p.m. The resort's egg hunts are open to brunch guests and resort guests; there is one at 10 a.m., one at 1 p.m. on the Vernadero Lawn.
Sonata's Restaurant will be hosting an Easter brunch event from 10 a.m. to 5 p.m. with a visit from the Easter Bunny and complimentary gifts for children.
Guests are invited to the Original Breakfast House on Easter Sunday from 6:30 a.m. to 2 p.m. to dig into scrumptious specials like shrimp and grits and tres leches pancakes in honor of the holiday.
Celebrate the Easter holiday at Camp Social with a festive brunch from 10 a.m. to 3 p.m. Guests can enjoy live music, bottomless mimosas, camp-style Bloody Marys and plentiful specialty offerings.
The Boulders Resort & Spa will be celebrating the Easter holiday with a luxurious Champagne brunch with live music. Guests will be treated to a grand seafood display, fresh seasonal fruit and artisan cheese station, a salad station carving station with meats, a dessert display and more from 10 a.m. to 3 p.m.
Roaring Fork hosts a gourmet Easter brunch with a rugged western edge from 10 a.m. to 2 p.m.  The buffet-style menu offers a bread table, savory cold and hot item station, egg and meat carving tables as well as a tasty dessert station.
Mastro's offers a memorable menu including an omelette station, assorted pastries and bagels, smoked salmon, carving stations, cheese and fruit, chilled seafood and a sushi display for the holiday. This not-to-be-missed buffet brunch menu and are available from 9:30 a.m. to 2:30 p.m. on Easter Sunday.
Organ Stop Pizza presents the 2018 Easter Musical Lunch from 11:30 a.m. to 1 p.m. Enjoy a relaxing and family-friendly lunch of all-you-can-eat pizza and concert on the Mighty Wurlitzer.
From 9 a.m. to 3 p.m., The Market Restaurant + Bar by Jennifer's dishes up a selection of festive dishes for the holidays, like lamb chops, quiche and coconut cream pie.
Beginning at 10 a.m. on Easter Sunday, Tavern Americana diners can enjoy specialty Easter brunch menu items, like lemon ricotta pancakes and pink grapefruit Brûlée,  in addition to the restaurant's regular menu offerings. Even kiddos has special holiday items to dig into.
Artizen Crafted American Kitchen & Bar at The Camby hosts a delectable Easter brunch that includes live music and a photographer taking complimentary family photos. This year's springtime feast features a salad station alongside classic carving station as well as breakfast eats.
L'Auberge de Sedona, A Destination Hotel offers a brunch buffet from 9 a.m. to 2 p.m. at Etch Kitchen + Bar. The buffet will include an array of chilled selections, imported and domestic cheese, a carving table, an iced seafood display, an array of sweet selections and more.
The Easter special at Chase's Diner is buttermilk carrot cake pancakes topped with homemade cream cheese frosting.
Celebrate Easter Sunday with a special brunch menu handcrafted by Chef Joe Absolor at Stock & Stable, available from 10 a.m. to 2 p.m. and dishing up the likes of biscuits and gravy, salmon and eggs, avo toast and more.
Enjoy the best of Italy with an antipasto buffet and dessert bar, paired with your choice of classic Italian-style brunch fare and sparkling cocktails, during Easter brunch at Fat Ox from 10 a.m. to 2 p.m. Don't miss the banana ricotta pancakes and cacio e pepe scramble.
Come celebrate Easter with a decadent Sunday brunch at TEXAZ Grill with delicious specials to celebrate.  Diners can enjoy grilled ham steak, served with classic red-eye gravy, along with choice of potato and salad, along with a slew of Sunday brunch faves.
From Thursday to Sunday, Peter Rabbit Afternoon Tea will be served with seating's available at 11 a.m., 1 p.m. and 2 p.m at  Arizona Biltmore, a Waldorf Astoria Resort.  An extravagant Easter brunch buffet will be offered at Wright's from 9 a.m. to 2:30 p.m. while Frank & Albert's will serve an prix-fixe Easter dinner menu from 5 to 10 p.m.
Liberty Station American Tavern and Smokehouse offers two exclusive dinner specials: garlic-crusted smoked prime rib and pan-seared U-10 scallops. Easter dinner begins at 5 p.m.
Gertrude's at Desert Botanical Garden entrance is offering two menu specials to commemorate the holiday. The restaurant has brought back its popular Lambchetta from when the restaurant first opened five years ago as well as sweet monkey bread. Specials are available starting at 10:30 a.m. until they are sold through.
BRIO will celebrate springtime with fun-filled Easter activities for kids, a photo opportunity with the Easter Bunny himself and of course a delicious brunch with eats like berries and cream French toast, Sicilian omelets, special kid meals and more from 8 to 10:15 a.m.
Zinburger Wine & Burger Bar will feature a delicious Easter special: The Brunch Burger, made with a Wagyu beef patty, ham, fried egg and hollandaise sauce.
Easter specials at True Food Kitchen include spring asparagus and leek soup, spring asparagus toast and the seasonal ingredient salad. Featured beverages offer a sneak peek of those that will be offered on the restaurant's spring menu, launching April 11, including a Strawberry Smash, Lemongrass Margarita, and Cucumber Cooler.
At the Greene House, guests can unwind while feasting on Easter specials: stuffed French toast, spring vegetable frittata, and $6 mimosas and Bloody Marys. These will be offered in addition to the regular menu until 3 p.m.
Little Cleo's will offer as an Easter special from 11 a.m. to 3 p.m: the Fruity Pebble French toast, in addition to guest favorites such as the "Bacon & Eggs" featuring house-made sturgeon bacon.
Opening early at 9 a.m., Olive & Ivy will offer all its brunch favorites plus an Easter special of smoked salmon benedict (until 3 p.m.) and several items from its dinner menu.
Save a spot at one of three seatings (10 p.m., 12:30 p.m. and 3 p.m.) and enjoy chef-manned food stations including: fresh raw bar full of seafood favorites, seasonal spring salads, pastas, charcuterie, made-to-order omelets, breakfast items, and a carving station featuring prime rib and Easter ham and more at The Wrigley Mansion.
This Easter, grab your family and head to Blue Hound Kitchen & Cocktails from 11 a.m. to 5 p.m. where Executive Chef Sean Currid will be preparing a picnic-inspired buffet for the holiday featuring an array of Southern classics.
Diners can enjoy a hearty Easter feast at Rusconi's. The brunch menu features an array of starters, main courses and desserts, including cast-iron short rib hash, steak and eggs, lemon biscotti cheesecake and more.
Ocean Prime in Phoenix offers a special brunch menu for the holiday starting at 12 p.m., including quiche, crab and eggs, blackened salmon salad, delish cocktails and more.
Beckett's Table will host an Easter dinner starting at 4 p.m. Highlights include Easter deviled eggs colored with saffron, beets and spinach, complete with "peas and carrots" garnish. Chef Beckett will also offer Mcclendon asparagus with chopped egg, confit tomatoes, pancetta, and roasted garlic cream. Half-off bottles of Arizona wine will also be available.
Southern Rail will celebrate with an Easter Brunch where patrons can enjoy Chef Beckett's beloved brunch items including red velvet pancakes, Croque Monsieur and more. Additionally, the weekly Jazz & Jambalaya Series will take place from 5 to 8 p.m. on the patio. Half-off bottles of Arizona wine will also be offered all day.
Voila French Bistro in Scottsdale hosting a three-course prix fixe Easter brunch with dishes like Escargots de Bourgogne, Quiche Lorraine, lamb stew and more.
Bourbon & Bones hosts a divine Easter brunch with oysters, bacon and eggs, a variety of salads, hearty steaks, decadent sides and much more.
Featuring live music, $20 bottomless mimosas and Bloody Marys with penny refills, Old Town's Famous 48 is hosting a fun-filled brunch from 9 a.m. to 3 p.m. with eats like breakfast poutine, breakfast burrito, chicken and waffles, monkey bread and more.
Let Steak 44 and Dominick's Steakhouse do the cooking this Easter Sunday, with a special brunch menu being served from 11 a.m. to 3 p.m. Both Scottsdale restaurants will offer its full menu along with the special brunch menu that includes tasty appetizers, salads, entrees and sides (think filet mignon with fried egg, Shetland Island salmon, Maryland-style lumb crab cake and much more).