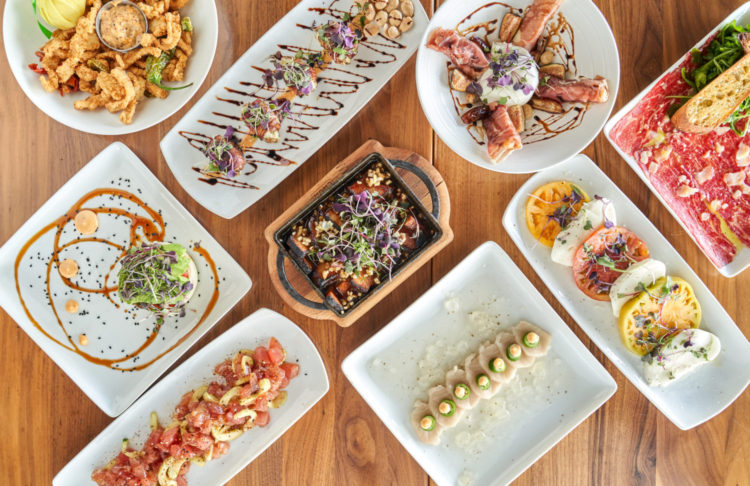 Bourbon & Bones Chophouse | Bar, the popular boutique steakhouse in Old Town Scottsdale, despite all odds in this COVID-19 environment, is set to open a second location in Gilbert, at San Tan Village, to deliver its brand of elegant-yet-unpretentious fine dining in the East Valley region.
Bourbon & Bones is part of Scottsdale-based restaurant group Square One Concepts, founded by President & CEO S. Barrett Rinzler in 2011.
There's a demand for fine dining in the East Valley. We're honestly thrilled to deliver our specialty chophouse to a community that's perhaps underserved and appreciates fine food, fine wine, custom cocktails, and the taste of great bourbon.

Bourbon & Bones was created to offer a high-quality dining experience in a welcoming atmosphere. This one has been in the planning stages for well over a year and means a lot to us; it's larger than our flagship in Scottsdale. We've taken time to carefully develop the interiors and the team is excited to welcome guests in the New Year.


– President & CEO S. Barrett Rinzler
Since opening the flagship location in September 2016, in Old Town Scottsdale, at 4200 N. Scottsdale Road, Bourbon & Bones has proven to be a favorite, offering high-quality fine dining with a sommelier-curated wine selection, a robust cocktail program, and Arizona's largest collection of bourbon, set in a lively, yet intimate atmosphere.
The inviting, luxurious bar has proven to be exceptional, with comfortable seating, unpretentious service, and prime open-window views of passers-by and the energy of Scottsdale itself.
The Gilbert location will have a larger footprint at 6,750 square feet compared to Scottsdale's 4,000-square-foot interior.
The San Tan Village location will feature a contemporary interior with a palette of white and gray tones in contrast to the flagship's browns and modern rustic style. Two dining rooms are featured in addition to a private dining room for up to 50 guests.
Sommeliers also will oversee this larger wine installation of nearly 1,500 bottles ranging from popular labels to serious connoisseur selections; also available is the extraordinary Coravin wine service that preserves ultra-expensive open wine bottles for weeks, months and even years, yielding 'by the glass' options of rare varieties.
And, of course, delivering on its name is the largest list of bourbon and whiskey varietals in Arizona, nearly 600, including some of the rarest selections available to the public anywhere.
This Bourbon & Bones bar itself here will be larger with more booths, large chalkboards and sliding glass doors separating it from the patio, conveying a contemporary lounge-style atmosphere.
Classic cocktails — the Old Fashioned, Manhattan, and Martini – also will be offered tableside from a custom drink cart in the dining room and in the bar, delivering a level of luxurious old-world style service.
The renowned Bourbon & Bones Happy Hour menu, as in Scottsdale, will feature The Devil's Cut, Hot Rock of thinly sliced wagyu, a hot rock for guests to cook-to-taste at their table and dipping into sweet chili glaze and ponzu sauce; a Steak Frites of tenderloin tips, garlic butter, fries, and black garlic aioli; Crispy Calamari; Prime Rib Sliders and the not-to-be-missed Bourbon & Bones Burger – which raises this bar to celebration-worthy.
The Bourbon & Bones main event is dining, of course, and a larger a la carte steak selection here includes traditional wet-aged and dry-aged cuts with even more Wagyu offerings, such as the indulgent Wagyu Rib Cap. A myriad of cuts is featured such as the Bone-in Filet Mignon, a Prime Tomahawk Ribeye, and a Prime Bone-in New York Strip; plus Rack of Lamb, a Dry Aged Pork Chop and even a Buffalo Ribeye leave little for wanting.
Elegant options for fresh seafood include Seared Ahi Tuna, Chilean Sea Bass, Pan Seared Scallops, and Seared Salmon. Soups, salads, and side dishes such as Sautéed…Wild Mushrooms with thyme and shallots, Brussels Sprouts with bacon and a bourbon glaze and a Truffled Lobster Mac 'n Cheese, among others, round out an elegant meal easily topped off by an ample dessert menu of Warm Apple Crumble, Bourbon Butter Cake, Lemon Puff Pastry and more.
About Bourbon & Bones Chophouse|Bar.
Bourbon & Bones, part of Square One Concepts, launched its flagship location in 2016 in Old Town Scottsdale and opens a second location in January 2021 in Gilbert at San Tan Village. The modern, upscale chophouse and bar boast the largest selection of bourbons and whiskeys in Arizona matched by a classic handcrafted cocktail program and among the largest selections of fine wines in Arizona.
An exciting fine dining experience is delivered with a modern twist, elegant yet unpretentious. The menu features top-quality dry and wet-aged steaks including bone-in cuts and chops, fresh seafood, and signature side dishes in convivial settings.
Bourbon & Bones is open Sunday-Monday 4pm-9pm; Tuesday-Thursday 4pm-10pm; Friday-Saturday 4pm-11pm. Bar opens at 4 pm seven days a week; Happy Hour Monday-Friday 4 pm-6 pm.
Visit BourbonandBonesAZ.com for more. Follow on social media @bourbonandbonesaz and Twitter @boubonbonesAZ