Gluten-free restaurants have skyrocketed over the past couple of years, leaving lettuce-wrapped burgers and grilled chicken on the sidelines. According to the Celiac Disease Foundation, one out of 100 people have celiac disease. Check out these five local restaurants that offer gluten-free alternatives without compromising taste or quality.
With over 17 gluten-free entrees on the menu, Flower Child offers gluten-free diners a variety of delicious food to choose from. Gluten-free menu items range from green salads and wraps to chicken enchiladas and white cheddar mac & cheese. The menu includes a handy key directing guests on which items are vegetarian, vegan and gluten-free.
Flower Child has multiple locations throughout Arizona in Phoenix, Scottsdale, Tempe, Tucson, Chandler and Gilbert.
Gluten-Free Creations was founded with the sole purpose of helping people with celiac disease enjoy delicious food. In addition to not using gluten in any of their edible creations, their products are 100% free of top allergens, such as egg, dairy, soy, tree nuts, peanuts, corn, yeast, processed white sugar and grains.
Gluten-Free Creations handcrafts gluten-free loaves of bread, bagels, scones, biscuits, cakes, donuts, muffins and cookies daily. Many of their bread and pastries are sold throughout restaurants in the Valley.
Gluten-Free Creations Bakery has two locations: 7607 E. McDowell Road Scottsdale, AZ 85257 and 10880 N. 32nd St, #39, Phoenix, AZ 85028.
At Jewel's Bakery & Café everything on the menu is 100% gluten-free including their hand-battered fried curds, pickle chips and classic chicken & waffles. The restaurant is dedicated to providing delicious gluten-free comfort food and also offers some vegan-friendly dishes.
Jewel's Bakery & Café is located at 4041 E. Thomas Road, Ste. 101, Phoenix, AZ 85018.
In addition to selling strawberry and turmeric matcha lattes, Matcha Grove makes 100% dairy-free and gluten-free pastries and breakfast items. Every day they sell gluten-free avocado toast, almond butter toast and homemade waffles topped with maple syrup and fresh berries. Matcha Grove rotates their gluten-free and dairy-free sweet treats. Matcha donuts, coffee cakes, energy bites, cookies, pop-tarts and cinnamon rolls show up on the menu frequently.
The shop is located in Gilbert, but can also be found at the Uptown Farmers Market in Central Phoenix most Saturdays.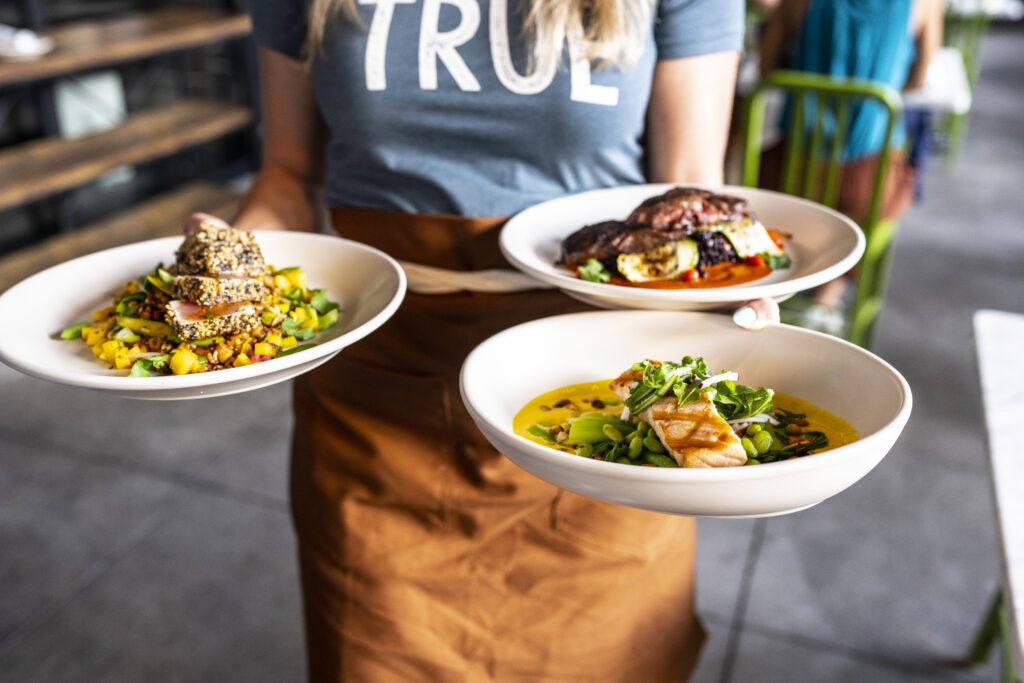 With three locations across Arizona and one recently opened to-go-only Tempe location, True Food Kitchen is dedicated to making hand-crafted dishes sourced from high-quality ingredients. True Food Kitchen offers many gluten-free alternatives to their classic dishes and can customize orders based on specific dietary needs.
While the restaurant is not 100% gluten-free, servers alert the kitchen staff when an allergy is present and the kitchen takes extra precautions to avoid cross contamination. Gluten-free menu options range from lasagna bolognese and bone broth chicken ramen to flourless chocolate cake and cookies with ice cream.