Have you ever heard of a tequilier? I hadn't either until I met one at the Marriott Puerto Vallarta's tequila tasting.
Yes, that's right — a tequilier. Like a sommelier, but rather than knowing anything and everything about wine, a tequilier knows anything and everything about . . . tequila!
Before we get into the resort's fabulous tequila tasting program, let's first dig deeper into the history of this spicy spirit that goes way back to before tequila shots followed by lime were even a thing.
---
Tequila is a very important piece of the incredibly rich Mexican history, and this spirit's presence in its culture dates back to 200 A.D.
The drink that existed back then was not the clear tequila we know today. It was a milky liquid called pulque, made from the sap of the agave plant by the Aztecs. And it was a big part of their culture that they greatly honored. In fact, they had specific gods that represented pulque.
The agave plant was used throughout the years for various purposes, but it wasn't distilled until many many years later (around the mid-1600s), when the Spaniards built the first ever major tequila distillery in yep, you guessed it — Tequila, Jalisco.
Over the next few hundred years, tequila grew in popularity, and when the Cuervo family joined the scene, it changed tequila forever. Tequila's reach extended to the U.S. in the mid-1900s, and that's when the margarita we know and love today was born.
With the realization that this local spirit was a craze taking over not only Mexico, but the United States as well, the Mexican government decided to make the term "tequila" its own intellectual property in the 1970s.
After this, similar to Champagne, one could only make and label tequila as truly tequila if it was produced in Tequila. For other countries to make and sell their own "tequila" from this point forward become illegal.
---
And that history lesson takes us to current day, where tequila is hotter than ever. Even George Clooney himself jumped on the tequila train by creating a tequila brand of his own.
However, there is no better place to really experience tequila the way it was meant to be than Mexico.
And Marriott Puerto Vallarta has created a beautifully magical tequila experience that shows there is so much more to tequila than a shot down the hatch.
The resort's Tequila Education Program takes guests through a "proper tasting." This tasting does not involve any shot taking — the varieties of tequila are served rather in Champagne flutes.
And, much like a wine tasting, each tequila during the tasting is paired with a cheese and fruit that help to bring out the flavors in the tequila, and compliment its taste.
Tastings happen either in the resort's La Cava wine cellar, or it's dreamy herb garden, and are hosted by Audrey Formisano, Marriott PV's Tequilier.
You are guaranteed to love listening to her walk you through this spirit you likely have never given much thought to.
Formisano's passion for not only tequila, but Mexico itself is evident in her knowledge and the excitement you can feel from her talking about tequila.
But how did she get here?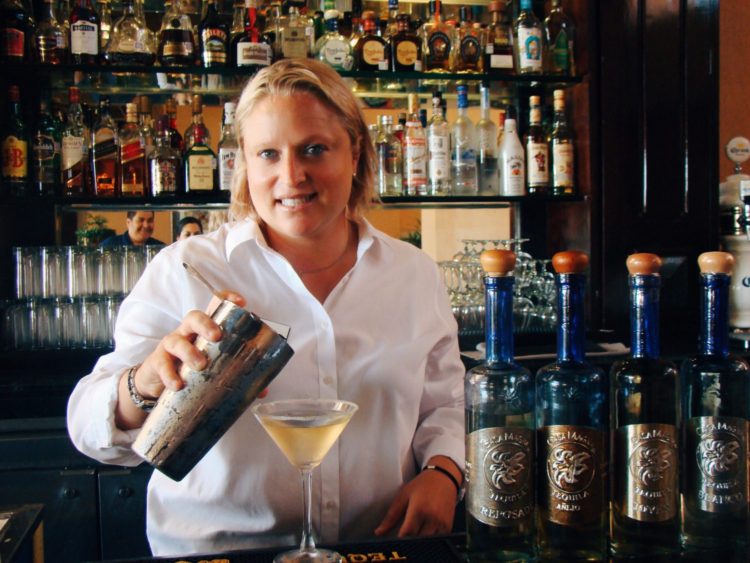 Formisano originally came from France where her degree in service and hotel management, paired with her sommelier certification, led her to the United States to work with the Royal Caribbean cruises.
When she decided to move to Puerto Vallarta in 2002, she fell in love with the region and its spirit, and has stayed there ever since.
Marriott PV welcomed her to the team in 2003, and it was at the resort that Formisano's interest in tequila bloomed. From there, she earned her tequilier certification and the tequila program at the resort really took off.
But the idea of a big tequila program began years before Formisano with former general manager, Dennis Whitelaw. He recognized that most travelers to the resort had no idea that they were in the heart of where tequila got its start, and wanted to change that.
Thus, he came up with an idea completely outside the norm for a massive chain hotel: for Marriott Puerto Vallarta to create its very own custom tequila.
Whitelaw loved the focus this would bring to the local experience in Puerto Vallarta, and loved that guests would be able to take a piece of Mexico (and the resort specifically) home with them.
Once Formisano was a part of the Marriott PV family, the resort's own tequila, and the over 180 other glasses of tequila it offers became a major draw for travelers.
Though it's gone through a few iterations over the years, the resort's tequila, called CasaMagna, exists proudly today as an exquisite tequila that exhibits the flavor, history, and culture of the area in one bottle (to be sipped, not shot, of course).
The resort's Tequila Tasting is free to Marriott Rewards members, and just $15 USD for non-members.
---
Though it sometimes steals the show, the tequila is far from the only fabulous thing about Marriott Puerto Vallarta.
This place is so stunning we could go on about it for days.
But here are some highlights:
The Spa
Ohtli Spa at Marriott Puerto Vallarta is the largest spa in all of PV, measuring in at a whopping 22,000 square feet. Head here for your classic favorite treatments, or try the resort's signature Jantzu Rebirth Therapy that is life-changing.
The Food
With four restaurants on the property, Marriott PV makes sure you never go hungry. Las Casitas, Mikado, La Estancia and Champions Sports Bar have been favorites for years. And the resort's brand new Ceviche & Tequila Bar provides a fun and authentic experience to guests that you won't want to miss.
The Views
The resort's 433 guest rooms that include 29 suites all feature a private balcony or terrace that provides views out to the stunning ocean. We dare you to try and wake up without a smile on your face with that view.
The Turtles
Marriott PV has its own Sea Turtle Rescue Program that has been preserving the local turtles and their habitats for 11 years. In that time, over 4,000 nests have been incubated at the nursery, and over 1,200 have been incubated in their original natural homes on the beach. Experience the love of the turtles yourself by heading out to the beach at either sunrise or sunset for your chance to set the hatched turtles free into the ocean.
---
There is much fun to be had at Marriott Puerto Vallarta. Whether you're traveling with a family, in a group, as a couple, or alone, you will love what this resort offers, and the authentic Mexican experience you will have while here. And with a little bit of tequila, you'll love it even more.