The summer heat is approaching its highest temperatures and it is the perfect time to escape and take a break. Travel close to home and soak up a climate vastly different from the sunny days in Arizona. San Francisco has an endless amount of activities, restaurants and memorable adventures that will fill each day with utter delight.
1. Hike to Golden Gate Bridge
The Golden Gate Bridge is a true icon for San Francisco but is also a site you don't want to miss. Though there are numerous ways to get to the bridge, the most scenic route is through Golden Gate Park. Rent a bike, walk or blade along the path and experience the true bliss of the natural beauty of this city. The exquisite views along the path with the ocean breeze blowing your way makes for a memorable way to travel to the bridge. Visit Golden Gate Park Rentals for more information.
2.  Experience Retro Dining
San Francisco is known for having incredible cuisine. Whether you are looking for traditional Italian food or a delectable breakfast, there is something perfect for you. Mama's on Washington Square is recognized nationally for its delicious breakfast and lunch items. Arrive before 8 a.m. if looking to eat a quick meal because the line forms outside of this authentic restaurant early. If looking for old school americana, try out St. Francis Fountain diner. The mac and cheese is marvelous and the ice cream sodas are frothy. For more information on places to dine, click HERE.
3. Escape to Alcatraz
Though this infamous prison is no longer in use, Alcatraz remains a popular attraction with over a million visitors a year. Walk through the main building and look into the actual cells of some of the most well-known criminals. The audio tour will guide your journey through the prison while providing personal accounts from former inmates. This prison tour is both fascinating and chilling and is an attraction you must see. Purchase tickets in advance at www.alcatrazcruises.com.
4. Cheer on the San Francisco Giants
Travel to AT&T Park and be a part of an essential San Francisco experience. This baseball crowd has something to offer for everyone, whether you love the game or you are simply looking for a fun outing. The Bay is also home to the Oakland Athletics. Root for the Athletics and create the perfect downtown adventure to check off the list. Purchase tickets for the games at the Giants official website.
5. Chomp on Clam Chowder in Fisherman's Wharf
Fisherman's Wharf is well-known for two savory items: sourdough bread and clam chowder. Why not kill two birds with one stone? With seemingly endless options and restaurants at every corner, the Wharf offers a wide variety of clam chowder. The chowder in the sourdough bread bowl is the perfect combination and a savory flavor you have to taste. Click here to find out some of the best places to find clam chowder in the Wharf.
6. Explore the City by Bike
There is so much to see and do in San Francisco but the distance can add up. Rent a bike and venture into the heart of the city or travel along the coast while being able to accomplish more tasks on your list. If you are looking for a challenge, bike down Lombard Street and enjoy a scenic view down a crooked path. To find out more information on bike rentals or other forms of transportation, click HERE.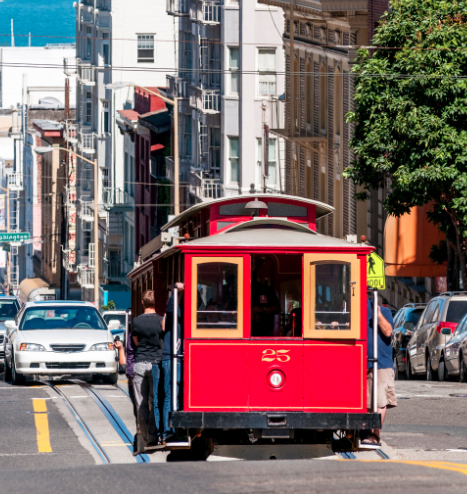 7. Hop on a Cable Car
Want to only spend a few dollars but experience a retro-style tour of the city? The San Francisco cable cars give you a roller coaster ride through the city's neighborhoods and hills, from Union Square to Fisherman's Wharf. This is your ticket to ride and experience an artifact of time before buses and cars. If you're looking for an extra thrill, hang off the running boards and feel the breeze pass you by. For more information, visit San Francisco Cable Cars.
8. Discover Magic at the Walt Disney Family Museum
Hidden behind the natural beauty of Presidio, The Walt Disney Family Museum is worth a visit. Whether you are a Disney fan or just a fan of incredible animation, you will find the museum fascinating. Learn about Walt Disney and his creative mind as you explore the history of old favorites. There is also a scenic view of the Golden Gate Bridge and a path from the museum to take through the park. Visit Walt Disney Family Museum for more information on specials, exhibits and tickets.
9. Climb the Filbert Steps to Coit Tower
Take a hike up to this 180-foot cylindrical tower and experience the city from above. A landmark that stands out in the city skyline, the Coit Tower offers a full view of San Francisco and the surrounding bay. Climb the Filbert Steps up to the tower and encounter natural wildlife on the way. From these heights, you can see the hills and curved streets of the city with an incomparable view of the ocean. Find out more about the Coit Tower and the ride to the top of San Francisco HERE.
10. Three Countries in One 
Travel to North Beach and experience the culture, cuisine and lifestyle of other countries. China Town and Little Italy are within walking distance and are iconic attractions in the North Beach area. Eat a fine Italian dinner or shop the streets of China Town and embrace the aspects of these countries while walking through San Francisco. This area has a wide variety of cultural events and historical landmarks as well as delectable cuisine you won't want to miss. Visit North Beach and learn more about these attractions and other exciting destinations.