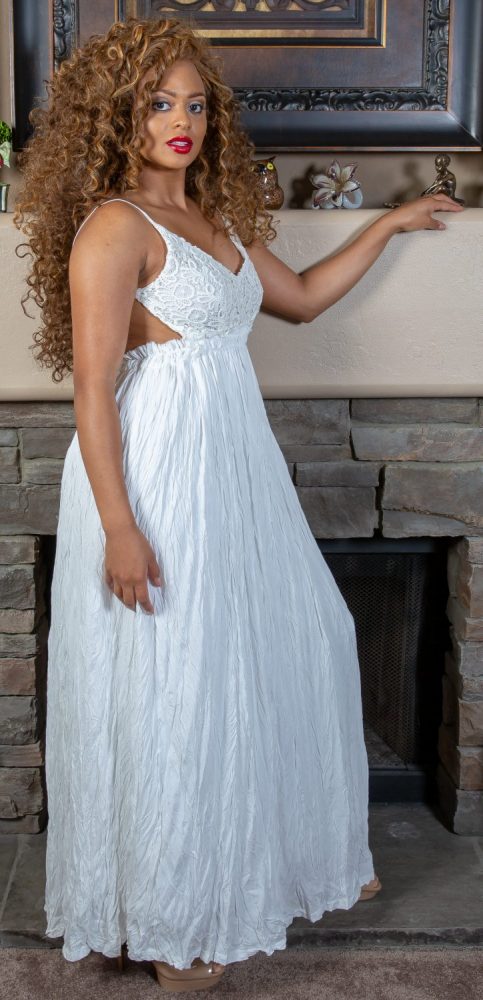 Name: Victoria Ligons   
Age: 26
Title: Creative Director at The Arizona Healing Haven Project, Operations Manager for Children's Justice and Secretary at Wyman Grading and Excavating.
Married/Single: In a Relationship
Kids: 0
City you live in: Scottsdale, AZ
A typical day in my life includes…
waking up bright and early ready for the day. Head to the gym then to my office where I handle all the administrative/clerical duties. Then head to the grocery store and prepare for dinner. Sometimes during my workout I am working and answering phone calls. Sometimes I must stay at the office until 8pm if an urgent matter crosses my desk. I have a very structured routine, however every now and then you must deviate from the norm to get certain tasks completed.
I was born…
Phoenix, AZ.
My favorite thing about Arizona…
there so many things I love about my home state. The weather is always sunny and bright and very low humidity.
I'm listening to…
Audible – Joel Osteen, "Blessed in the Darkness – How all things are working for your good." I am absolutely obsessed with audio books. I am not much of an avid reader, because my schedule is so hectic at times. When I am having a hard day or have come a crossed an obstacle whether in personal/business I research audio books. They give me the best advice from some of the most educated people.
My family…
I have a big family. My mother and father are Linda and Charles, my sisters are: Olivia and Majesty. My brothers are Kambre'l, Charles Jr, and Christopher. The nice thing is most of my family lives in Arizona so whenever we have holiday get togethers we all gather, and it is like a huge party. I am so blessed and grateful to have such an amazing family
If I could have dinner with anyone, it would be…
Condoleezza Rice. I grew up watching her on CNN and she was an individual that motivated me to be the best that I can be. She was the first black woman US National Security Adviser and Secretary of State. When you see a woman who looks like you, breaking down barriers, it makes it tangible rather than impossible.
One thing I cannot live without…
music. Everywhere I go I am always listening to music. Music makes you feel inspired and it also can make you feel sad. You can listen to a song and get lost in the moment. Somehow the music can take you back in time like it's a time machine, it's fascinating. If I have a certain project that I want to work on, I surround the entire theme around the music. I feel that the music is the heart beat to any story. When I am watching a movie, they have music to match whatever feeling that the director wants you to feel in that moment. I love music.
When I was younger, I wanted to be…
a dancer. I have been dancing my entire life. I knew in my heart that's what I wanted to do. My junior year my dance teacher arranged private dance lessons with a ballerina from New York. Before I could make it to my first practice, I tore both of my hamstrings and my dance career was over.
I'm inspired by…
the underdog. I love stories about individuals that have started from a dark place and when there were no possibilities. Somehow they made a way through and became more than they could've imagined. Stories like those are proof that there is a God!
The one person who motivates me is…
my best friend! He is always encouraging and believes in hard work and dedication. He is the hardest working person I know, and he motivates me every day.
If I could change anything in the world, it would be…
child abuse and neglect. This issue is very close to my heart. I have worked with children whom have been abused and neglected and its absolutely devastating. There're over 18K children in Arizona that are in foster care. I believe that a way to help bring that number down is to educate parents, on every aspect of parenting. You would be surprised how many parents didn't educate themselves before having a child. Understanding the do's and don'ts to parenting is very important and will change your child's life.
The perfect day would be…
sitting on the beach in Hawaii watching the waves with my boyfriend drinking pina coladas.
My first job was…
a Starbucks Barista. This job was so much fun! I wasn't a coffee drinker back then, but Starbucks would let us drink as much as we wanted, take as much as we wanted home, and we can get the snacks that were about to expire. I would talk to everyone coming in and my coworkers were all older than me and fun.
My favorite escape…
taking a warm bath with the lights off, my essential oil lavender mister, and thunder/rain sounds. This is so relaxing. If I am not home, watching some drama filled TV shows on my phone: The Real Housewives of Atlanta, Being Mary Jane, and Love and Hip Hop.
My life…
is fantastic! I am so blessed to have people that love me. I have a beautiful home, a reliable vehicle, I am healthy, and I thank God for it every day!
I'm currently working on…
a fundraiser to help pay for Najwa Pollard's education fund. This young girl was in a juvenile detention center for 4yrs because a family member wouldn't discharge her from the facility. She was one of the cast mates on "Girls Incarcerated" on Netflix. Watching her in the facility was really heart breaking, because she didn't know when she was going to leave the facility. She already served her time, but they couldn't release her because she wasn't of age. She had to have a family member release her. So, she waited 4yrs in that facility thinking that she was never going to leave. I wanted to do something to help her, so I started a fundraiser to pay for her college education. College is expensive, but education is the way to turn this negative situation into a positive one. (www.gofundme.com/najwapollard)
Always…
live your life as if it really mattered.
Never…
let it rest, 'til your good is better and your better is best.
Favorite Quote…
"It is not the critic who counts; Not the man who points out how the strong man stumbles, or where the doer of deeds could've done them better. The credit belongs to the man who is actually in the arena, whose face is marred by dust and sweat, and blood, who strives valiantly; who errs and comes short again and again; because there is not effort without error and shortcomings; but who does actually strive to do the deed; who knows the great enthusiasm, the great devotion, who spends himself in a worthy cause, who at the best knows in the end the triumph of high achievement and who at the worst, if he fails, at least he fails while daring greatly. So that his place shall never be with those cold and timid souls who know neither victory nor defeat" – Theodore Roosevelt.
Biggest Dream…
to build a facility with my family to house 2,000 foster children.
My Pet Peeve(s)…
self-centered, arrogant individuals and pessimists. This life is way too beautiful and there are so many causes that you can help. Find something and get involved!