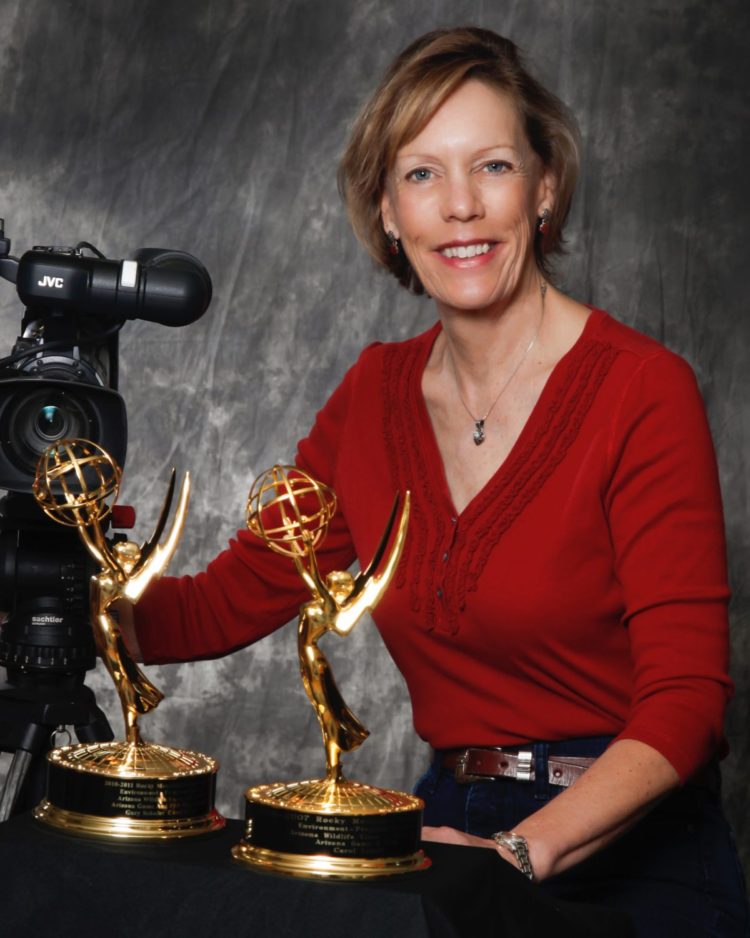 Name: Carol Lynde
Twitter: No
Facebook: https://www.facebook.com/carol.lynde.5/
Instagram: I really need to do this, one of these days.
Website: www.tallpaulproductions.com
Age: Older, but wiser.
Title: Videographer/Editor/Producer/Owner: Tall Paul Productions
Married/Single: Single
Kids: Honey Bear and Harry, yes they both have four legs.
City you live in: Phoenix
A typical day in my life includes… Enjoying my own coffee blend (the Lynde Blend), hiking a portion of the Phoenix Mountain preserve with my dog, tending my garden (it's so empowering to grow some of your own food), maybe getting some video editing done and chasing backyard critters with my camera. (Why won't those hummingbirds stand still?!) 
I was born… Technically in Illinois, but my parents moved to Arizona when I was just a baby so I consider myself a native.
My favorite thing about Arizona… It's sense of Western independence and the weather. In the winter. 
I'm listening to… I listen to a lot of 70's music when I work out. In the car I like to follow the financial markets on CNBC and Fox Business stations.
My family… Is wonderful. I have a big brother and nephew and a bunch of great- nieces and nephews in the East Valley who I adore.
If I could have dinner with anyone, it would be… My father.
One thing I cannot live without… My dog
When I was younger, I wanted to be… A dancer
I'm inspired by… Nature and beautiful nature videos.
The one person who motivates me is… Jody, she and her husband have a horse ranch in Montana where I spend part of the summer, she is an amazing horsewoman, businesswoman, gardener, Happy Hour connoisseur and one of the most positive people I know. I strive to be like Jody.
If I could change anything in the world, it would be… Less disease and more love. 
The perfect day would be… On horseback, riding somewhere beautiful with good friends.
My first job was… Working a cotton candy and corn dog booth at Legend City
My favorite escape… Montana in the summer.
My life… Took off when I stumbled into a career as a TV news photographer way back in the 70's.  That career path has taken me to places and shown me things I never could have imagined.
I'm currently working on… Producing fundraising videos for a historic stone barn in Sun River, Montana, and serving on the board of governors of the Rocky Mountain Southwest Chapter of the National Academy of Television Arts and Sciences.
Always… Help the next person up the ladder. It's repayment to the people who helped you succeed. 
Never… Take love for granted.
Favorite Quote… I have two: "You don't drown by falling in the water, you drown by staying there" and "Don't look back, you're not going that way."
Biggest Dream… I'm lucky, I've achieved many of my professional dreams, but I'd love live in the country with lots of critters and someday produce the ultimate wildlife documentary.
My Pet Peeve(s)… Bullies. They can take so many forms. And the idiots who won't put their shopping cart back in the rack, what's wrong with those people?!!
More About Carol Lynde:
Carol began her broadcasting career in 1976 as a TV news photographer at KTVK in Phoenix and became the first woman in the market to hold that position.  Her career would later take her to news stations in Atlanta, Montana, and Denver before she returned to Arizona as a videographer/editor for Arizona PBS in 2000. Then came her "dream job" as a video producer for the Arizona Game and Fish Department in 2004.  
"Throughout my career I have always been drawn to stories that involve nature and the outdoors. Whether it's counting woodpeckers in the Okefenokee Swamp in Georgia, watching prairie chickens dance in Montana, or conserving bald eagles in Arizona, I'm just fascinated. It truly is my passion."
Carol retired from Game and Fish in 2016 and now runs her own production company, Tall Paul Productions, specializing in wildlife, outdoor and human interest videos.
She has earned 22 Regional Emmy Awards and has been inducted into the Silver Circle Society.