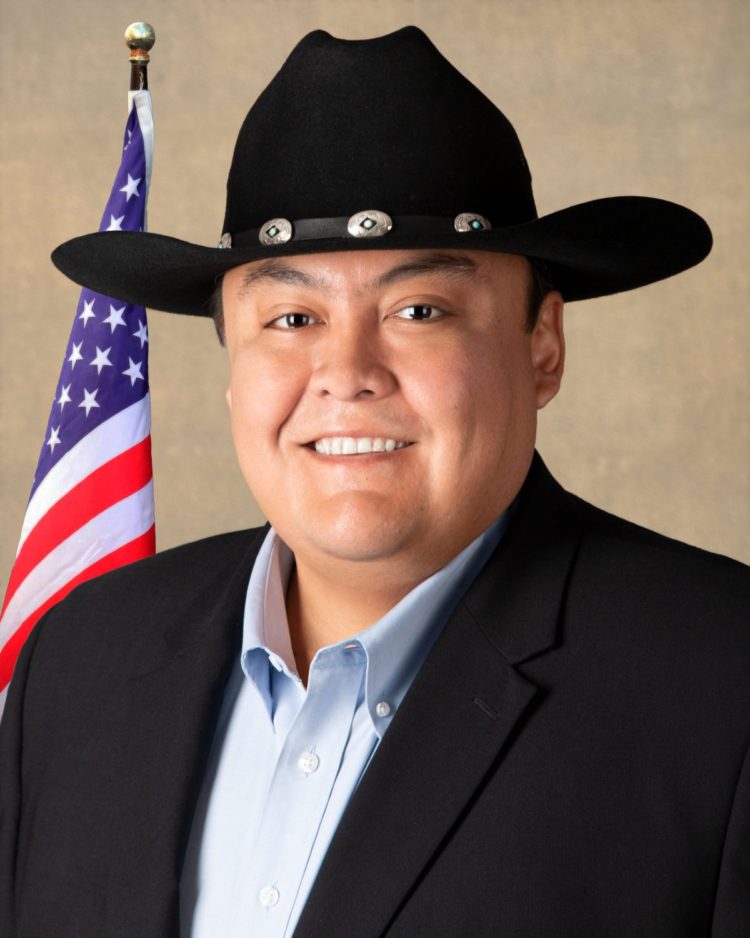 Name: Shawn Redd
Age: 37   
Title: Candidate for US Senate
Married/Single: Single
Kids: None
City you live in: Dilkon, Arizona, also Oro Valley, AZ
A typical day in my life includes…
traveling across the state, visiting people and places. I travel nearly 10,000 miles a month.
I was born…
in Moab, Utah and raised in Cortez, Colorado where my dad operated a Chevrolet franchise.
My favorite thing about Arizona…
the sunsets, they really look like the Arizona flag.
I'm listening to…
The Highway on Sirius Satellite Radio.
My family…
my dad and his wife live in Scottsdale, where he is active in the American Legion.
If I could have dinner with anyone, it would be…
the President of the United States. He is the most powerful leader of the free world who has an effect on everything about Native Americans, who are desperately in need of help and improvements on the Federal Indian Reservations.
One thing I cannot live without…
a reliable set of wheels. I currently use a Chrysler 300 AWD that handles the Arizona weather while getting excellent mileage; I typically run vehicles for 300-500k miles. I also have a 1995 SS Impala that has nearly a million miles on it.
When I was younger, I wanted to be…
a new car dealer, like my dad and his dad. We have been in the new car business for 85 years, since the start of the industry.
I'm inspired by…
by public service, I feel strongly that people who can make a difference must try to help the greater good.
The one person who motivates me is…
my dad, he is a very wise and intelligent person. He is also my personal encyclopedia.
If I could change anything in the world, it would be…
bringing true representation to all Arizonans, from border to border. I am uniquely qualified to represent the entire state, from the metro areas of Phoenix and Tucson to the rural parts of the state and the Indian Reservations.
The perfect day would be…
spending time at the pool eating steak with my parents.
My first job was…
picking up trash at my Dad's Chevrolet Dealership every day after school.
My favorite escape…
I am a fan of the beach, Hawaii is probably my favorite.
My life…
is spent trying to help those who need it most in the country. Places like the Federal Indian Reservations need to be modernized and it should be done by someone like myself, who actually understands what needs to happen.
I'm currently working on…
my bid for the Democratic Nomination for the US Senate.
Always…
dream big.
Never…
give up easily.
Favorite Quote…
"Don't ask what your country can do for you but what can you do for your country." – John F. Kennedy.
Biggest Dream…
representing Arizona in Washington DC.
My Pet Peeve(s)…
powerful politicians in Phoenix who look at their careers over the importance of service to others.
More about Shawn …
Shawn Redd is a Local Navajo businessman and entrepreneur, who has lived and done business in Arizona for 15 years. At a young age, he was tapped as a consultant to the Navajo Nation and has now done so for more than 20 years. He currently spends time between the Navajo Nation, Phoenix and Tucson. Shawn is also a Democrat who is currently running for Arizona U.S. Senate. He works daily to advocate for small businesses, rural Arizona, veterans and acts as a watch dog to Native American law enforcement.