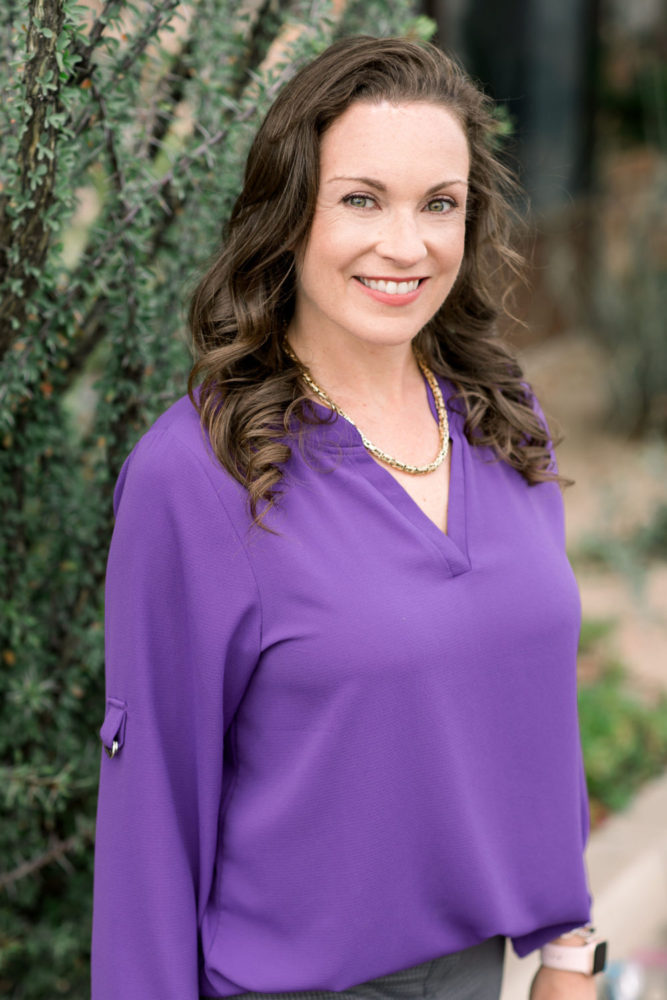 Name: Shandee Chernow
Age: 42
Title: President & CEO of CertiStar
Married/Single: single, single, single.
Kids: two incredible boys ages 7 and 10.
City you live in: Phoenix, AZ
A typical day in my life includes…
mild chaos, especially right now. It doesn't really feel like, work-wise, there are typical days. Since we're a small company every day looks like whatever needs to get done and helping the team accomplish that task. Currently, I'm also playing the role of elementary school principal to the kids and helping them get all of their learning each day in. Their school has been great, but keeping the motivation alive is a challenge. Also, exercise!
I was born…
and raised in Maryland, home of the blue crab, and then ended up allergic to shellfish. It's kind of like living in an Alanis Morissette song.
My favorite thing about Arizona… 
is probably pretty cliché, but it's definitely the weather. I've lived here long enough to love the hard rainstorms, but if it's gloomy for more than a day or so, I absolutely feel it.
I'm listening to…
a lot of country music right now. I went to school in Nashville, so country music became a part of me. Right now it's my go-to, a lot of Tim McGraw and Sugarland at the moment.
My family… 
is spread out but has never felt closer. Why did it take a pandemic for us to all start talking to each other on group Zoom calls?
If I could have dinner with anyone, it would be… 
Richard Branson. He and his approach to life and business fascinate me. He goes after what he wants, seems to be kind to other humans and to focus on doing the right things for people.
One thing I cannot live without… 
coffee and my children.
When I was younger, I wanted to be… 
a doctor. I still think I would have been a great doctor. Sometimes it feels like the skill set that would have been a diagnostician translates well into figuring out problems in the technical world in which I live now. I suppose we'll never know, but I do love all the good medical shows and live vicariously through them.
I'm inspired by…
nature; mainly focused on the moon, sunsets, and sunrises. They all stop me in my tracks every time with their beauty and power. I've very lucky to live in Arizona, I've never experienced sunsets like the ones the sky produces here.
The one person who motivates me is…
myself.
If I could change anything in the world, it would be…
to have people be so much kinder and more thoughtful of others. I think we're *okay* at that for people we know, but it's too easy to discount strangers and people whose lives and experiences are so far from our own.
The perfect day would be…
at a vacation house with my kids spent cooking, walking outside, painting and cuddled up with popcorn for a new movie.
My first job was…
teaching dance (ballet and tap) to 3-year-olds. I got paid in tuition discounts for all the classes I took. My second job was as a line cook at Chesapeake Bay Seafood House.
My favorite escape…
is painting. I get lost in it when I'm painting something I'm loving working on and hours can slip away.
I'm currently working on… 
figuring out a way to help others during this pandemic and also to find a way to keep CertiStar thriving during this craziness. Everything is changing and so we must adapt, and yet it feels as though many things will go back to normal and so we must be prepared to adapt back as well. It's a bit overwhelming right now, as I'm sure a lot of people are feeling. We just released a new FREE offering to give back and help nutritionists, at-home chefs and chefs organize their digital recipe books at no cost for the next few months. Check it out here.
Always…
keep hope and remember to breathe.
Never…
do anything that doesn't move you or someone you love forward.
Favorite Quote…
we have to go to Harry Potter (sadly, the movies and not the books) for this one.
"Happiness can be found, even in the darkest of times, if one only remembers to turn on the light." – Dumbledore
Biggest Dream…
is to have CertiStar be so ubiquitous that a restaurant cannot fathom a world in which they don't have us. Every customer has the opportunity to enjoy every place they want to go out to eat.
My Pet Peeve(s)…
is absolutely, hands down, when someone chews with their mouth open.
More about Shandee…
Phoenix-based Shandee Chernow started CertiStar in 2017. After years of suffering from severe food allergies, Shandee continued to be frustrated by the anxiety she experienced every time she would dine out, never feeling fully at ease or taken care of. She knew if she was feeling frustrated and uneasy as a food allergic guest in a restaurant, that millions of others had to feel the same way. She set out to develop a solution for the restaurant and hospitality industry in CertiStar – a software that allows partnered restaurants to serve the food allergic guests with ease and safety. Essentially, a guest enters their allergies into their menu platform and after a 3-second search they can see all their options in green, yellow, and red. Options in green are allergy-friendly, yellow options must be modified, and red means unsafe. This not only puts the guests at ease but allows the restaurants to operate more efficiently, quickly and with peace of mind themselves across their entire staff. You can see partnered brands and restaurants here.