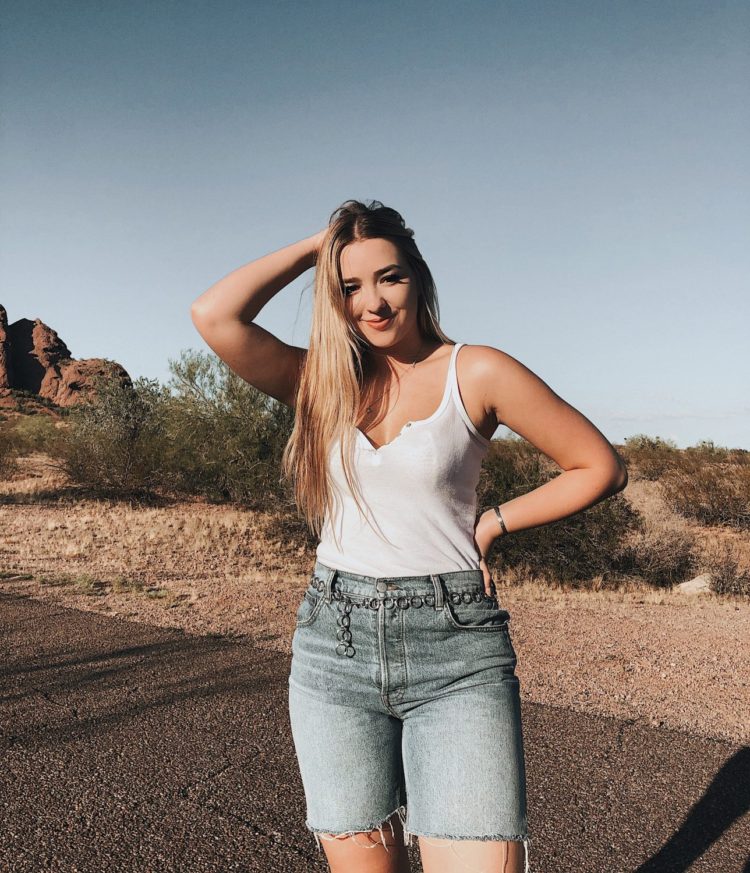 Name: Naudia Andrescavage
Age: 22
Title: Digital Marketing Assistant at ASU's Marketing Hub, Communication and Events Intern at AZ Foothills, Arizona State University Student studying Marketing at the W.P. Carey School of Business.
Married/Single: not single, but not married! I don't plan to get married till I am older and can afford an open bar and the dress of my dreams!
Kids: one day I will have a full family, but no more than 3 kids. I have 4 sisters and 3 brothers, and I don't know how my parents did it!
City you live in: Tempe – FORKS UP!
A typical day in my life includes…
there is no typical day; every day is different! I have a lot on my plate with the balance of being in school full time, a job, an internship and sorority events. My schedule changes every week but I love being busy so I wouldn't change it for the world.
I was born…
in Phoenix at John C. Lincoln Hospital, but I grew up in Alaska and Las Vegas!
My favorite thing about Arizona…
there is so much to love but I am torn between the opportunity here and the beautiful sunsets.
I'm listening to…
everything! Spotify playlists galore!
My family…
is huge and widespread! I have lived in many places and now my big, blended family is all throughout the United States.
If I could have dinner with anyone, it would be…
my Granny. She recently passed at the age of 96 and unfortunately I was too young to develop a super-strong relationship with her since she lived in Hawaii. She was so wise and lived a life full of so much value. I would love to hear more of her life stories.
One thing I cannot live without…
my medicine – literally! I was born with a medical disorder called PKU. In short, my body cannot break down phenylalanine, which is found in protein. I have to watch my protein intake levels and drink supplement drinks to help my body break down the amino acid.
When I was younger, I wanted to be…
someone who helped others! Even from a young age, I had a lot of empathy for others. I initially thought I wanted to be a psychiatrist, then a surgeon, and so on, but I realized I can just help others in my daily life or in any workplace and that it didn't necessarily matter what career field I went into.
I'm inspired by…
everyone! I think there is something to learn from each person you encounter in life.
The one person who motivates me is…
my aunt! I don't know what I would do without her.
If I could change anything in the world, it would be…
negativity. So much could be accomplished if people remained positive.
The perfect day would be…
spent on the beach with a good book and my closest friends.
My first job was…
at Target, which would explain my love for Target trips! I learned the ins-and-outs on how to save money there so it definitely paid off.
My favorite escape…
Hawaii. It is just a place like no other, especially the culture. I have ties to the island through my extended family, which makes it more 'homey' when I visit.
My life…
has already been super rewarding! I have the best family and friends and lots to be grateful for!
I'm currently working on…
getting fit again. It's hard for me to sneak gym time in, but I am slowly making progress to get back to where I use to be. I am setting goals and need to accomplish them!
Always…
put your best foot forward and work hard. You'll only get out what you put in.
Never…
lose sight of what's really important. People will remember you for how you made them feel and the impact you had on others. Money doesn't make you memorable.
Favorite Quote…
"We are who we are for a lot of reasons and maybe we'll never know most of them. But even if we don't have the power to choose where we come from, we can still choose where we go from there."
Biggest Dream…
to live a life full of fulfillment and happiness!
My Pet Peeve(s)…
is when others don't try to see things from different perspectives. Everyone thinks differently and it is important to be mindful of that. When you look at things more open-mindedly, you become wiser.