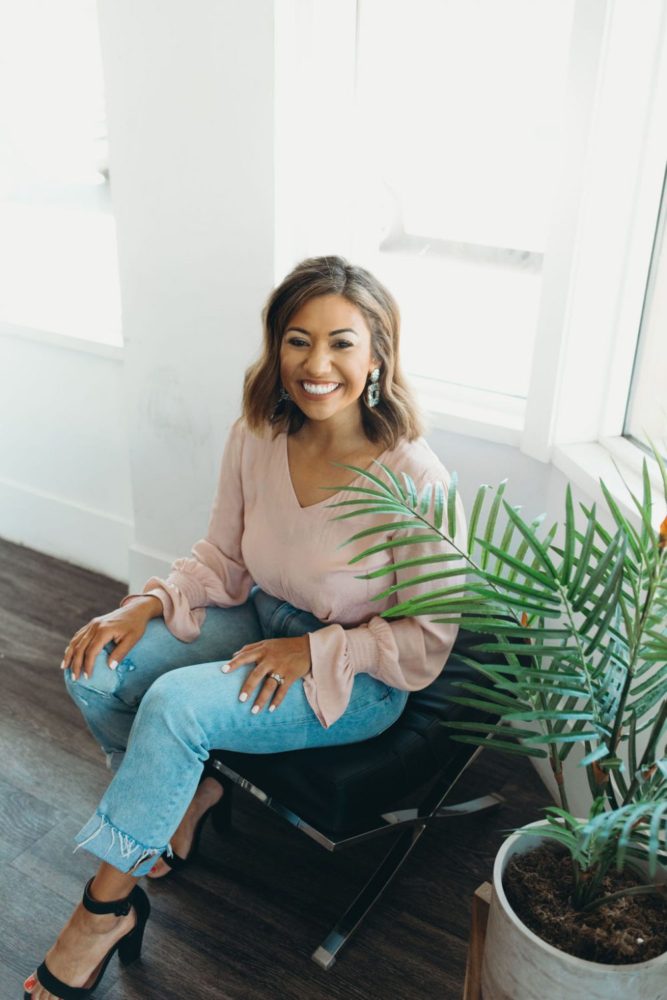 Name: Marisella Bodrero
Age: 30
Title: Career Coach, Speaker, and Thought-Leader
Married/Single: Married
Kids: Yes, one daughter!
City you live in: Mesa, Arizona
 A typical day in my life includes…
my day usually starts at 4:45am and heading to an Orange Theory workout or getting some kind of physical movement in. I go right into my morning routine that includes meditation and setting intention for my day. By 7am I am getting my daughter up, fed, and ready for her day. We usually eat breakfast together and then mommy heads to work! I typically will be talking with potential clients, coaching clients, and working on projects that help grow my business. I usually like to have my day wrapped up by 2pm so I can spend the afternoon with my daughter and be fully present with her. We usually will have a play date with a friend, run errands, or go do a mommy and me class. It's really important for me to incorporate this quality time with her throughout the week and it helps me stay connected to my WHY. My husband will get home around 5:30pm and then it's family dinner time. We will follow it up with any evening activity we have planned. Usually we wind down around 7:30pm and start bedtime with my daughter. After we put her to bed, my husband and I will spend the evening together watching a show or catching up on our day. We typically are lights out by 9:30pm!
I was born…
in Fresno, CA.
My favorite thing about Arizona…
are the restaurants! Arizona has some amazing food options. I also love that it doesn't really get cold and there is something for everyone here no matter what you're into!
I'm listening to…
Beyoncé.
My family…
is strong, fun, loving, and my WHY for creating the business and life I want to live.
If I could have dinner with anyone, it would be…
Rachel Hollis.
One thing I cannot live without…
is my morning routine. It keeps me centered, intentional about my day, and focused for what is on the calendar.
When I was younger, I wanted to be…
a Vet and that was because I was in love with horses and thought helping animals would be my passion.
I'm inspired by…
people living their best life on their terms and not on someone else's agenda.
The one person who motivates me is…
Brendon Burchard.
If I could change anything in the world, it would be…
that everyone would find their calling and purpose in life.
The perfect day would be…
at the beach with a favorite book and podcast!  The beach is my happy place and I love a good beach day with my family where we can all relax and enjoy the beauty!
My first job was…
a retail associate at Buckle.
My favorite escape…
is a girls weekend or a vacation with my husband!
My life…
is something that I have reverence for. I realized this about a year ago that I only have one life and there are no practice runs with it. It's important I live the life I want to have because the truth is, we never know when our time will come and I don't want to ever look back and regret not truly living with purpose.
I'm currently working on…
serving, coaching, and a live event I plan on doing in 2020 for women!
Always…
be yourself unapologetically!
Never…
play small or keep living on someone else's agenda. This is YOUR LIFE and you only get one life to truly live and be intentional with the legacy you want to leave.
Favorite Quote…
"No one can minimize who you are but you."
"Common sense isn't always common practice."
"Honor the struggle."
"Don't let the person in the cheap seats have an expensive opinion about you."
Biggest Dream…
is to one day be on stage and speak at a Tony Robbins conference, Brendon Burchard conference, and Rachel Hollis conference. My dream is to build an empire that brings women hope, community, and inspiration to become the best version of themselves unapologetically.
My Pet Peeve(s)…
When people care too much about what others think rather than being authentically themselves.
More About Marisella Bodrero…
Marisella Bodrero is a career expert, coach, and speaker for women. She began her career working in corporate recruiting almost 10 years ago for startups and fortune 100 companies. She oversaw and managed global recruiting and diversity programs for organizations to scale up their talent. Her passion for helping organizations find the best talent provided her the knowledge on how successful people impacted organizations.
After becoming a mom, Marisella decided to launch her own coaching business to help women get aligned with their dream career. She realized that many women were feeling lost and stuck in their career and needed better coaching. Marisella discovered that her purpose was to serve by starting her business helping women discover an authentic career path aligned with a strategy.
Marisella has spoken at over 20+ university campuses nationwide, featured in Mother Honestly, Millennial Working Moms, and other various women-related blogs and groups.
Her mission is to help inspire and instruct women to achieve their career goals.
Click here to order a Trendsetters reprint.