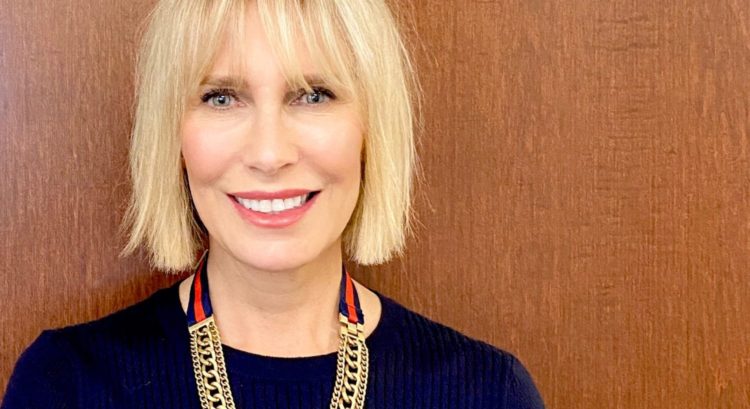 Name: Lisa Greve
Age: 56
Title: Marketing Manager at Versant Capital Management. Co-Chair for Free Arts Art Auction.
Married/Single: married to Edward Rubacha for 18 years.
Kids: a daughter Lauren, who's the chief meteorologist at CBS in Denver. Go STEM.
City you live in: Ahwatukee (Phoenix).
My day is like…
if it's a Monday, Tuesday or Wednesday, I'm at Versant Capital Management working on the firm's marketing and PR strategy. The rest of the week work with my art clients. I move in two completely different worlds, but both allow me to be inventive and resourceful. I truly love what I do.
I was born…
in rural Minnesota near The Valley of the Jolly Green Giant.
My favorite thing about Arizona…
the spectacular landscapes. Hiking the sprawling desert and golfing on lush courses year-round is pretty amazing. I'm also a fan of AZ's professional sports teams and outstanding restaurants.
I'm listening to…
my guilty obsession, true crime podcasts. I'm up to speed on all things serial killer.
My family…
is small in number but mighty in heart and drive. Our daughter got married this summer and we now have a son-in-law who is super funny and all about family.
If I could have dinner with anyone, it would be…
Nora Ephron. But we'd invite Frida Kahlo, Will Ferrell, and Theresa Fogerty, my high school art teacher.
One thing I cannot live without…
my girlfriends. And sleeping with three pillows.
When I was younger, I wanted to …
time travel. Still do. As a kid, I had a fantasy of showing George Washington around so he could experience flying in an airplane and cassette players.
I'm inspired by…
my friend and mentor, Denise Resnik, founder of SARRC and First Place. She is a strong business leader with a nurturing spirit, who always treats people with kindness and respect.
The one person who motivates me is…
my daughter, Lauren. I get daily texts from her about interesting things to do, read, watch, listen to, or buy. Currently, she is on me to lift weights for good bone health.
If I could change anything in the world, it would be…
the decline of our natural world due to climate change.
The perfect day would be…
to get up with the sun, read in bed for a bit, head out for hike or round of golf, followed up by a lively dinner on the patio with my family or friends.
My first job was…
selling DieHard work boots at Sears.
My favorite escape…
has recently been tuning into Masterclass online, where you learn from experts around the world on all sorts of topics. David Sedaris, Annie Leibowitz, and Anna Wintour are currently in my queue.
My life…
is hectic. But good! I'm surrounded by good people.
I'm currently working on…
co-chairing the Free Arts for Abused Children's Art Auction at Saks Fifth Avenue in Phoenix on April 4th. (you should go)! Free Arts is a non-profit that transforms children's trauma to resilience through the arts. The auction is going to be a fun party showcasing amazing art made by top artists from around the country and here in the Valley.
Always…
listen, because not everyone thinks like you do.
Never…
judge people by their clothes, skin, or money.
Favorite Quote…
"You can't be that kid standing at the top of the water slide, overthinking it. You have to go down the chute." – Tina Fey
Biggest Dream…
is to be an accomplished painter.
My Pet Peeve(s)…
is when people don't merge at highway speeds, bad grammar, and when your Band-Aid gets wet.