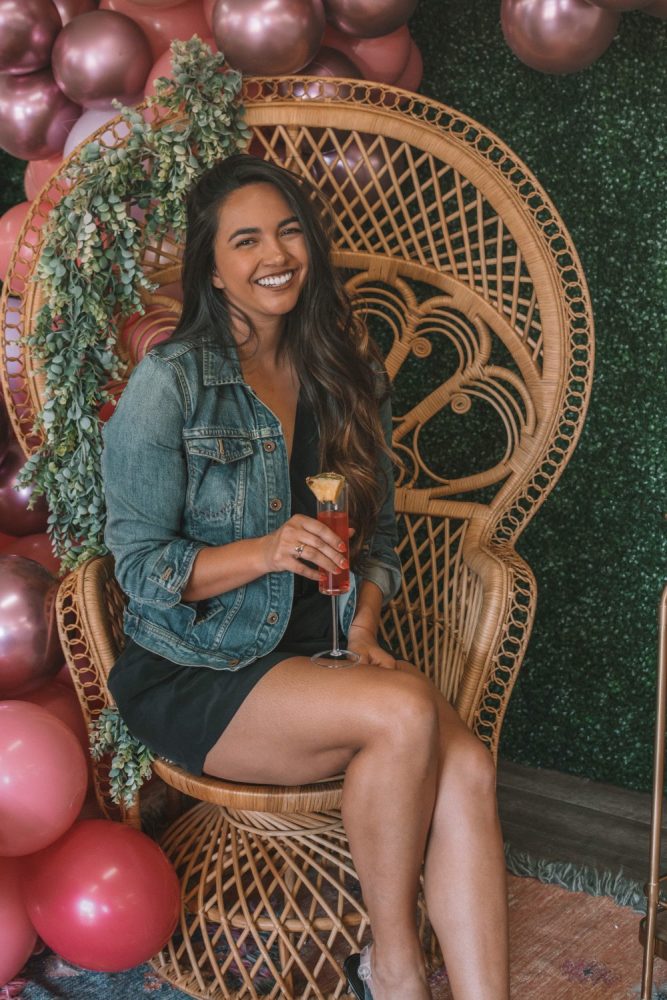 Name: Kirsten Ortez
Age: 24
Title: Audit Associate and Lifestyle Blogger
Married/Single: single
Kids: one day!
City you live in: Scottsdale
A typical day in my life includes…
a mix of things depending on the time of year, day, or week! I'm in a very transitional period of my life so this depends on the day. During the week, I usually wake up, work out, go in to work, and spend the evening relaxing and reading or working on the blog. Weekends are usually a lot more fun (aren't they always?) and I'm usually headed out on a weekend trip (LA and San Diego usually), getting brunch with friends, hitting up hot yoga, taking photos for my blog, and just unwinding from the week. I'm not much of a 'going out' at night kinda gal (although I can usually be convinced), but if there's a local event going on, you can probably find me there!
I was born…
24 years ago in Sacramento, California. I'm sure if you ask my mom, she'd probably know more about it.
My favorite thing about Arizona…
is the landscape. I love the desert landscape; it's beautiful. I also love the different little places you can find in our state. Page, Flagstaff, Phoenix, and Tucson all have their positives and there is so much to see and explore!
I'm listening to…
podcasts. All podcasts. My favorites are Skimm This, My Favorite Murder, Pantsuit Politics, Bulletproof Radio, The Goal Digger Podcast, and The Skinny Confidential. I also have Ariana Grande on repeat when I'm not listening to podcasts at work.
My family…
is everything. We have our quirks, like every family does, but there is so much love, ambition, support, and compassion within my family. My parents have given me such an amazing life, so many unforgettable experiences, and have taught me everything I know: how to be compassionate, how to work hard, how to reach my goals, and more. They've also been the people I can turn to in every struggle and obstacle I've faced. Their unwavering support never ceases to amaze me. My brother moves to the beat of his own drum, but I'm so proud of him. He's truly one of the most caring people I know.
If I could have dinner with anyone, it would be…
Michelle Obama.
One thing I cannot live without…
music. Where words fail, music speaks. It has the power to make you laugh, cry, smile, remember… music is so tied into your emotions. As an emotional person, I don't think I could live without it. Sometimes it moves me in a way that other things can't.
When I was younger, I wanted to be…
a marine biologist or a mechanical engineer. Oh how the times have changed!
I'm inspired by…
so many things and people for so many different reasons! I think there is so much to learn in life that inspiration hits me at weird times. I've been inspired when I've held a piece of clothing that came from a sustainable fashion company, I've been inspired when I've hiked to the top of a mountain or stood in a historically significant place, I've been inspired by strong women in politics, I've been inspired by my family, and I've been inspired by various people who come into my life. I wish I could limit it to one thing, but I've focused so hard this year on seeing only the positives in my life and I've been inspired by everything, so it's hard to narrow it down!
The one person who motivates me is…
myself. I'm a real self-starter, but I have my parents to thank for that. They've always made me feel like I can do anything if I set my mind to it and work hard.
If I could change anything in the world, it would be…
closed minds. I wish I could talk to people who have these limited worldviews and somehow help them see compassion and reason. A lot of people are stuck in their own experiences and just don't seem to have the compassion to show people who's life isn't like theirs.
The perfect day would be…
busy and fulfilling. I'd wake up (after sleeping for a solid 8 hours) and hike somewhere to see the sunrise. After that, I'd hit up brunch with friends, maybe snap a few cute photos, go to hot yoga, and end the day reading a good book in bed. There's a lot of different ways to have a perfect day, but if it's spent with people you care about or doing something you love, that's enough in my book.
My first job was…
a cashier at Doughboys Donuts in Reno, NV. If you haven't been, check it out if you're ever in the area; they make some of the best donuts I've ever had even if I did get sick of them while working there!
My favorite escape…
is reading a good book outside in the sunshine.
My life…
is just getting started.
I'm currently working on…
so many things! I just went to a women's empowerment dinner that really inspired me and lifted my spirits. I just felt the power of being surrounded by so many amazing women and finally felt confident enough to start sharing more of my story, like my struggle with depression, anxiety, and body image, instead of just the highlights. Just since I've started, I can feel such a positive response from individuals I reach with my blog and I'm so excited to see where this next chapter of my blog goes.
Always…
keep learning and growing. The person you are now is not the person you will be years from now, a month from now, a week from now, or even tomorrow. If you stop growing and learning, you're moving backwards. If needed, take a pause to reassess what direction your life is taking, but always keep moving forward.
Never…
let what you want now get in the way of what you want most.
Favorite Quote…
"We live in a world in which we need to share responsibility. It's easy to say 'It's not my child, not my community, not my world, not my problem.' Then there are those who see the need and respond. I consider those people my heroes" – Mr. Rogers. Any of his quotes usually bring a smile to my face and warm my heart.
Biggest Dream…
I have a business plan for a sustainable fashion company in mind that gives back to its workers and changes the fashion industry. There are a lot of similar companies launching right now, but I have a few ideas for the market where they are currently not reaching.
My Pet Peeve(s)…
loud gum chewers, people who chew with their mouth open and people who don't use their signals when driving!
Click here to order a Trendsetters reprint.