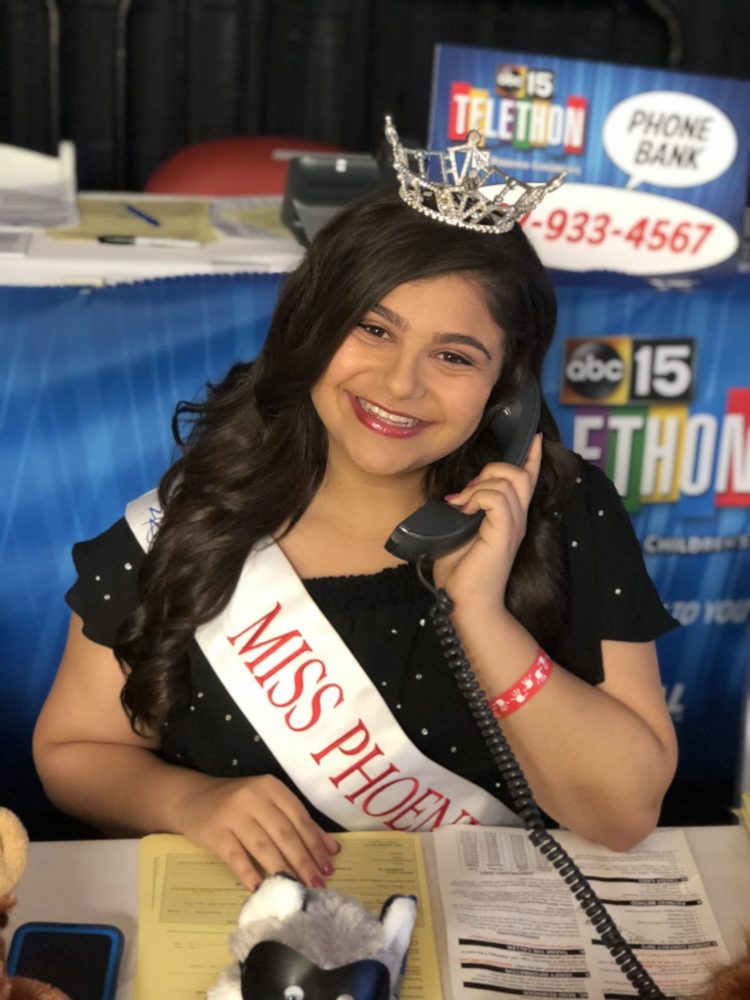 Name: Kaycee Krell
Age: 17
Title: Miss Phoenix's Outstanding Teen
Married/Single: Single
Kids: I have 3 fur babies! A Morkie puppy named Rylee and 2 Guinea Pigs named Ollie and Oggie. I also take pride in being a "mom" to the bully victims I mentor through my youth training program, Kaycee's Warriors.
City you live in: Phoenix, of course!
A typical day in my life includes…
waking up and checking my phone. I like to see all of the messages and emails I have gotten overnight to ensure I respond and organize my agenda! I will get out of bed and feed/care for my pets. The next events consist of usually going to school until noon, doing community service or a Miss Phoenix appearance, mentoring one of my Warriors, teaching swim lessons, and an occasional nap if time permits and the gods are on my side, and then of course doing a killer workout each day at Thurston Fitness! I don't go to bed until very late because I need to make sure I'm ready to attack my goals the next day!
I was born…
on April 16th, 2002 already having the fire in me to make a difference. Little did I know I would face the struggles and pain that I have in my short 17 years. I know I was put on this Earth to change lives. Most importantly, I was born to be a bullying prevention warrior. I have spent countless hours thinking up curriculum and the best ways to aid victims of bullying. I am so passionate about this cause because of the constant fight I have with it. I am here because I want the next generation to break the cycle of bully behavior and show how much more kindness does for the soul.
My favorite thing about Arizona…
would have to be the sunshine! Growing up, I have been fortunate enough to have the sunshine picking me up and reminding me to stay bright and hopeful, even when times are dark. Although the heat that comes with it is not my favorite, I would not trade living in the "Valley of the Sun" for anything. Fun fact, my first Miss America's Outstanding Teen local title was Miss Valley of the Sun's Outstanding Teen!
I'm listening to…
the song "So Good" by B.o.B, my hype up anthem!
My family…
is my biggest support system. My mom, dad, and sister are the people I can count on. They are my loudest cheerleaders and I would not be where I am today without them! Being the youngest member in the family is so special because I have 3 role models who I can look up to and learn from. We love to take road trips and family vacations together!
If I could have dinner with anyone, it would be…
my angel up in heaven, my Grandma. Although it wouldn't be dinner, it would be dessert with A LOT of hot fudge! I wish I could tell her about everything she's missed in the past few years, everything I have done, and how much I miss her. She always relayed to me the message of being an original and always doing my own thing. I keep her in my heart always and she guides me the right way. I know she is smiling down on me from heaven…when she isn't dancing the night away. It would be dream come true to sit down and spend time with her for a night.
One thing I cannot live without…
music. I have been singing for as long as I can remember. But it isn't just a hobby or an art form for me. It is a healer and a comfort zone. My favorite genre is slow pop and soulful music/country. It helps me through things and seems to speak the exact message I need to hear. I am SO in love with music that I can't drive my car without having music on…it scares me to not have it playing!
When I was younger, I wanted to be…
older. All I did when I was young was rush my childhood and wish that overnight I could become a teenager. I was always an older soul and being in a kid's body just didn't feel right to me. Everyone would tell me things get harder when you grow up, but I didn't care. Little did I know, getting older DOES come with obstacles and hardships.
I'm inspired by…
individuals who choose kindness. I am inspired by those who help the underdog, stand up for someone who can't do it for themselves, and sit with the person who is alone—not because they want to be alone, but because they have no other choice. Those who help someone look forward to tomorrow inspire me. Those who take others feelings into account inspire me, because they do it because they want to, not because they have to. Throughout my life I strive to be this person.
The one person who motivates me is…
my sister, Rachell. She is my role model and someone I aspire to be like. She has accomplished more than anyone I know and is determined to make a difference. She motivates me to achieve my dreams and work hard for what I want. She is a bright light and a guide for me in this special part of my life. Not to mention, she is the best "manager" and publicist!
If I could change anything in the world, it would be…
that the best tasting foods would be the healthiest! Especially chocolate, Dutch Bros, and French fries to name a few.
The perfect day would be…
alarm free with good hair and makeup, massages, watching Netflix, sister time and a movie date!
My first job was…
at Chick-fil-a because they hired at 14. I was always and still am eager to work and have a job. Let's just say I can never stop saying "my pleasure" 😉
My favorite escape…
is for sure watching YouTube on my phone while curling up in my warm bed. It is the best with the air conditioning on cold and a nice chilly pillow. 🙂
My life…
has been a climb. Lots of heartbreak, struggle and pain. But also lots of learning, gain, and pure joy. Without the bad, I would have never discovered the good, never would have found myself. Each experience comes with a lesson and a story. Would I change my past? Probably not. After all, each decision has brought me where I am and no memory is replaceable. Life is joy, life is pain, but life is a lesson and we can all learn something from it.
I'm currently working on…
college applications and scholarships!
Always…
be unapologetically YOU.
Never…
let your struggles define you.
Favorite Quote…
"Maybe you're not healing because you're trying to be who you were before the trauma, that person doesn't exist anymore because there's a new you trying to be born. Breathe life into that person." -Unknown
Biggest Dream…
to find the love of my life, have lots of children, and raise them to be beautiful and kind humans. Have the career of my dreams…TBD but successful is a must. Oh, and also Miss America.
My Pet Peeve(s)…
adult bullies, mean people, Snapchat conversations, jealousy, hot climate and straight hair with one curly piece.