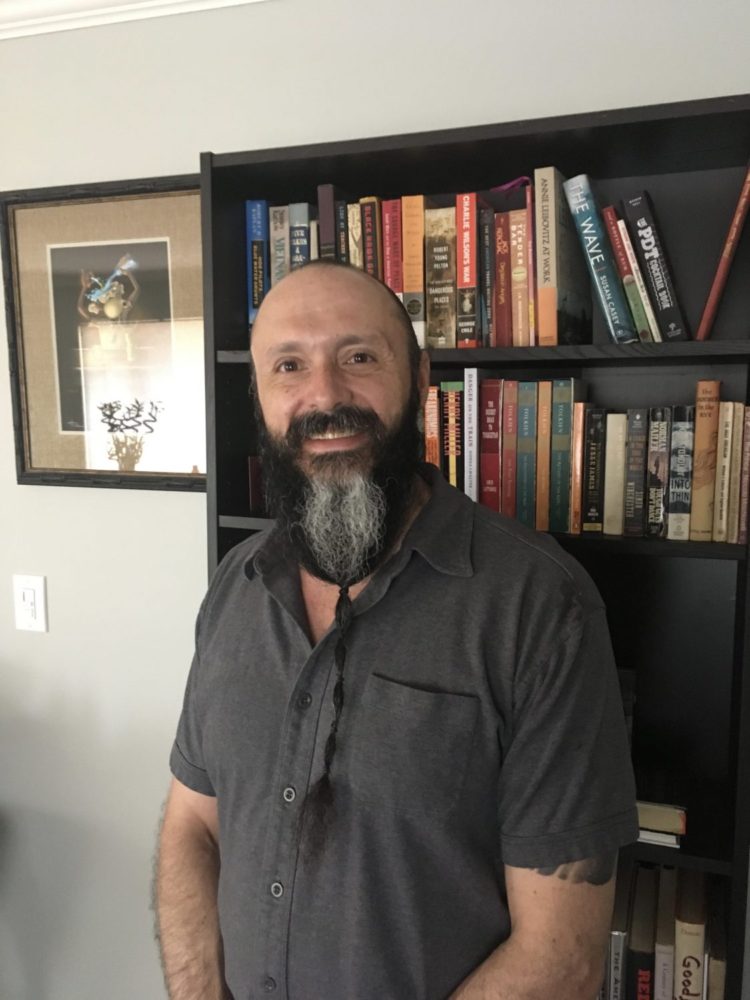 Name: John Christie
Age: 47
Title: Director of Whiskey at Century Grand
Married/Single: married
Kids: none
City you live in: Scottsdale
A typical day in my life includes…  
reading, writing, tasting whiskey, usually all at the same time.
I was born….
in Massachusetts and escaped the winter by moving to Arizona.
My favorite thing about Arizona…
is how diverse and beautiful the Sonoran Desert can be.
I'm listening to…
a fair amount of Rock and Roll and Classical music regularly.
My family…
is supportive, loving, and keeps me trying to be the best version of me I can be.
If I could have dinner with anyone, it would be…
Ernest Hemingway.
One thing I cannot live without…
coffee/whiskey.
When I was younger, I wanted to be…
right fielder for the Boston Red Sox.
I'm inspired by…
creative people from all walks of life. Passion in life makes life worth living.
The one person who motivates me is…
myself.
If I could change anything in the world, it would be…
how humans approach education and our commitment to learning.
The perfect day would be…
fly fishing on a Western river with perfect weather and no phone.
My first job was…
working at Lego Systems factory.
My favorite escape…
is Bali, there is something very special about that island.
My life…
is happier with my wife Christina and my Labrador Archer at my side.
I'm currently working on…
curating the largest Single Barrel collection in the country and writing stories about the Whiskey Renaissance in America.
Always…
leave a good tip.
Never…
go to sleep angry or grocery shopping hungry.
Favorite Quote…
"What whiskey will not cure, there is no cure for" – Irish Proverb.
Biggest Dream…
would be owning a traditional Scottish hunting and fishing lodge with a private collection of Single Malt Whisky.
My Pet Peeve(s)…
are people who don't take the time to listen to what the river is telling them.
More about John and Century Grand…
John Christie is a spirits professional in every sense of the word. He emphasizes storytelling in order to engage and illuminate patrons on the nuances, history and future of all things whiskey. This made him the ideal choice as Director of Whiskey and Manager of the Grey Hen Saloon. The Grey Hen, located inside Century Grand, will play host to a myriad of bespoke whiskey and spirit bottles for sale, along with opportunities to attend the most educational, engaging and hospitable whiskey programs and events in the southwest.
Over the last twenty years, John has been a leader in the craft cocktail and spirt service industry. Before turning Second Story Liquor Bar into the premier spot for whiskey education in the greater Phoenix area, he successfully ran the Lobby Bar for more than
a decade for both the James and Morgan Hotel Groups. Most recently, he was the Director of Craft and Luxury Spirits for Young's Market Company's Craft Spirits Team.
Barter & Shake develops and operates award winning craft cocktail concepts, including UnderTow and Counter Intuitive. Century Grand (scheduled to open later this year) is their most ambitious project to date, incorporating multiple bars, innovative cuisine
and a bottle shop, all in the fun, immersive environment for which Barter & Shake is known.