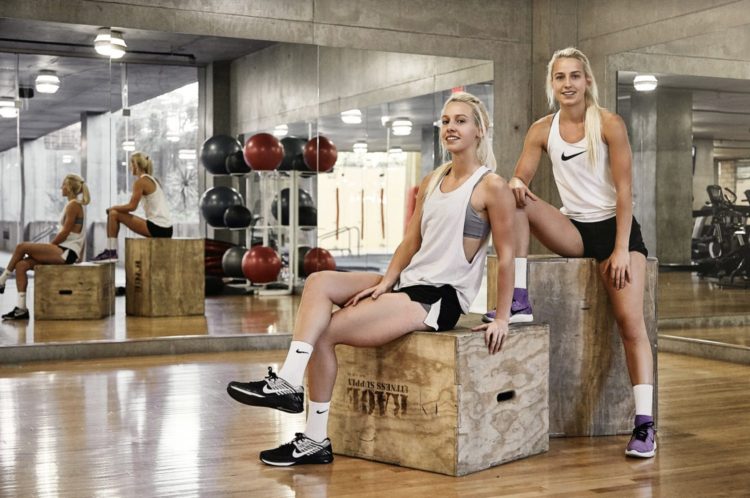 Name: LISKE TWINS aka Hayley & Chelsey Liske
Age: 23
Title: Online Health & Fitness Influencers
Married/Single: We are both SINGLE (but don't tell the guys at the gym that)!
Kids: Nope!
City you live in: Scottsdale
A typical day in our life includes…
waking up early, drinking celery juice and lemon water, working on our online business, writing blog posts, hitting the gym, being active in the community, running to the store to pick up fresh fruits and veggies, creating healthy and fun recipes for dinner. We love to engage with our online community and support their goals in any way possible; we always end the night reflecting on our accomplishments that day!
We were born…
in Welland, Ontario, Canada.
Our favorite thing about Arizona…
being able to stay active outdoors year-round!
We're listening to…
breathin' by Ariana Grande
Our family…
is the most important thing in our life. Their love and support has allowed us to chase our dreams!
If we could have dinner with anyone, it would be…
Ryan Reynolds & Blake Lively #couplegoals
One thing we cannot live without…
EACH OTHER!
When we were younger, we wanted to be…
professional soccer players (Mia Hamm).
We're inspired by…
our mom! She passed away when we were 16 years old from colon cancer. We are inspired by her each day to spread the importance being healthy and active as part of your lifestyle.
The one person who motivates us is…
our older sisters and brother, they have pushed us to become the best version of ourselves and supported us in every endeavor we have taken.
If we could change anything in the world, it would be…
giving everyone access to fresh, whole foods and clean water at an affordable cost!
Our first job was…
working in a greenhouse, planting and packaging flowers!
Our favorite escape…
going to the gym or for a run, the endorphins released through exercise are the ultimate de-stressor!
Our life…
has been filled with abundance and success, we are so grateful and excited for our future projects!
We're currently working on…
the ULTIMATE 8 Week Fitness & Nutrition Guide launching at the end of January, stay tuned!
Always…
take ACTION on your ideas and practice GRATITUDE daily!
Never…
underestimated the power of positive thinking.
Favorite Quote…
"The world is your oyster."
Biggest Dream…
to impact the lives of as many individuals as possible in a positive way by sharing our health and fitness experiences and providing guidance to create positive lifestyle habits!
Our Pet Peeve…
waiting in long lines!