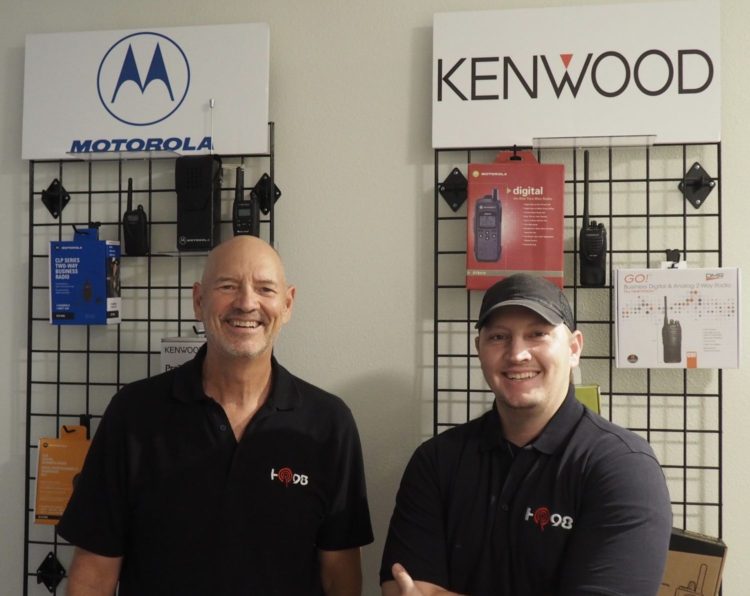 Name: David McClintic
Age: 63
Title: President of HQ98
Married/Single: Married
Kids: Stewart, Ryan, Sarah and Ben
City you live in: Scottsdale
A typical day in my life includes…
getting up at 5:00 AM to make several cups of espresso while reading the iPad edition of the Wall Street Journal and reviewing headlines on NPR.org along with monitoring the chat on our company's website for customer questions from the eastern and central time zones. After my son, Stew gets in to work around 7:30. On the best of days I'll get in 15 minutes of sun salutations and 20 – 40 minutes of meditation. After that, I try to get a 12-15 mile bike ride around Tempe Town Lake before I arrive at work, which is less than 2 miles from my house. 
I was born…
in Pittsburgh, PA – Go Steelers! Actually, I really don't follow football, but if you're from Pittsburgh, it's expected. I actually love going the Phoenix Rising games. The family can all ride our bikes to the stadium on Hayden. I played both football and soccer in high school – I never got the point of football… I mean why 6 points for crossing a line? I far preferred the rigor, stamina and skill involved in soccer. In college, I played rugby – the best of both worlds!
My favorite thing about Arizona…
the heat (right). No, I truly love the diversity of outdoor activities available in Phoenix. I met the love of my life, Kim, while rock climbing in the Superstition Mountains with the Arizona Mountaineering Club about 15 years ago. I still love hiking and climbing as much as possible and find lots of great opportunities every week. Camelback Mountain, Papago, Phoenix Mountain preserve and of course the McDowell Mountains all conspire to give us lucky residents plenty of opportunities for some great outdoor experience. I don't know of any other city that offers this much all year long.
I also love volunteering at the Grand Canyon with Kim. She and I have been National Park Volunteers in Preventive Search and Rescue (PSAR) going on 8 years. PSAR's stated purpose is to help hikers make safe choices while hiking in the canyon. On average, 12 people die in the canyon each year and some of those because they didn't know what to expect or they were simply unprepared. Since we are stationed 1.5 – 3.0 miles into the canyon when we speak to hikers, we are able to more fully inform them and help them revise unrealistic goals: "OK, well it took you 3 hours to get 3.0 miles hiking down. You want to hike 12 miles today? Are you ready to hike an additional 9 hours today and oh, by the way do you have a headlamp, because it will be dark by the time you get out." Most people are very grateful for the help. We are also there to help people who are in over their heads and need some encouragement or in some cases, a helicopter. 
I'm listening to…
Steve Berry, The Malta Exchange (audiobook from Scottsdale Public Library). My music taste runs to the Woodstock era. Grateful Dead; Crosby, Stills, Nash & Young, Emylou Harris & Mark Knopfler, The Traveling Wilburys. Yup, Geezer Rock.
My family…
is absolutely amazing. We live with Kim's daughter, Sarah and her two beautiful children, Ruthie and Alden. We also live about 6 houses down the street from the kid's great-grand parents Mary Ann and Bill. We all get along incredibly well and even go on weekend vacations together from time to time. My son Stew, brother-in-law Tory, his wife Elena and her sister, Bertie all work for the company.
If I could have dinner with anyone, it would be…
Warren Buffet who in spite of incredible wealth has kept his sense of how the other 99% live.
One thing I cannot live without…
my bike. I ride to work every day. I'd be very bummed if I had to drive a car to work.
When I was younger, I wanted to be…
a corporate pilot. They fly great equipment with the most up to date electronics.
I'm inspired by…
children. Children, no matter where they come from and no matter what their situation find a way to have fun and to play.
The one person who motivates me is…
Richard Rohr who believes that the answer to all the divisiveness, prejudice and hatred in the world could be solved through the daily practice of meditation.
If I could change anything in the world, it would be…
ending prejudice, hatred and fear of people who seem different from "us".
The perfect day would be…
a long bike, hike or rock climb with friends followed by a great dinner.
My first job was…
picking rocks out of the fields on my dad's farm in Western Pennsylvania. I think the pay was $1 an hour. I lasted a week.
My favorite escape…
sailing off the coast of San Diego.
My life…
is fantastic. I'm not quite sure how I got to be this lucky, but I'll take it!
I'm currently working on…
balancing my work, volunteering and play. Ideally, I'd like these to be in more or less equal parts of my life.
Always…
keep an open mind.
Never…
judge a book by its cover…particularly when it comes to the wisdom of other people.
Favorite Quote…
"Ah, but I was so much older then, I'm younger than that now." – Bob Dylan
Biggest Dream…
right now, I'm looking into doing the Great Loop by boat. My plan would be to buy an old Grand Banks trawler, fix it up, take a year or so for the trip, then resell the boat. The Great Loop is a boat trip up the Inland Waterway on the East coast, then up the Hudson River, across the Great Lakes and down the Mississippi to the Gulf and back to your starting point.
My Pet Peeve(s)…
television.