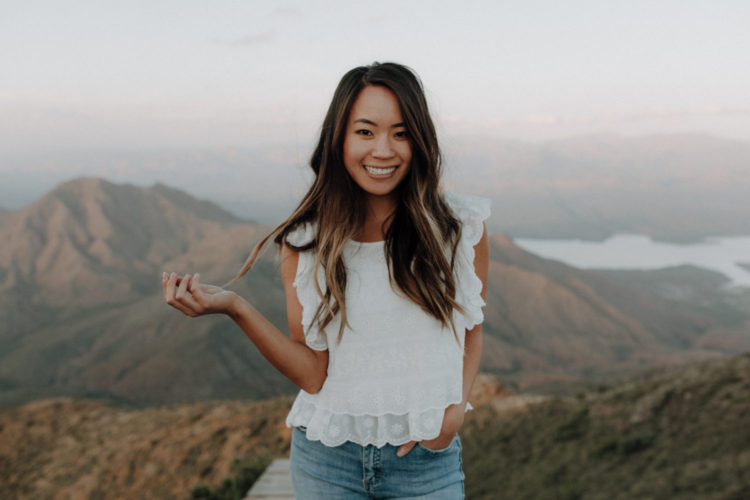 Name: Carmela Gender
Age: 25
Title: Wedding & Elopement Photographer, aka professional third wheeler
Married/Single: I have been married for 2 years! My husband and I met 5 years ago at my friend's engagement party and we bonded over sushi and donuts. He is the one who supported me and my photography journey from the very beginning and is my biggest cheerleader.
Kids: one fur baby
City you live in: Peoria!
A typical day in my life includes…
(if I don't have a wedding that day) going to the gym in the morning, spending most of my day editing photos and emailing clients, going on a walk with my husband and my dog and ending the night with an episode of The Office!
I was born…
in California!
My favorite things about Arizona…
is the beauty of it all and the people in it. We have the most beautiful landscapes. It's incredible how we have deserts full of cacti, snow-capped peaks, slot canyons, and the Grand Canyon all in one state. Also, try to find a better sunset. I bet you can't!
I'm listening to…
so many different types of music! Some of my favorites are Khalid, Lany, Lauv, Justin Timberlake, and Ben Rector.
My family…
is absolutely incredible. They are so supportive and my biggest fans! I wouldn't be where I am without them.
If I could have dinner with anyone, it would be…
my grandpa. He passed away when I was only 12 years old. He lived out of the country so it would have been nice to get to know him more and gain even just a little bit of his wisdom.
One thing I cannot live without…
sushi, donuts, french fries…can you tell I love food?
When I was younger, I wanted to be…
a veterinarian. I am the one who goes to parties and dinners and hangs out with the dogs the whole time. To say that I love dogs is an understatement!
I'm inspired by…
my parents. My parents are the most hardworking and generous people I know. They inspire me to do my best in everything that I do and to be kind.
The one person who motivates me is…
myself. Being self-employed makes me challenge myself and push myself to be better.
If I could change anything in the world, it would be…
to end hunger. There is so much wasted food and yet there are so many people on the other side of the world who are starving.
The perfect day would be…
traveling to a new place and exploring with my husband!
My first job was…
for Food for the Hungry! I edited photos!
My favorite escape…
is anything outdoors! I love being in nature whether that's hiking, camping, hammocking, or anything outside. Being in the forest is my favorite!
My life…
has been and still is such an adventure. Through it's ups and downs, I always feel so blessed with the life that I have been given! Especially blessed with the people in my life and the job that I have.
I'm currently working on…
trying to elevate my business, getting better at improving my health, and making myself a better person.
Always…
BE KIND. Such a simple reminder but so necessary. You never know when someone is having a bad day and just needs a smile.
Never…
forget that God's got your back and has a plan for you.
Favorite Quote…
"When you focus on the good, the good gets better."
Biggest Dream…
to shoot weddings and elopements all over the world. Visiting every continent is on my bucket list!
My Pet Peeve(s)…
people who are negative, wasting time, and people who are rude to waiters.
More about Carmela Gender… 
heyyoo! I'm Carmela of Carmela Joy Photography – a wedding and elopement photographer based in the beautiful state of Arizona. My photography journey started when I picked up my dad's camera my senior year of high school and from then on, I could never put my camera down. The reason I love photography is simple – I love people and I love stories. I am passionate about capturing the genuine interactions, spontaneous moments, and candid shots that make your personality and love unique. When a couple asks me to join them on one of the best days of their lives, it is something I take great responsibility and joy in. When I see the way you laugh together, the way you look at each other, and your wild passion for each other – I see your love as a work of art and it's such an honor to capture those moments.
Exploring new places is one of my absolute favorite things to do which is why I love when my couples choose outdoor and epic locations! I feel so blessed to be able to travel as a full-time photographer to breathtaking destinations for weddings and elopements. Sometimes, I still can't believe that I get to do this full time and I thank God for this incredible blessing that I call my job!