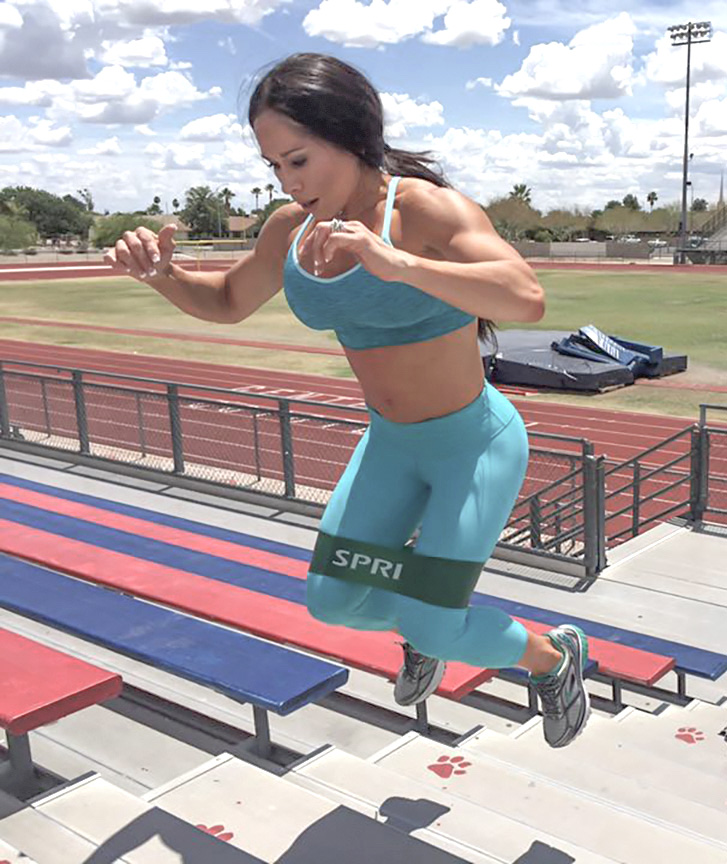 Name: Carla Araujo
Age: 38
Title: there's a few…
Owner, A.Z. & Associates Real Estate Group – I own and manage two successful real estate brokerages, located in Glendale and Goodyear, with plans to open a third location in Central Phoenix very soon! I have been a real estate agent since 2006 and opened our brokerage in 2013. We are now home to over 130 agents!
Owner, Fit-In-12 Coaching Program, LLC – I created an EXCLUSIVE training program that I have incorporated into my real estate business as part of our sign-on package. It is a 12-week commitment to choosing & implementing healthy habits while maneuvering through this hectic real estate life. Making healthy choices, staying on track and taking care of oneself is vital in this industry!
Owner, Life Coach with Rekindle Program, LLC – My husband and I coach couples that are interested in going into business with each other or already own a business together. Going into business with your partner is not easy! We've designed multiple programs and work with couples to determine which program best fits their needs.
Married/Single: Married to my hunk of a man, AZ Araujo! I am in love with his beard! LOL
Kids: Proud mother of two beautiful, smart and strong girls: Abigail (12) and Madeline (8)
City you live in: Glendale, AZ
A typical day in my life includes…
holy smokes, this is actually a question that can take up several pages! Although my day changes daily, here is a shortened and summarized version of a typical day for me: My day starts at 4:30AM with a gym session (of course!) followed by 20 minutes of reading my Bible. This is immediately followed by making breakfast, packing lunches, feeding pets, getting ready & just plain running around the house like a mad woman, LOL! I am usually out the front door by 7:30am when I take my kids to school. I train my Fit-In-12 clients starting at 8:15 until about 10-11AM, Mon-Wed-Thurs. On Tuesdays & Fridays, between 8-2PM, I have in webinars with the clients I coach. I never miss a beat in the brokerage, which means I show up to the office every day, although my times do vary. I pick up my kiddos from school around 4:30 and drive them to their daily after school activities. I am normally home by 7:30 to start dinner. After dinner we complete a little light physical activity as a family, including volleyball, basketball, walks or bicycle rides. This is one of my favorites times of the day! I'm normally in bed by 10:30pm so I can start the process all over again.
I was born…
and raised in Arizona!
My favorite thing about Arizona…
the HEAT! I love it!
I'm listening to…
God's music. I love Christian music! I listen to it all day! I even have it on blast during my workouts; it brings strength and a world of happiness into my heart.
My family…
are my biggest supporters and loudest cheerleaders! They are the reason why I do what I do. I have been married for 13 years. My husband has been my best friend for 17 years!
If I could have dinner with anyone, it would be…
my dad. He passed away 2 years ago. I wish I could sit down with him one more time to tell him how much I appreciate everything he has shown me. He was my mentor, my leader and a big reason for my success.
One thing I cannot live without…
my bible and an awesome pair of running shoes, LOL!
When I was younger, I wanted to be…
an attorney! I love researching, reading and arguing my points! I love learning about new things and using what I learn in all aspects of my life.
I'm inspired by…
LIFE! The idea of the unknown can be overwhelming, but ultimately thrilling. I look forward to what's to come. Also, my two girls inspire me—they are the inspiration and motivation for me to become the best version of me that I can be! I want them to be proud of their momma!
The one person who motivates me is…
ME! I've gone through a lot of difficult personal experiences in my life, but I've learned and grown from them and I'm happy and proud to be who I am today! I'm excited by the rapid growth of our business empire and it is great knowing how our hard work is paying off. One of my biggest personal goals was receiving an IFBB Pro card, I never gave up and eventually reached that goal! Seeing who I was then and comparing it to who I am now is my biggest drive.
If I could change anything in the world, it would be…
I wouldn't want to change anything in my personal life; I just want to make a difference in someone else's life! Knowing that leading by example and sharing my story can possibly help someone change the negative perceptions they may have of themselves, boost their self- confidence or motivate them to see the great things they're capable of, feels incredible. I want people to know that I did it and they can too!
The perfect day would be…
riding bikes in the rain with my wonderful, bearded husband. That would be a perfect day!
My first job was…
helping my dad plaster swimming pools, best job ever! Because of that experience, I'm able to really appreciate jumping into a pool LOL. Even though the smell of plaster is awful, I have the best memories of spending time with my dad!
My favorite escape…
is my gym and listening to my Christian music.
My life…
is a blessing! I'm a mom to two beautiful daughters that are full of energy & excitement—there's never a dull moment! I'm a business woman that doesn't like the word "impossible". I'm a fitness guru and a health nut. Without these two passions, I would be no good to my family – putting myself first provides me with the fuel I need to be 100% present for them. Finally, I'm married to my best friend. My husband is my teammate, my biggest cheerleader and my #1 fan! I love my crazy, unpredictable life. I am loud and laugh at my own jokes. I am the creator of all my good and sometimes not- so-good ideas that never go ignored. I am not afraid to fail…I love that about me! I am a risk taker. I am a superwoman to my family and a role model to many!
I'm currently working on…
creating different processes and systems to continue the growth of our real estate brokerage. My online coaching webinars are intense, so creating a personalized and dedicated space is vital in the growth of my coaching business. With that said, I am in the process of finishing up our studio that will be specifically dedicated to webinars and online coaching for my clients. I hope to expand this part of my life.
Always…
meditate and pray. It's necessary to obtain a peaceful state of mind.
Never…
I never allow the failures of others to influence the decisions I make in my business or personal goals. I've learned to trust my own intuition!
Favorite Quote…
"The only person that can make me or break me, IS ME".
Biggest Dream…
is to become a foster parent some day! I love kiddos! It's heartbreaking when I come across stories of children that have experienced trauma in their lives. I want to be able to foster children and help them regain their voice and laughter.
My Pet Peeve(s)…
I have lots of them, LOL! My biggest pet peeve is when I receive unsolicited advice! A lot of times, advice can really slaughter someone's awesomeness. Only give advice if asked!