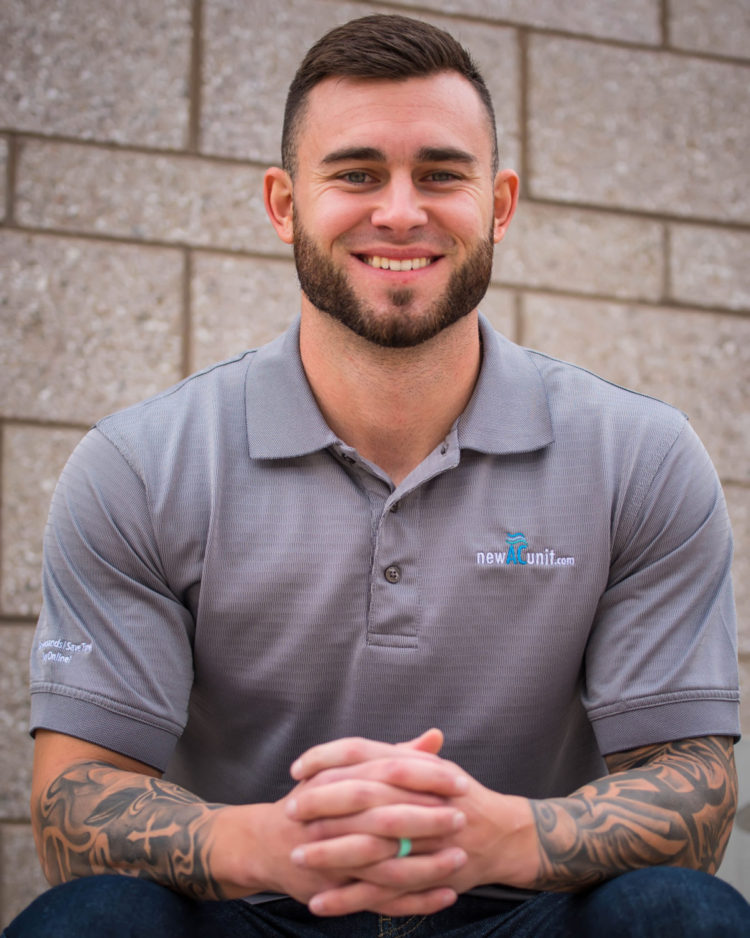 Name: Bodie Bryan
Age: 24
Title: Owner of NewACUnit.Com
Married/Single: married!
Kids: two, Zayde (five years old) and Haven (1 year old).
City you live in: Mesa
A typical day in my life includes…
working at NewACUnit and going home to hang out with my amazing wife and kids.
I was born…
I'm a proud AZ native, born and raised in Mesa.
My favorite thing about Arizona…
would have to be our perfect winter weather, my family loves to get outdoors and enjoy everything AZ has to offer.
I'm listening to…
Colors (Crossfade).
My family…
is my #1 priority, they are the reason behind my drive to be the best possible father and husband.
If I could have dinner with anyone, it would be…
Alex Rodriguez because of his outstanding success in baseball and life after baseball.
One thing I cannot live without…
my family!
When I was younger, I wanted to be…
a professional athlete.
I'm inspired by…
Bill Gates and his entrepreneurial spirit!
The one person who motivates me is…
my father, Erik Bryan (owner of Precision Air & Plumbing).
If I could change anything in the world, it would be…
to help homeless families and starving children.
The perfect day would be…
75 and sunny, spending a day with my wife and kids, having a BBQ by the pool and enjoying some music and each other.
My first job was…
playing professional baseball.
My favorite escape…
on a yacht off Turks & Caicos drinking local rum punch while relaxing with my wife.
My life…
is truly a blessing. I have a great opportunity to make my company, NewACunit.com a multimillion-dollar company and I have an amazing life at home with my beautiful wife and two kids. Plus, I'm extremely grateful for my loving and supportive parents.
I'm currently working on…
growing and expanding my business, newacunit.com to bring it to the full potential I know it can reach as a growing e-commerce business.
Always…
give everything, give 100% to whatever you're working on.
Never…
take anything for granted and appreciate what you have.
Favorite Quote…
"Work hard, stay humble."
Biggest Dream…
to have overall happiness in life with my family.
My Pet Peeve(s)… when people smack food, laziness, slow drivers and people who don't follow through!
More about NewACUnit.com…
NewACunit.com is an Arizona-based company that offers buyers a simple, honest and cost-effective way to purchase new air conditioning units. Created to eliminate the pain points customers traditionally experience when buying a new air conditioning unit, such as confusion over makes and models, high-pressure sales and high prices, newACunit.com empowers buyers to make informed decisions regarding air conditioning unit purchases and installers. With no pushy salesmen and clearly-marked prices on products and installations, newACunit.com gives all customers the lowest price, upfront and without any hassle. The company also vets licensed contractors to offer customers highly experienced and ethical professionals to install their equipment.  For more information visit:newACunit.com or call 1-800-NEW-UNIT.