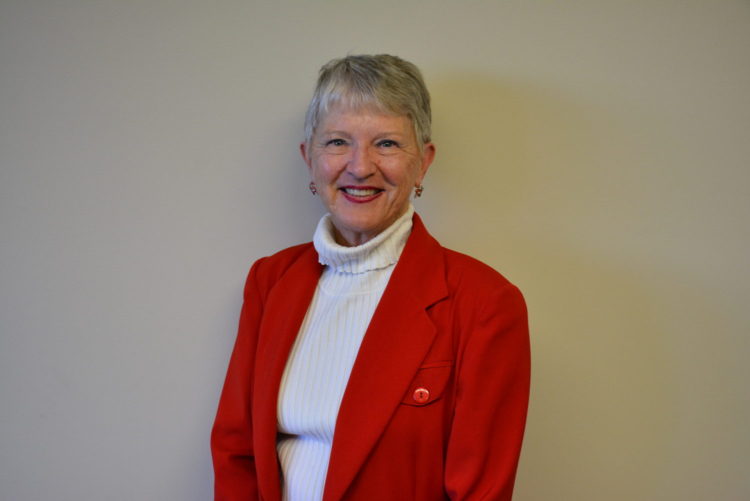 Name: Barbara J. Hatch
Age: 69
Title: Program Director for Veterans Heritage Project
Married/Single: Married
Kids: Twin sons, age 35
City you live in: Phoenix, Arizona
A typical day in my life includes…  
get up in the morning and edit student stories about veterans, have lunch, edit more stories, call veterans to schedule interviews, do interviews with veterans, nag at students about getting their essays done, eat dinner with my husband, edit more veteran interviews… somewhere in there, I do personal things. Fortunately, I don't like to shop.
I was born…
in Alton, Illinois, the sixth of ten children. We have a big Catholic family that, though diverse, cares deeply for each other. I have lost two siblings and both parents along the way, but my mother lived to the age of 99. My ancestors were hard-working Germans who farmed. I loved growing up along the Mississippi River and miss it when I'm not around it, but I can't live in any area with tornadoes!
My favorite thing about Arizona…
is the ability to drive to its many diverse regions. And I have seen a large chunk of it! I love the red rocks to the northwest to its deserts and have hiked the Grand Canyon half a dozen times. It is a beautiful state.
I'm listening to…
I don't listen to a lot of music but I do love listening to our veterans' stories of service. I lose myself in their narratives.
My family…
is a mixed bag! There are my nine siblings and then my small family of husband and twin boys. There is always another wedding or reunion to attend.
If I could have dinner with anyone, it would be…
a famous general, maybe Patton or Omar Bradley. Of course, as a history teacher of 40 years, there are many historical figures I would love to meet. I think Winston Churchill might be fun.
One thing I cannot live without…
books. Keep all the TV shows and give me a library to choose from. I have also traveled in seventy-five countries but am not as motivated as I used to be to plan the trips. I'd rather just get in the car and go and then see what happens along the way.
When I was younger, I wanted to be…
I never thought about it. I ended up a teacher because I couldn't think of anything else to do with an English degree.
I'm inspired by…
service and kindness. This knows no age. I am continuously choked up by the people I see on CBS News's Friday night "On the Road with Steve Hartmann," simple people of all ages doing extraordinary, yet simple, things to help others.
The one person who motivates me is…
There can never be just one. I draw on the strengths of people from every generation.
If I could change anything in the world, it would be…
to educate people on appreciating the differences, rather than telling each other who to marginalize. I have taught in Senegal, Iran, the Virgin Islands, and the U.S. All these kids brought gifts to the general humanity we share. I learned as much from them as they did from me.
The perfect day would be…
a massage, a book, and quiet time.
My first job was…
helping my older brothers deliver newspapers door-to-door. I was 12.
My favorite escape…
see the perfect day above. Add to that, just a long drive to a place I've never seen before.
My life…
has been fascinating. I never thought growing up "poor" I would see the world and end up creating a nonprofit.
I'm currently working on…
Volume XVII of Since You Asked: A Salute to Cold War Veterans. Even though we sent Volume XVI to press this afternoon, we interviewed a Pearl Harbor survivor right after that. It keeps me off the streets.
Always…
communicate with the ones you value. Listen.
Never…
marginalize others who are different.
Favorite Quote…
"So many veterans, so little time." My own quote!
Biggest Dream…
take our Veterans Heritage Project national. We'd need a big donor to have the staff.
My Pet Peeve(s)…
drivers not using their blinkers!