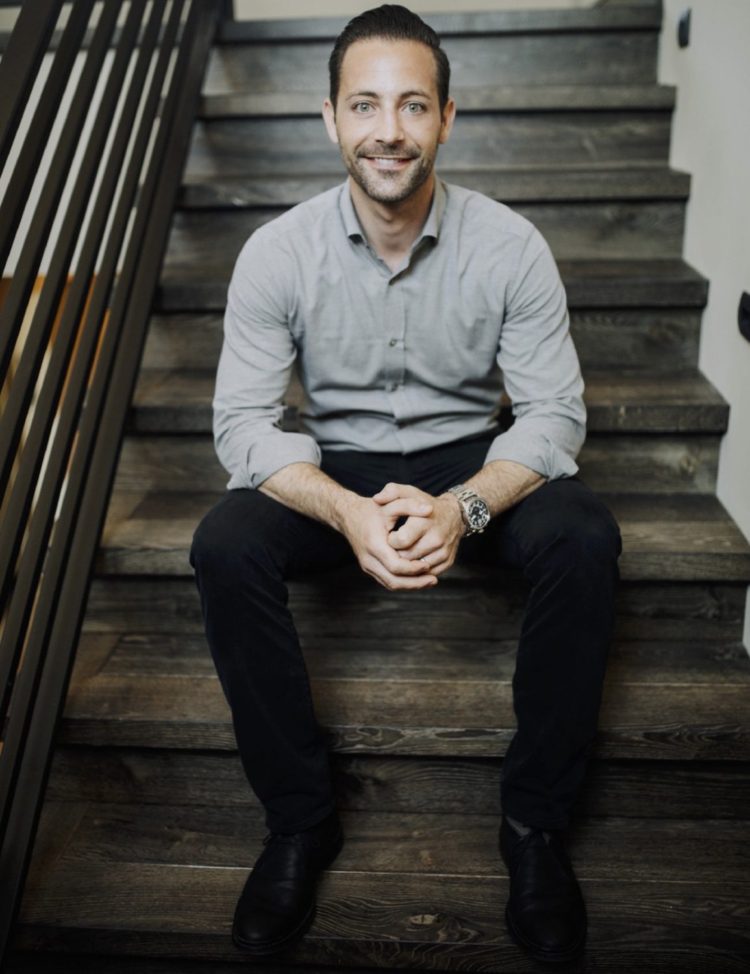 Name: Anthony Rotta
Age: 31
Title: Partner – Vice President at Golden Heritage Homes
Married/Single: Happily Married
Kids: 10-Month old beautiful Waylon Rae
City you live in: Scottsdale (McCormick Ranch)
A typical day in my life includes…
snooze multiple times which my wife loves, lots of coffee, work hard, work out, cook healthy, spend time with my girls Delaney and Waylon. Plan out the next day in my calendar. Weekends are spent catching up on work, mostly time with my girls out and about. Hitting favorite restaurant spots and seeing friends and family. Oh and lots of yard work, heat permitting.
I was born…
in Naperville, IL, which is a west suburb of Chicago.
My favorite thing about Arizona…
is the weather, besides the blazing heat in the summers of course. Also cost of living, lots of Midwest people, hiking, scenery, proximity to Flag, Sedona, Vegas and California. Also the amazing opportunities now and in the future. Best place to live in the US, hands down.
I'm listening to…
a wide range… Dr. Dre – The Chronic, Tupac, Tom Petty, Led Zeppelin, Fleetwood Mac, Bob Seger, Red Hot Chili Peppers, all music even Country now thanks to my lovely Calgary born country raised wife.
My family…
is the reason I get up every day. Delaney and Waylon. Most of my immediate family is back in Chicago but now I have my younger brother/best friend here as well.
If I could have dinner with anyone, it would be…
Al Capone, Jimmy Iovine, Dr. Dre, or any of the three grandparents of mine that have passed away.
One thing I cannot live without…
besides Delaney and Waylon, good music.
When I was younger, I wanted to be…
a custom home builder.
I'm inspired by…
smart successful people.
The one person who motivates me is…
my wife Delaney. She pushes me every day.
If I could change anything in the world, it would be…
people being too sensitive. People need to lighten up and stop taking themselves too seriously.
The perfect day would be…
wake up somewhere in the Amalfi Coast in Italy with Delaney and Waylon. Go for espresso and breakfast. Hit the little towns, drink wine and have pizza for lunch. Then more sightseeing and meeting locals. Then amazing dinner and then walk it off with some gelato. Have more wine and cocktails and hit the sheets.
My first job was…
Turtle Wax car wash, still love detailing cars.
My favorite escape…
my family's lakehouse in Michigan or Delaney's family lakehouse in Kelowna, British Columbia
My life…
is a gift. I feel lucky every day for all that I have.
I'm currently working on…
expanding our company, learning how to be a dad. Always working on trying to be a good husband.
Always…
enjoy the moment.
Never…
be deliberately mean to anyone.
Favorite Quote…
"Life is short. Live it up."
Biggest Dream…
have a healthy happy family and be the premier luxury custom builder in Arizona.
My Pet Peeve(s)…
how much time do you have? Bad drivers, traffic, messy people, lazy people, people who don't say please and thank you. Ok I'll stop.
Click here to order a Trendsetters reprint.