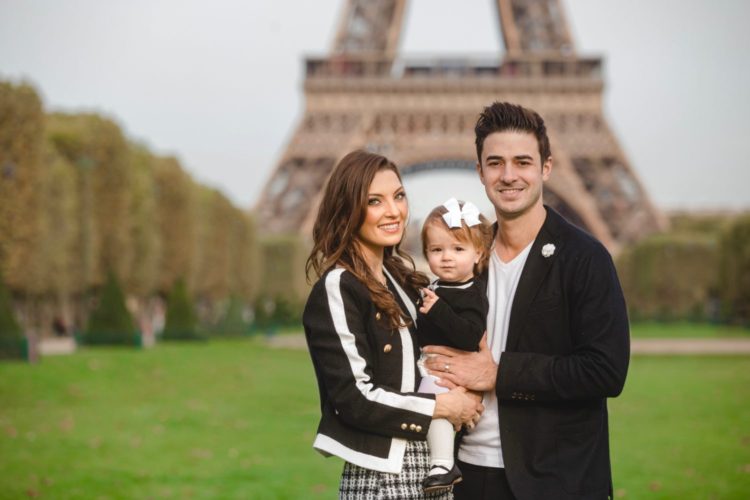 Name: Anthony Kennada
Age:  32
Title: Chief Marketing Officer at Front
Married/Single: Luckiest man alive thanks to Brittany Dawn Kennada.
Kids: One beautiful daughter – Cienna Brielle – who keeps us on our toes.
City you live in:  Paradise Valley
A typical day in my life includes…
coffee, breakfast with my family, coffee, meetings on Zoom, coffee, meetings over coffee, workout, dinner with my family, good red wine, Frasier re-runs, repeat. Also, I'm pretty sure 1/3 of my paycheck is directly deposited to LGO at this point.
I was born…
in Los Angeles. I grew up in Calabasas before the Kardashians, Bieber, and Kanye moved in. 
My favorite thing about Arizona….
the lifestyle, people, weather (most of the time), and just how "easy" life is here when juxtaposed against the traffic and out-of-control cost of living in other cities where I've lived. I feel like I can be my best self in Arizona.
I'm listening to…
everything from Taylor Swift to Hillsong United and anything in between.
My family…
is my rock. I'm so lucky to have a wife who is equal parts supportive of my career ambition and a creative entrepreneur in her own right. We've spent the first several years of our marriage building a strong foundation, and now with God's grace, we are growing our family and unlocking fulfillment unlike we've ever known.
If I could have dinner with anyone, it would be…
Kobe Bryant – I'm inspired by the mentality that powered his success on and off the court.
One thing I cannot live without…
an iPhone and Internet connectivity. I hate that this is true, but it really is.
When I was younger, I wanted to be…
the first Los Angeles Laker to wear #23. Thanks for nothing, LeBron.
I'm inspired by…
consumer brands such as Disney, Airbnb, or Virgin America (RIP). As a marketer focused on selling to businesses, there's a lot that we can learn from these companies on how to win both the hearts and minds of a market. Also, late-night TV.
The one person who motivates me is…
my daughter. I want her to grow up in a world where she has every opportunity that I've had. I want to instill the right values within her so that she can realize her fullest potential in this life. I want her to know her true worth, and I appreciate the responsibility I bear as her father in this effort.
If I could change anything in the world, it would be…
the polarization that divides us as people, both domestically and globally. Imagine the good that can come from a world in which we all cooperated to advance the interests of society.
The perfect day would be…
started with a great cup of coffee at a resort with a beautiful view (ocean or vineyard), full of shared experiences and new memories with family and friends and capped off with a great glass of wine.
My first job was…
a lifeguard. I'm not sure why the Calabasas Tennis and Swim Center entrusted the lives of their members to this 16-year old, but hey, it worked out.
My favorite escape…
wine country.  I was fortunate to live in the Bay Area for a decade and I still spend 1-2 weeks a month in San Francisco. Driving up to Napa, Sonoma, or Healdsburg is truly the best "escape" and a chance to reconnect with the elements after staring at a screen professionally.
My life…
is not my own. Understanding that Biblical concept helps set context for how I see the world – that living life in service of others is nobler than selfish ambition (for one's own sake).
I'm currently working on…
building the Front brand –bringing humanity back into work and enabling all of us to find more meaning, purpose, and intention in our jobs. I'd love for you to join me.
Always…
be closing. Sorry, I couldn't help myself. Always see the best in people – optimism is a far more powerful compass for navigating life than the alternative.
Never…
settle. Know your worth and work hard to reach your fullest potential in this life.
Favorite Quote…
"Do not conform to the pattern of this world but be transformed by the renewing of your mind. Then you will be able to test and approve what God's will is—his good, pleasing and perfect will."
Biggest Dream…  
to study romance languages and work at the intersection of wine, travel, and culture. After working in a career of engineering the future, I'd love the opportunity to revere the past.
My Pet Peeve(s)…
that thing people do, when they are walking in front of you and then suddenly stop, causing you to either bump into them or change course. This makes crowded environments like Disneyland or walking the streets of New York anxiety-ridden situations at times.