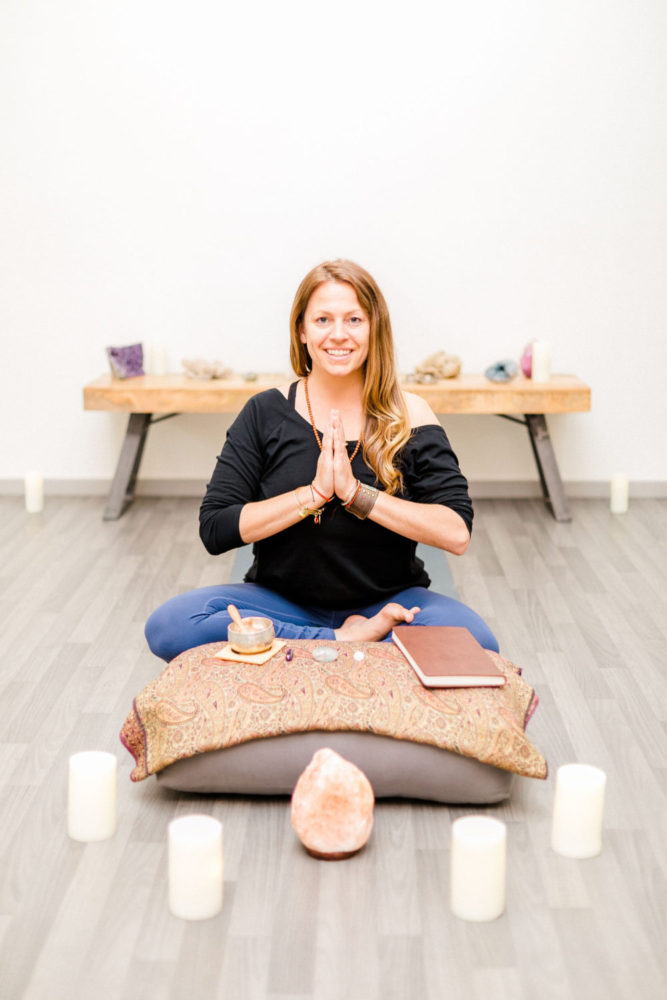 Name: Amanda Grant
Age: 38
Title: Chief Wellness Officer, CIVANA Wellness Resort & Spa
Married/Single: Single
Kids: LOTS of them, but none that I birthed myself 😊
City you live in: Carefree, Arizona. Google it. It's a real place.
A typical day in my life includes…
every day begins the best way possible – snuggles or a playful pounce from my pup Tashi. From there, I brush my teeth, meditate, set my intention for the day, do whatever work needs to get done at CIVANA or teach a class, close my day with a gratitude reflection, and read or study before bed. I also am a bit of a political junky, so I tend to be tuned in to the happenings therein as often as it is healthy for me.
I was born…
in a sweet little town north of Seattle called Mukilteo. It's also a real place and very few people know how to pronounce it.
My favorite thing about Arizona…
I think I have to say the people. I have the great fortune to work at a wellness resort called CIVANA which is just north of Scottsdale. My colleagues and our guests tend to be next-level human beings. 
I'm listening to…
oh man, everything. I'm not joking when I say that there is only one musician ever who I can't listen to. My brain processes conversations in song format, so if you are talking to me there is a very strong chance that there is an entire concert taking place inside my head.
My family…
is large, funny, competitive, loving, and fueled by curiosity. I feel very lucky to always be learning something from my entire tribe.
If I could have dinner with anyone, it would be…
that's a tough one. Everyone? I love breaking bread with people. If I had to pick just one person, I guess today that would be President Abraham Lincoln. I have so many unanswered questions.
One thing I cannot live without…
Tashi, my pup. And sushi. And probably breathing and water, although I don't dare test that theory. 
When I was younger, I wanted to be…
a cartoon voice actor. Or an opera singer.
I'm inspired by…
consciousness.
The one person who motivates me is…
my dad. He's fascinating. And I could very easily give you the same answer as the dinner one above. All sorts of things and people motivate me. I would be remiss if I didn't also call out CIVANA's founders, Adam Ross and Marc Skalla who inspire me every day. I put Adam's name first because I gave him a second-place ribbon for his birthday this year and I kind of feel bad about that.   
If I could change anything in the world, it would be…
that teaching kids how to be in their body from the perspective of mindfulness would be required AND embodied by teachers and administrators in school.
The perfect day would be…
this one.
My first job was…
my parents ran their school photography business out of our home. Some of my earliest memories were of opening envelopes or answering calls from parents about their kids' pictures. My first job outside of the house was at this super amazing Bagelry Café where I got to do everything from cashier to cook.
My favorite escape…
somewhere new. If I had to choose from a place I have already been, it would be Queenstown, New Zealand or Sedona.
My life…
is like a box of chocolates. And it's also such a huge gift that I do my best to not take for granted.
I'm currently working on…
more certifications! Meditation teacher training, Chopra Perfect Health teacher certification, TRX instruction, and the list goes on. I am endlessly fascinated with human potential.
Always…
be curious, humble, and kind.
Never…
say never.
Favorite Quote…
This is impossible to answer but the one that probably best captures my spirit is from this guy you've probably never heard of who supposedly wasn't very smart at all. His name was Albert Einstein.
"The important thing is not to stop questioning. Curiosity has its own reason for existing. One cannot help but be in awe when he contemplates the mysteries of eternity, of life, of the marvelous structure of reality. It is enough if one tries merely to comprehend a little of this mystery every day."
Biggest Dream…
to eventually have a yard for my dog Tashi that snakes and other poisonous things don't visit that he can roam around in at his leisure. In my mind, this yard is also self-cleaning except for weed whacking. I LOVE weed whacking.
My Pet Peeve(s)…
when I temporarily forget that everyone is essentially doing the best they can in the moment. 
More about Amanda…
Amanda is an ex-college athlete, a seasoned brand and growth leader across corporate, political, start-up, and non-profit industries, a HeartMath™ Certified Organizational Trainer, and is on track to graduate from a 2-year Mindfulness Meditation teacher program with Jack Kornfield and Tara Brach in early 2021. Amanda's passion for CIVANA can be most easily recognized when one of our many gift workers meaningfully and positively impacts the life of another person, be that a guest or a fellow colleague. When not at the property, Amanda can be found frolicking with her beloved dog, Tashi.
More about CIVANA Wellness Resort & Spa…
Nestled in the Sonoran Desert, just outside of Scottsdale, AZ, CIVANA offers curated personal growth and discovery experiences, access to world-renowned wellness guides and healers, comfortable accommodations, delicious food and drinks, ample time to relax and recharge, optional adventures, and a surprise or two. CIVANA was founded with a singular brand mission: To Inspire Wellness. That meant creating a wellness experience that invited more into wellness. More people. More choices. More affirmation and celebration. More unbounded joy and exploration. Our wellness philosophy: Happiness First, Healthiness Always. Simply put, we want our guests to depart better versions of themselves.

Click here to order a Trendsetters wall plaque.