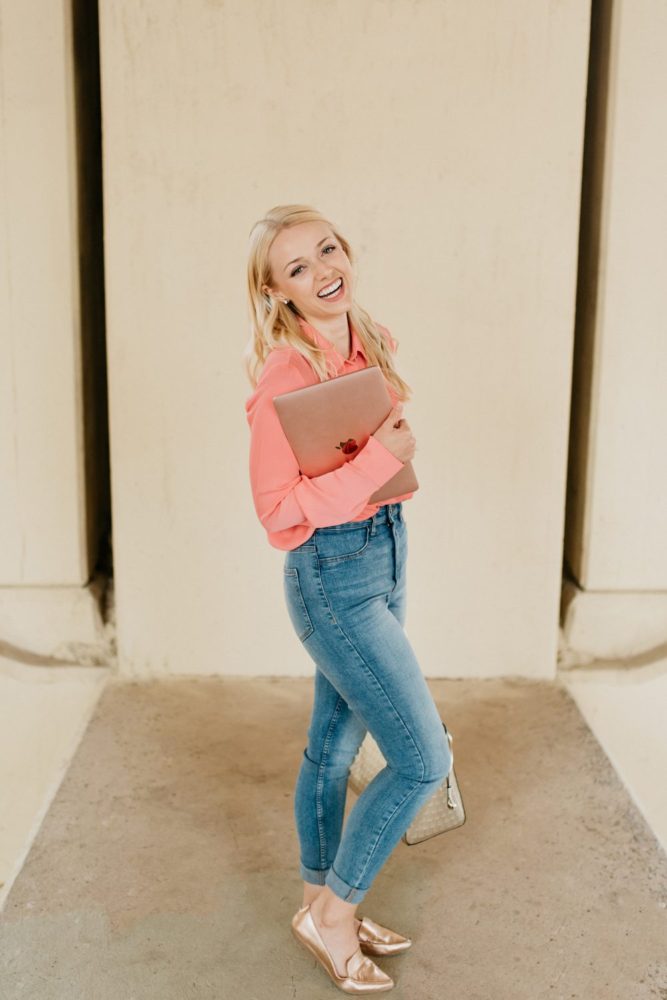 Name: Abby Zufelt
Age: 24
Title: Director of Social Media, Podcast Host, Blogger, Speaker
Married/Single: Married to my awesome husband!
Kids: A chihuahua-terrier rescue pup.
City you live in: Mesa/Gilbert
A typical day in my life includes…
on a good day, I'll get some yoga in first thing in the morning, then listen to a podcast on my commute to the office, social media marketing strategies, client meetings, crafting content, checking Instagram, podcast prep or recording. Typically each day ends with some family time, most likely my husband and I will be catching up on our current TV show.
I was born…
in Utah! But have always lived in Arizona and called it home.
My favorite thing about Arizona…
the sunsets, the saguaros, and the local restaurants and shops!
I'm listening to…
podcasts, always! My top favorites are How I Built This, The Skinny Confidential Him & Her, Imagined Life and this new, local podcast called Working Girl Talk. 😉
My family…
is my everything! Every person in my family inspires me and motivates me to be better. They are all hard-workers, dreamers and doers. They are my biggest supporters.
If I could have dinner with anyone, it would be…
this is hard – can I pick more than one? My great grandma from Spain, Lady Gaga, Misty Copeland, Phil Knight and Sammy Davis Jr. It would be a dinner PARTY with a lot of dancing!
One thing I cannot live without…
my phone! I know, I know. But it would be so hard to do my job without it. Plus, I just can't imagine not being in contact with the people I love. I'm so grateful for all the technology we have – it's such a cool time to be alive!
When I was younger, I wanted to be…
a newscaster, specifically an entertainment reporter! I've always had a love for storytelling and pop culture. My bachelor's degree is actually in Journalism. During college, I discovered the world of PR and digital marketing and ended up switching my focus. I do love that my current job and passion projects allow me to still be in the media field and tell stories, just in a different way!
I'm inspired by…
people that stick with it! The ones that follow that little voice that tells them that what they're doing matters and that they will make it one day. There are so many reasons to quit what you've started and to not start at all, but the people that keep going and follow their passions inspire me every single time. I heard  a quote once that goes something like, "every overnight success took 18+ years." Persevering when times get tough is hard, which is why I'm inspired and motivated by those who do!
The one person who motivates me is…
my family!
If I could change anything in the world, it would be…
that taking risks and handling rejection wasn't so scary. Let me explain. One bad experience ruins a lot people's drive to keep pushing on. Think back, if you ever took a fashion risk at school as a kid (didn't we all? hah) and someone made fun of you, you more than likely wanted to just play it safe from then on, not wanting that feeling of rejection. I'm talking about that same feeling of getting rejected for a job or internship, getting a business idea shot down, a person rejecting your idea or the worst of all, rejecting you. It's HARD to put yourself out there and one bad experience can cripple people into never taking a chance ever again. I guess what I'm really talking about here is that I wish everyone took the time to recognize their self-worth – to do what they want without the fear of rejection and to not let past rejections or bad experiences hold them back.
The perfect day would be…
going to a ballet class or a yoga class, going to a fun brunch spot with my husband, taking our dog for a walk and then going to a movie – a bonus if we're doing all of this in Hawaii or Paris.
My first job was…
my first real job was as a tour guide at Arizona State University's journalism school. It was the BEST! I loved educating potential students and their families about the transition from high school to college. My best advice for college kids is to get involved in your school! That job allowed me to meet so many awesome people and connections.
My favorite escape…
Paris, always! On the daily? Ballet or yoga class!
My life…
is full of amazing people! I am so blessed to have many people who support me and inspire me.
I'm currently working on…
my podcast – always! It's my passion project. I love helping women in the working world and sharing the stories of women that inspire me! I'm also always working on my blog and I'm in the beginning stages of planning an in-person event. Stay tuned!
Always…
dress to impress! You don't have to have the nicest clothes, but if you feel like you're putting your best foot forward, you'll be more confident walking into work. On my podcast, Cathleen Daly said, "dress for the day you want to have." and I just loved that! Outer confidence influences your inner confidence.
Never…
forget to say thank you!
Favorite Quote… "
"The harder I work, the luckier I get." – Samuel Goldwyn and ""It is never wrong to do the right thing" – Mark Twain.
Biggest Dream…
I have MANY haha. Currently: I have a list of dream guests for my podcast that I'm working on, to hold a workshop for other working ladies, to speak at Create & Cultivate, to speak French fluently…how much time do you have?
My Pet Peeve(s)…
this is a weird one but…when people spell macaron with a double "O" when they're referring to the French cookie. Macarons are the French sandwich cookies and macaroons are the coconut cookies. It's a common mistake so I'm not judging, but I just need people to know that I'm not spelling macaron wrong, haha!
More About Abby Zufelt…
Abby Zufelt is a digital marketing strategist, podcast host, blogger and speaker. Abby's passions lie within storytelling and educating, which led her to a career in digital media. Along with her day job as the Director of Social Media at a marketing agency in Scottsdale, Abby is the podcast host of Working Girl Talk. Professionally, Abby is passionate about helping brands share their stories online and connecting with their consumers. Personally, she loves educating and equipping young people with the right tools to be the best version of themselves inside and outside of the workplace. Her blog and podcast were started to help women tackle professional topics no one else was talking about and to inspire them with stories of success from the other women who've been there.