Kids: 6, I birthed them all. One being an angel. Our 4th child Vayda, passed away shortly after birth.
City you live in: Phoenix
A typical day in my life includes… starting with meditation and affirmations, helping clients with all their hair needs, a park run with the fam, and sneaking away for dinner with my husband while the kids eat whatever we cooked
I was born… In East St. Louis, Illinois
My favorite thing about Arizona… The weather and tacos
I'm listening to… Deepak Chopra or Shelah Marie meditation and anything Beyonce
My family… is my lifeline. They motivated me to change my life.
If I could have dinner with anyone, it would be… Courtney Adeleye (owner of The Mane Choice), Jessica Dupart (owner of Kaleidoscope), and Beatrice Dixon (owner of Honey Pot).
One thing I cannot live without… naps and takeout food
When I was younger, I wanted to be… exactly what I am today. A licensed cosmetologist and salon owner. How awesome is that?!
I'm inspired by… my mom, her entire life she never took No for an answer and always pushed through every challenge she faced. Karen don't play, baby!
The one person who motivates me is… my husband. Dr. Anderson is pretty amazing
If I could change anything in the world, it would be… for a parent to never lose a child
The perfect day would be… spending time with my family and 2 hours of alone time!! It's called balance lol
My first job was… Stoplight fast food restaurant, I worked the drive thru
My favorite escape… riding in the car with my windows down, sunroof open, while blasting music. No phones allowed!!
My life… has been the perfect storm, in a good way. No matter how rough things may be or start out, the sun is always on it's way to shine bright. Trust the process. It really does get greater later
I'm currently working on…  expanding my hair product and extension line, while also developing a platform called Wommypreneur. This is a community for women entrepreneurs who also hold the role of mommy. We will focus on balancing the load of our lives, while accomplishing all of our goals and dreams. 
Always… follow your passion and purpose. The success will follow!
Never… give up on yourself! Your dream isn't suppose to make sense to anyone, but you!
Favorite Quote.. Life isn't perfect, but your hair should be
Biggest Dream… to see my products on the shelves in Walmart, Sallys and Target
My Pet Peeve(s)… people who don't say what they mean. Just spit it out already! Be direct!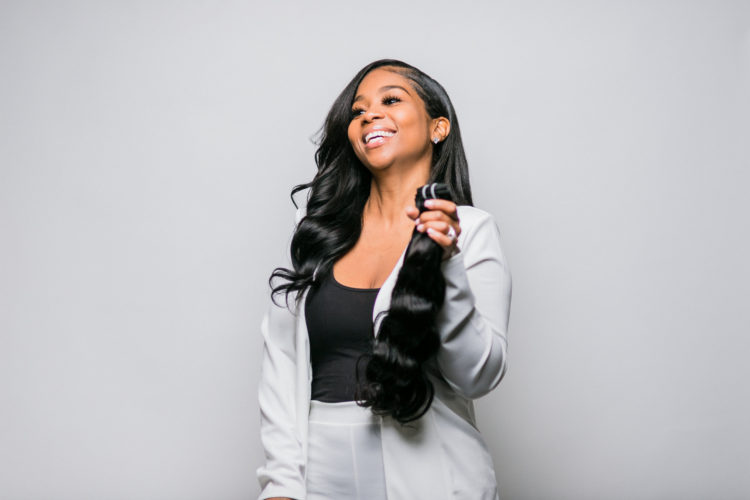 More About Michelle Anderson:
A devoted mother and exceptional stylist, Michelle Anderson has proven that she can balance it all. Originally from East St. Louis, Illinois, Michelle grew her passion for hairstyling when her grandmother called on her to roller-set four of her wigs. At that moment, and unbeknownst to Michelle, that simple task would ignite and propel her into a fruitful career that allows her to help other women while giving her the freedom she needs to be a mother and wife. At age 20, she decided to get serious about her passion and enrolled in Precision Point's School of Cosmetology. 
After receiving her cosmetology license in 2007, Michelle continued to build a formidable reputation regarding her expertise in multi-cultural styling and fashion-forward styles that demand attention. In 2012, she and her husband decided to relocate their family to Arizona. She obtained her license in Arizona and immediately began building a brand new clientele with some of Arizona's elite. In 2018, Michelle decided to bolster her business by filling a void for many Arizonians — she stepped up to serve an exigent need when she developed a reliable edge control, now known as 'MichelleAndHair's Edge Smoother'. With just a few months in, Michelle's new product has been a best seller amongst her local clients and even those in her hometown. Feeling the jovial energy which has been cultivated through her customer's supportive feedback, Michelle has also launched her hair-extension line which offers ravishing, yet, affordable hair for women of all cultural backgrounds. Michelle is a dedicated and talented woman who is nowhere near done with leaving her mark on the beauty industry — this is only her beginning.