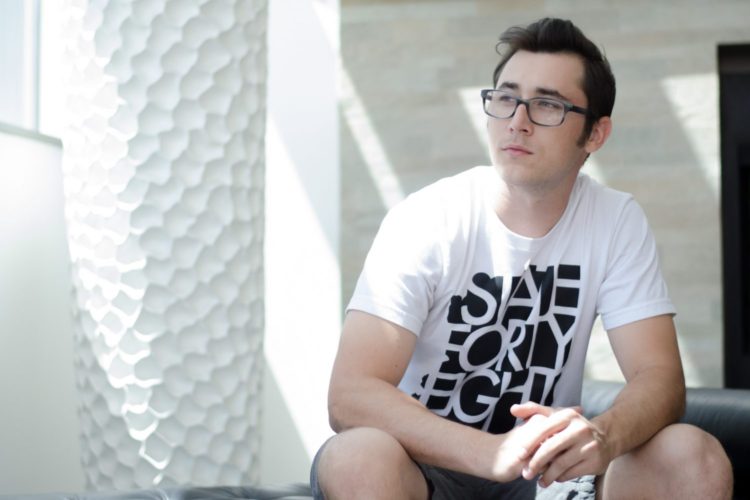 Name: Nicholas Polando
Age: 26
Title:  State Forty Eight Co-Owner and Graphic Designer
Married/Single: Single but in a great relationship with a wonderful woman.
Kids: No
City you live in: Chandler
My day is like…
My day is like… An episode of the office. Never really sure what Dwight might bring to the table. 
I was born…
I was born the youngest of two, in Urbana, Ohio. Into a family that is all from Michigan. If you know anything about the Michigan, Ohio rivalry, you already know I am the odd ball of the family. We moved to Chandler when I was 3-years-old, so really I know nothing of Ohio, and I consider Arizona to be my home, and I love it here.
My favorite thing about Arizona…
My favorite thing about Arizona would have to be the fact that you can do something outside every day of the year. The weather is always great here. I am one of the few people that you will meet that doesn't mind 115 degree weather either. You have to just embrace it.
I'm listening to…
Almost everything. From my favorite Indie band Modest Mouse, to my favorite rapper Childish Gambino. The only music I can't stand is country, what a waste of sound.
My family…
My Family is a great influence in my life. I feel lucky to be a part of a company that I can share with my older brother. We don't always think alike and I think that helps what we have going on. When I am absolutely sure about something, he trusts my opinion, and I do the same to him.  My mother is one of the biggest influences in my life. She raised me right and taught me how to be respectful to everyone that I ever come in contact with. She is the greatest person that has ever been in my life.
If I could have dinner with anyone, it would be…
If I could have dinner with anyone, it would have to be Donald Glover a.k.a. Childish Gambino. Everything he does as an artist amazes me. This includes wining an Emmy as a writer, being a hilarious actor and singing lyrics that makes so much sense to my everyday life. I would really like to just have a real life conversation with someone that has already done so much by the age of 30. I feel he understands what is going on in this world from so many different angles.
One thing I cannot live without…
A bicycle. More on that later..
When I was younger, I wanted to be…
When I was younger I wanted to be an architect. I've always been amazed by the structures of buildings. I think growing up in Arizona has a lot to do with that. There are so many modern buildings here that accent the soundings of Arizona. If you take a look at my Instagram (@nicholando) you will see how inspired I am by the simple concept of lines meeting one another just right. I really can't explain the feeling that some buildings, new or old, give me. There is great beauty in the smallest details.
I'm inspired by…
I am inspired by many artists of all forms. From great photographers on Instagram to some of my favorite authors Charles Bukowski and Hunter S. Thompson. Also, people like Aaron Draplin, one of the creators of Field Notes (which I carry with me everyday, for any moment that I get a spark on inspiration, whether it is a design, a slogan, or a marketing idea). Draplin has a great sense of minimalism: say a lot with a little. That's something I try to incorporate in every design for State Forty Eight.
The one person who motivates me is…
I am motivated by my girlfriend, Joelle Martin. Everyday she motivates me to be a better person and to think a little differently about things. We don't agree on everything, but I think that's an important thing to have in a relationship. You'll never learn anything if there isn't someone there to challenge your thinking and keep you grounded like she does for me. She is a wonderful part of my life.
If I could change anything in the world, it would be…
If I could change anything in the word, it would be that so many people treat so many people so badly all the time. There is a lot of ugly in the world. I think a change needs to happen soon.
The perfect day would be…
The perfect day would be backpacking through some great part of this earth with Joelle and setting up camp for a few days. We would cook on the fire, lay in a hammock and drink some craft beer while enjoying nature. I guess that's more than a day huh? Whoops.
My first job was…
My first job was at Harkens Theaters. I've never seen so many first world problems in my life. Sure, free movies were cool. But if you forgot to layer someone's butter on their popcorn, you might as well be the worst person on the face of the earth. Americans love their butter.
My favorite escape…
My favorite escape would have to be riding my bicycle. See, I told you we would get back to this. There are few greater feelings than riding a bike to me. I have been cycling for about eight years now. Four and half of those years, my bicycle was my main source of transpiration by choice. Powering something with your own energy for 20 miles, pouring sweat in the AZ summer, it's a great feeling. It's like being a kid again, every time I'm on it. Total freedom. I could talk about riding all day long, but I'd rather ride instead.
My life…
My life is pretty busy, but busy is good. I could never be that person that doesn't do anything with their day. I work 40 hours a week at my day job and then I go home and ship out orders for State Forty Eight. I think it's good to be busy while I'm young.
I'm currently working on…
I am currently working on multiple designs for people and business that we (State Forty Eight) plan to collaborate with in the future. I'm excited to be working with so many great people and companies through State Forty Eight.
Always…
Looking for good design inspiration.
Never…
Watching any reality TV …it's not real, people!
Favorite Quote…
"What you don't understand, you can make mean anything."
Biggest Dream…
My biggest dream would have to be, to just sit in a studio somewhere and be make things. All things, out of whatever materials I have lying around with whatever tools I have at that point. Or design a city building. That would be cool too.
My Pet Peeve(s)…
One of my biggest pet peeves is when cold air is blowing directly on me from a fan or AC unit and I'm not warm whatsoever. Or just cold weather. I grew up in Arizona after all.   

Click here to order a Trendsetters wall plaque.