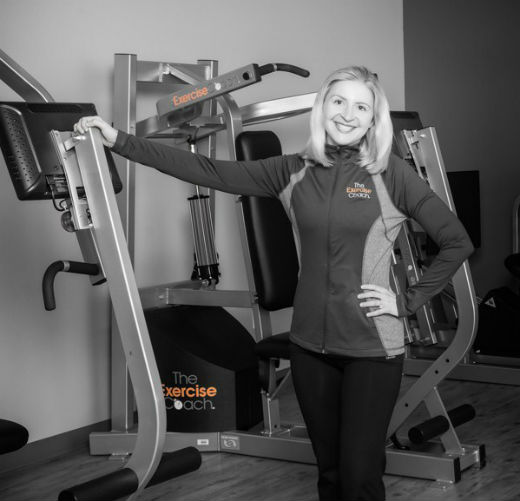 Name: Amanda Coe
Age: 38
Title: Owner
Married/Single: Married
Kids: A four-legged furry baby named Teddy Bear
Live: Scottsdale, Ariz.
Amanda Coe is a Franchisee with The Exercise Coach®, a leading-edge, high-tech health and fitness franchise founded in 2000 that offers a unique and comprehensive approach that delivers real results in just two, 20-minute workouts a week! Amanda owns The Exercise Coach in North Scottsdale, the first in Arizona, and plans to open multiple units in the Valley. She also owns a private investment company and graduated as a Fulbright Scholar from Harvard University.
I was born…
In a small town in Ontario, Canada.
My favorite thing about Arizona…
Is the climate and being able to wear flip-flops and summer clothes all year round.
I'm listening to…
An eclectic mix of music. I like anything upbeat that makes me want to sing and dance!
My family…
Has always been supportive of my dreams and aspirations.
If I could have dinner with anyone, it would be…
With President Abraham Lincoln. He was a great leader. He was intelligent, well-read, and strategic. He was a visionary who also understood the practical steps that were necessary to achieve his goals.
One thing I cannot live without…
Is chocolate! It's medicinal right!?
When I was younger, I wanted to be…
Rich! I wanted to live the life of a wealthy business mogul. Perhaps it was all of those episodes of Young and the Restless that inspired me.
I'm inspired by…
Rags to riches success stories and people who are able to overcome physical and socio-economic challenges and achieve great things.
The one person who motivates me is…
I'm actually very self-motivated.
If I could change anything in the world, it would be…
To rid the world of all disease. I was diagnosed with Ulcerative Colitis in 2006, which is a chronic inflammatory bowel disease, and I know first-hand how important it is to be in good health.
The perfect day would be…
Relaxing with my family.
My first job was…
Working at a donut shop. I have not been a fan of donuts ever since!
My favorite escape…
Is to the Mediterranean. I love the sun, the sea, the air and the food of the Mediterranean. It always rejuvenates my mind, body and soul!
My life…
Is blessed. I am a very lucky person.
I'm currently working on…
Opening multiple Exercise Coach studios in the Valley over the next 12 to 18 months.
Always…
Dream big!
Never…
Stop following your dreams!
Favorite Quote…
I have two favorite quotes:
"The greatest wealth is health." ~ Virgil
"Desire is the key to motivation, but it's determination and commitment to an unrelenting pursuit of your goal – a commitment to excellence – that will enable you to attain the success you seek." ~ Mario Andretti
Biggest Dream…
To live a long, healthy and happy life.
My Pet Peeve(s)…
Is bad customer service.