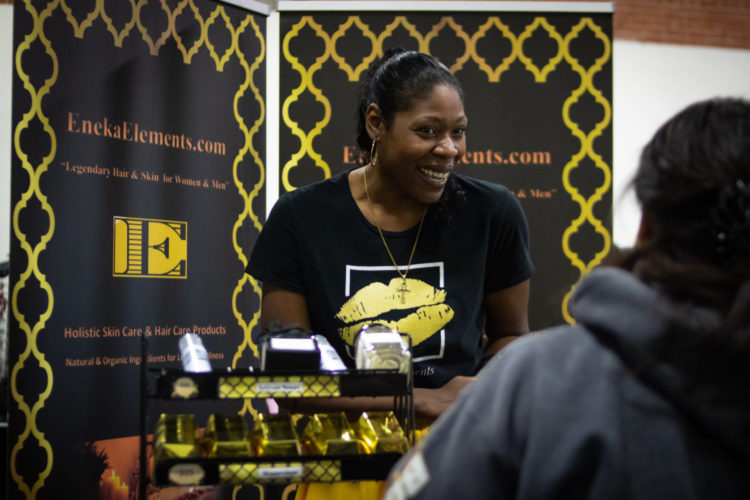 Name: Anicka Martin, aka "The Self-Care Phoenix"
Age: 37
Title: Owner of Eneka Elements
Married/Single: married to me currently. I even have a ring to remember the journey of self-love I am on. I am the key to my own happiness and my partner will be a beautiful bonus. I feel the key to it all is within me. I have lost 80lbs in the last 3 years after having my first child. I have sustained my weight loss and gained my life back. I am taking very good care of me and by extension my family and everything I touch.
Kids: the one and only King of Bath Fizzies, Kingston Martin. He impresses me daily and has a true love for bath fizz. I look forward to seeing what he wants to create as he grows. He loves my creations as much as I do and is a master in bath fizzy's.
City you live in: Phoenix
A typical day in my life includes…
mixing mom and boss activities. Kid at school. Mom at work and play. Make healthy dinner and do dishes and laundry and have a book with my son after a healthy meal. Being able to be with family at the end of the day is what makes me happiest. We love to dance and to connect over a moment of joy. We laugh, a lot.
I was born…
in Southern California in Los Angeles County. I was not very far from Hollywood and L.A and it had an effect on how I see glamour and beauty.
My favorite thing about Arizona…
the people, the land and the flag. Going to Sedona and learning the native tribal history has been a blessing. I am in awe of every sunset.
I'm listening to…
my intuition currently and it has a lot to say. My current song on repeat is Lianne La Havas Unstoppable in my office. In general, music is also so influential and right now I am in a very organic phase listening to FKJ who I saw play in Tempe last April. I also enjoy watching live music on NPR MUSIC. I love to vibe out to Chillhop and Nature sounds or some Affirmations on youtube to wind down and relax. I created a really diverse Eneka Elements playlist on my Youtube that will take you through my music survival lists.
My family…
is multigenerational and supportive. Locally it includes my mom and son. My Dad is a huge supporter and helps me with some of my inspiration with beard oil and beard balms. He and my brother are great Eneka Men product testers. My younger sisters love all things beauty. My little sister Cali is in high school and a volleyball star. She is the first to take the magnesium products and noir mask so I have to send her a special box to make sure everyone can enjoy theirs. My sister Lauren is all about Legendary Shea Whip and all things hair. She is a great help and inspiration. Their mom also supports my passion and loves the "Everything Bundt the Bath" it is a family affair. My niece Tiana is a big Noir Tooth fan and loves all things DIY. Even my grandpa gets magnesium foot baths. We are big on multi-generational self-care.
If I could have dinner with anyone, it would be…
Oprah, when we meet I know I made it to a certain level of my own success. I just want to tell her "Thank You" for existing.
One thing I cannot live without….
is self-love. I must keep my ability to love myself and care for myself to be at my best. Also, I can't live without Eneka Elements products, it is all I use now and my hair is now to my waist. I also must have my smoothies and lots of spring water to hydrate from within. I am a huge fan of aloe water and coconut water too.
When I was younger, I wanted to be…
an Obstetrician because I loved babies and life. I was very into the joy of new life and how precious it is. I was a very sweet little girl and always around babies and kids. I am a kid at heart. I still play and have fun on the daily.
I'm inspired by…
love and all things self-care. I have found things like Morrocan Black soap and brought a hammam spa to my bathroom. It is like bringing the world to your bathroom. It is a sweet lovely smelling soap made of olives and argan oil. I use a Kessa glove and scrub my skin to radiance. The soap smells like the Atlas mountains to me. This is as close as I have been to Morocco so far.  It is a reminder for me to travel. I love what I do and I am inspired by the world. Sometimes, I am lucky and the world comes to me.
The one person who motivates me is…
my mother. Her work ethic is next-level. She is such an amazing woman and very wise. She got it from her mother because Zenobia Reaux was one of a kind. My grandmother was a fashionista and her perfume collection was so luxurious and inspiring as a kid. I come from a line of women who are community pillars.
If I could change anything in the world, it would be…
clean water for the earth and white paved streets for Arizona and especially Phoenix. I feel we could be the "coolest" desert city in the United States with Cool Seal streets or something similar to it. I am a big advocate of WMGWatershed Management Group and the clean water initiatives they have especially the Hydrate the Valley classes. It has been my pleasure to learn so much about sustainability and xeriscaping to conserve water from them. They taught me native plants that are edible and to identify native plants by eye. When you plant it you remember it. They offer free workshops in the valley. Earning sweat equity has been a life-changing experience. I am big on earth kind businesses and especially ones that focus on clean water projects. They show you how to use a laundry-to-landscape system to recycle this greywater for use in your yard to nourish plants and reduce your municipal water usage. Saving money sounds great to me and saving water.
The perfect day would be…
start with a morning meditation and good music with herbal tea and orange blossom honey. Getting orders to their destination. Creating new products and attaining personal and business goals. Researching ingredients and eco-containers. Hearing my product feedback and reviews. Having a dance session with my mom and son. Making Dinner and then bedtime routine with my son. Remembering to give thanks for all I have now. Taking a mineral or a clay bath and replenishing my body and moisturizing to ensure I am hydrated and moisturized. Next, reading a book or writing/journaling my thoughts. Go outside and see the stars. Remember how small and yet how big my life is.
My first job was…
at Magic Mountain in Southern California. It was so much fun and I loved it. Every day I listened to Sublime and my mom had to drive me because I had a learner's permit. Sunny California and Sublime in the Summertime. Paradise.
My favorite escape…
Sedona it heals me at first sight. The red sand is so unique and sacred to me. I respect and love Sedona deeply.
My life…
is golden. Every single day I wake up I am thankful and happy to enjoy it.
I'm currently working on…
February 16th Roses and Restoration event. I am going to enjoy feeling in my Goddess mode with other wonderful rose loving individuals. I do nothing half-way. I am planning on walking on rose petals and feeling like beauty embodied with others in my community who decide to buy a ticket. Space is limited. I am excited to do the Goddess gift sets that are a divine bonus. The creation mode is definitely high.
Always…
moisturize. I am big on moisturizing the skin and hair. My favorite right now is Cloud Butter because it smells like chocolate and feels light and goes on so smoothly. My skin feels hydrated and I smell like a chocolate Goddess. A win-win situation for me.  If possible I moisturize with minerals and that is a victory with French Lavender scented Super Star Sleep.
Never…
use a hair product without knowing your hair porosity and if it is made for you or not. The hair porosity test is easy to do and helps you save money by choosing the right product according to your hair porosity type. I made a Youtube video about it because it is important to me.
Favorite Quote…
"Every day, in every way, I'm getting better and better" by Émile Coué. (French: Tous les jours à tous points de vue Je vais de mieux en mieux) is called Couéism or the Coué method.
Biggest dream…
to be in The Phoenician Spa with Eneka Elements and also to do Self-Care promotions in Phoenix to reach more people and improve lives and relationships doing what I love. I feel once people know I exist the more connections are built. My work as "The Self-Care Phoenix" is so important. Showing people how they can get self-care in various settings with limited time. We live in a busy world but you always have time for self-care.
My Pet Peeve…
is lack of communication. I show up and appreciate when others do too. Show up with your words and your ability to communicate your actions and intentions. My time is priceless and so is yours. I respect our precious moments and want to be in harmony so I communicate and do my best to show up.
More about Anicka Martin…
Eneka Elements is a lifestyle brand focusing on holistic, health and harmony for skin and hair in an elegant way. We believe in looking at the whole picture. Our mission is to utilize innovative formulations and products while highlighting the wonders of mother nature's plant ingredients with a luxury twist. Join our self-care "Me time Revolution".
We are born from the ashes in Phoenix, AZ and are bringing a next-level approach to holistic beauty products.  We aim to bring value to the consumer and to focus on self -care as a way of life. What started as an artistic expression has now reached new heights and is the Eneka Elements you see today. Created by an innovator and artisan with top-notch talent for organic ingredients and creating holistic products, Anicka Martin has created a brand to be noticed.
Taking a hint from the "Legendary Phoenix" she is rising to new heights in the self-care industry in Arizona and abroad. Merging ingredients from Africa to Arizona, blending Ayurveda with her Indigenous roots to form the future of holistic products from head to toe. Creating products using Shea and Shorea butter, Aloe and various desert ingredients with ancient herbal knowledge. The focus is to use only that which is best to allow each product to shine in an organic way.