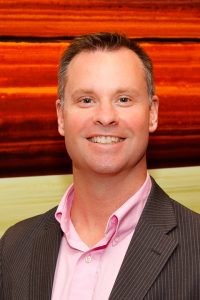 Name: David Twigger
Age: 42
Title: The Venue Scottsdale, Regional Vice President of Sales and Marketing
Married/Single: Married
Kids: Nope
Live: Arcadia
Meet David Twigger, Regional Vice President of Sales and Marketing for The Venue Scottsdale. He has been in the hospitality industry for over 16 years and brings his love of special events and creativity to the venue.  David also sits on the board for local chapters of the National Association of Catering and Events (NACE) and HIP (Hospitality Industry Professionals). He also volunteers with the Phoenix Children's Hospital's Beach Ball and the Scottsdale's Chamber group SoSco meet your neighbors.  Read how David answered these 20 questions.
I was born…
in what was a small desert town called Phoenix, Arizona.
My favorite thing about Arizona…
sunsets, the desert after a summer rain and my family.
I'm listening to…
Beth and Friends in the morning as I ALWAYS do.
My family…
is crazy, chaotic and I wouldn't have it any other way.
If I could have dinner with anyone, it would be…
Cher, yes I said it!! Cher!
One thing I cannot live without…
my husband (oh and a really dirty martini).
When I was younger, I wanted to be…
fireman.
I'm inspired by…
smiles.
The one person who motivates me is…
my mom.
If I could change anything in the world, it would be…
hate.
The perfect day would be…
sitting on my patio with family and friends, with a cocktail of course 🙂 .
My first job was…
Que Pasa  Mexican Restuarant.
My favorite escape…
is Palm Springs.
My life…
is an open book.
I'm currently working on…
expanding our company into several different cities – Vegas watch out!
Always…
smile.
Never…
hate.
Favorite Quote…
"A rich man is not the one who has the most, but one who needs the least." – Unknown
Biggest Dream…
travel, travel, travel.
My Pet Peeve(s)…
snoring.