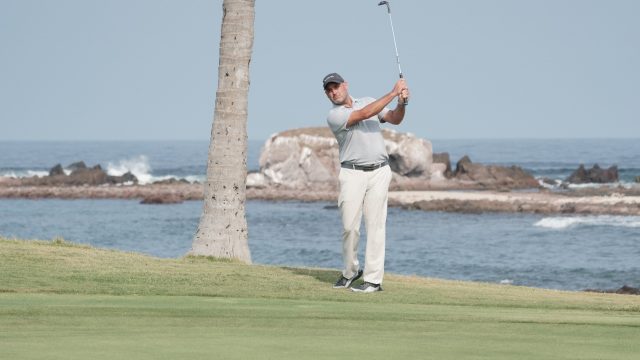 Tom F. Stickney II is the Director of Instruction and Business Development at Punta Mita, in Puerto Vallarta, Mexico. Punta Mita is a 1,500-acre golf and beach resort located  45 minutes from Puerto Vallarta on a beautiful peninsula surrounded by the Bay of Banderas on three sides. Amenities include two Nicklaus Signature Golf Courses with 14 holes directly on the water, a golf academy, four private beach clubs, a Four Seasons Hotel, a St. Regis Hotel, as well as multiple private villas and homesites available. Read on to learn about the importance of a shorter backswing and a longer follow-through.
One of the biggest things I often see around the greens is a pitching motion that moves from longer to shorter, where the backswing is much longer than the follow-through. While some people can get away with this, the majority of players whom employ this method will always have distance control issues. 
For my students here at Punta Mita, I always preach to them a shorter backswing and a longer follow-through. This keeps the pivot moving and stops the breakdown of the wrists through impact. The key to this move is to keep the rear shoulder moving at a constant rate through and beyond impact. As you can see in this shot. I hit here my rear shoulder is fully rotated towards the target and when this happens, good pitches will happen.
Remember: I don't want a short jabby motion with no tempo but one that has good rhythm and speed and keeps the pivot moving.  Do this, and poor pitches will be a thing of the past!
For more information regarding Punta Mita, golf outings, golf schools and private lessons, e-mail tom.stickney@puntamita.com.