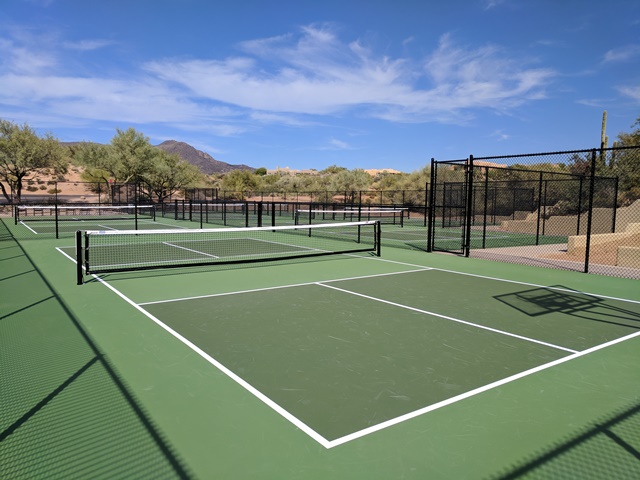 With so much to do at Desert Mountain, members now face a new quandary. Hike the trails? Hit the driving range? Get a facial? Decision-making has just entered a new dimension because pickleball has officially landed at Desert Mountain, a club which has its roots in its six Jack Nicklaus championship golf courses.
As a follow up to the $12 million renovation of the Sonoran Spa, an entirely new area is now home to six brand new pickleball courts, a regulation croquet lawn and a children's play area. The Sonoran lawn and Pickleball complex has been a huge draw since its debut last month.
Demand has been so strong at Desert Mountain, the club hired a Pickleball Pro who is hosting clinics and social play opportunities nearly every day of the week. Michelle Colbert, who joined Desert Mountain in April of this year, and has more than 250 members actively involved in this hot new sport.  And as for croquet? 350 people are signed up to stay in the loop on croquet socials and events.
On the pickleball courts, the sport is played on a smaller version of a tennis court with a net, a smaller paddle and a whiffle-like ball. The sport doesn't require a ton of fitness savvy so it's perfect for all ages and skill levels.
At Desert Mountain, members are given all the equipment and direction they need to play and have fun. Demand for the game has been so strong, the club hired a Pickleball Pro, who is hosting clinics and social play opportunities nearly every day of the week.
While the game can be played indoors or outdoors, Desert Mountain members enjoy playing the sport out in the open amid 8,000 acres of high desert beauty. Like tennis or badminton, players can play pickleball in single or doubles matchups.
While the exact origin of the name remains, dare we say, in a pickle, the game was invited in 1965 on Bainbridge Island near Seattle, Wash. Three dads – Joel Pritchard, Bill Bell and Barney McCallum — are credited for creating game. Pickleball has evolved from original handmade equipment and simple rules into a popular sport throughout the U.S. and Canada. The game is growing internationally as well, with many European and Asian countries adding courts – just like Desert Mountain.
According to Joel Pritchard's wife, Joan, she started calling the game pickleball because "the combination of different sports reminded me of the pickle boat in crew where oarsmen were chosen from the leftovers of other boats." Still, adds Barney McCallum, the game was officially named after the Pritchards' dog Pickles, who would chase the ball and run off with it.
So come on and pickle paddle away, the pickled perfect fun awaits at Desert Mountain. –-Greg Sexton