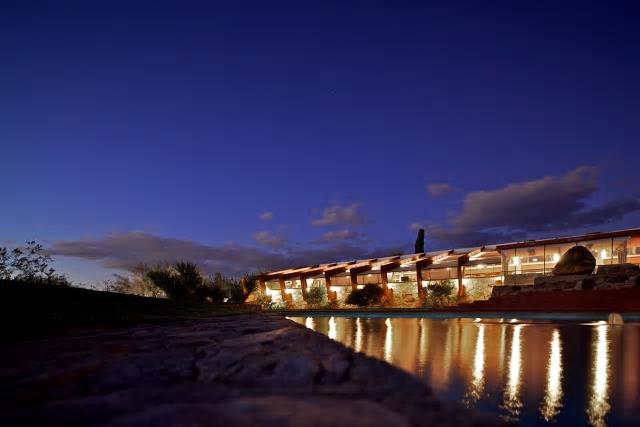 Valley dwellers are pretty lucky for a variety of reasons—and the fact that the greatest architect of all time made his winter home here is certainly at the top of the list. In addition to being is part-time residence, Taliesin West in Scottsdale is also home of the Frank Lloyd Wright Foundation and the School of Architecture at Taliesin. If you haven't visited—or perhaps it has been a while—here are four reasons why this National Historic Landmark should be on your springtime schedule.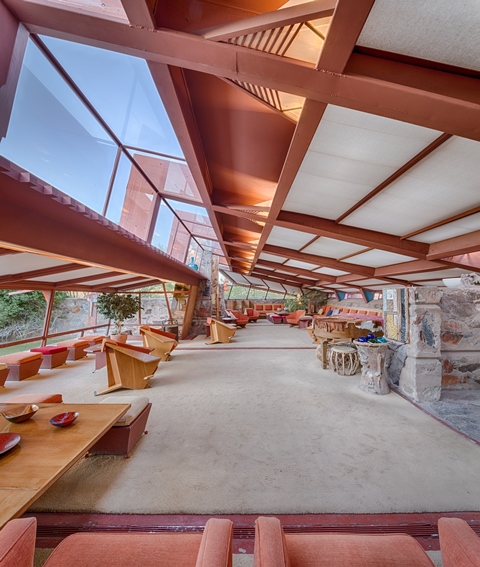 If you're an HGTV junkie, head to Taliesin West to see many of today's most present design ideas in its first form, as Frank Lloyd Wright was the innovator of many of them. His sprawling living room (pictured), saturated with sunset hues and clean lines, is an early example of open-concept living. The room also features large expanses of windows that are intended to take in the surrounding desert and mountain views, as Wright was one of the first to really embrace indoor/outdoor living. Where would Chip and Joanna be today if we were still living in boxy abodes with teeny windows?
From concerts to movie nights to the new speaker series, Taliesin Next, Taliesin West is brimming will cool events and innovative programming. As a lover of the arts, from music to dance, Wright designed the performance spaces within the landmark as works of art, from the angles of the seats to the thoughtful acoustics. Simply visiting these performance spaces is a must-have experience for the senses.
Date-night idea: though a variety of tours are available (at different times of the day and lasting for various durations), Taliesin West's Night Tours offer an escape from the heat and chance to see this local landmark under the starry sky. Keep an eye out for the fire-breathing dragon that makes a special appearance during nighttime tours. What's more, Taliesin West just debuted Saturday-night tours, in addition to its Friday evening options.
Have an aspiring architect on your hands? Taliesin West hosts full- and half-day Summer Art and Architecture Camps for students in second to 12th grade. During the camp, the mini architects are encouraged to explore, create and design, and they will see how their unique ideas can have a impact on the world around them. We hear that students from around the nation head to Scottsdale for this one-of-a-kind educational and exciting opportunity.