Now here is something I don't understand at all, but am intrigued by. A gold or platinum bed. And no, it's not anything you even see, like a gold bedspread or platinum canopy bed. It's just the mattress. For some reason I still want one: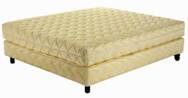 Magniflex, Italy's largest mattress manufacturer has created a bedding line made with precious metals such as gold and platinum that are both luxurious and healthy for your skin.
First are the gold products – a $24,000 22-carat gold mattress and matching $1,000 22-carat gold pillow.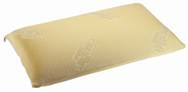 Each piece is thermo-regulating, anti-bacterial, odor-proof, and anti-stress, and is customized to fit the comfort levels of the consumer. By adjusting the five-zoned memory foam construction as needed, each person can have a rich and restful sleep. The mattress also has Magniflex Airyform technology allows air to circulate freely throughout the mattress using "vent chambers" from top to bottom, so the sleeping surface feels cooler.
They have also created the Platitnum Collection. The Platinum Collection is made of only materials found in nature such as precious metals, and each one is tailor made and customized to meet the comfort levels of the consumer.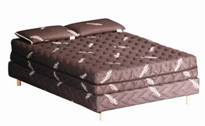 The bed will retail for $75,000 in queen, making it not only the most luxurious bed available, but also the most expensive in the world. And with good reason; in keeping in line with the company's long-standing commitment to serving the environment, the collection was created with non-toxic, renewable and organic materials. The core of the mattress consists of Memoform, Magniflex's proprietary eco-friendly memory foam created with soy and vegetable oil – a healthier alternative for both consumers and the environment.