A new line of summer-appropriate fabrics is being released just as the heat begins to kick in. Clodagh's designs for Perennials Outdoor Fabrics find their inspiration in nature.  Meaning homeowners can achieve a bright and whimsical palette without worrying about how the fabric will withstand against the elements.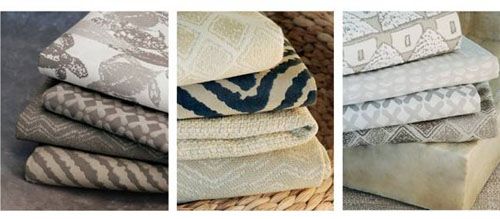 Each of the company's newest ten designs impresses with deep, rich hand and a surprising energy that is representative of the natural world.  These earthy tones exhibit the adventuresome spirit of a global nomad who has traveled to over 90 countries in her storied career.  The sense of exploration and play starts in Madagascar, a whimsical design of swimming sea turtles in colors of Beach, Seagull and Jungle. A primitive community of simple huts, It Takes A Village is offered in colors of Honed Limestone, Flannel and Alabaster.  The textured peaks of Kilimanjaro, depicted in the form of a jacquard zig-zag resemble a rugged country in tones of Parchment, Basalt, Chestnut, Sea Salt, Flannel and Pelican.  Amazed, reminiscent of a tribal shield is seen in Parchment, Basalt, Chestnut, Newsprint, Putty, Flint, Pelican and Cape Town.   Kuba, inspired by authentic Kuba cloth originally woven from natural grasses, is in organic geometric shapes and colors of Alabaster, Pelican, Flannel, Vellum and Oyster. The "X" motif of Katanga represents early currency from the African country of the same name and is available in three colorways: Pelican, Seagull and Noir. Mancala, inspired by an African game played with seeds, is available in Oyster, Basalt, Chestnut and Chalk.
In her 25 years as a designer, Clodagh has dedicated herself to creating spaces that allow people to live in harmony with their environments and which integrate the elements of earth, fire and water as well as ancient techniques such as feng shui into their spaces. It is clear why this respected and sought-after designer chose to partner with Perennials Outdoor Fabrics.  Both being renowned, they are leaders in maintaining green standards throughout their designs and manufacturing processes.  Clodagh with Perennials Outdoor Fabrics is a partnership to be celebrated for their commitment to the planet we share in a new collection called Clodagh For Perennials Outdoor Fabrics. 
The Clodagh for Perennials Outdoor Fabrics collection is a creative accomplishment and a technical advancement utilizing the Perennials Outdoor Fabrics genuine solution-dyed acrylic technology.  All Perennials Outdoor Fabrics fibers are independently lab tested and certified so they comply with or exceed industry standards including resistance to soil, water, UV radiation, tearing and abrasion. The collection also features Perennials Nano Seal finish for extra protection against the elements.  More than just a coating, Perennials Nano Seal is molecularly bonded with the fibers providing long-lasting protection even after repeated washings. Because Perennials Outdoor Fabrics fibers are solution-dyed, the color permeates to the core, enabling Perennials Outdoor Fabrics to confidently offer a three-year warranty against fading.
Caring for the environment is part of the Perennials Outdoor Fabrics and Clodagh culture that is committed to producing textiles in an environmentally responsible way.  From fiber technology, to design, to quality assurance, every step in the production process is under Perennials Outdoor Fabrics care and control.  All very good reasons why Perennials Outdoor Fabrics have character and longevity.
Perennials Outdoor Fabrics are available to interior designers and architects through fine showrooms worldwide.  For more information or to view the collection, visit www.perennialsfabrics.com.