Growing up, one of my fondest memories was of visiting my grandparents and swinging on their cushioned porch swing with my grandma by my side. Sure, it's not the typical rocking chair that most grandparents have around the home, but it did provide a seemingly effortless sway that harnessed all the comforts in the world.There is just something about that swaying motion. I don't think I've ever met an individual who didn't like to relax in a rocker because it's just so darn calming. And although it was a little unconventional, modern rocking chairs are breaking the mold even more so.
Thos. Moser, the acclaimed furniture design firm, recently released a new design aimed at revolutionizing the rocking chair concept forever.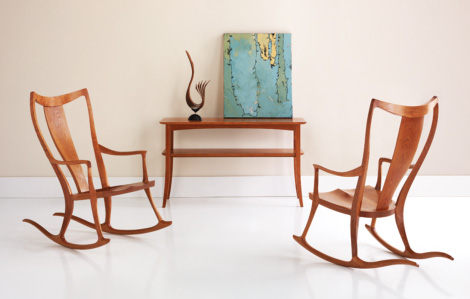 New from Thos. Moser and designer David Moser is the Pasadena Rocker. Approaching design with a sculptor's eye, David's passion is stirred by contemporary sources of objective beauty. Such was the case with the Pasadena Rocker, itself the progeny of a long line of high craft design-builders
such as Sam Maloof, Art Carpenter, Wharton Esherick and New Zealand furniture designer David Haig. In consummate Moser fashion David again challenged himself to coax movement and fluidity from solid wood. David's intent was to build a quintessentially functional Moser piece in the "studio" genre; rollover edges and flowing joints.
The Rocker is part of the Pasadena Collection, which includes Arm and Side Chairs, Dining, Hall and Occasional Tables, a Slipper Chair and Ottoman and a Sofa. Not sure what the inspiration behind the Pasadena Collection is, but it must surely have something to do with the posh, old and almost Hollywood like charm of selected neighborhoods in the Rose Bowl city. There are more than a few standouts from the collection, to view them, be sure to check out the Thos. Moser Web site.
While the stunning beauty and appeal of the Pasadena Rocker lies in the design and owning a functional piece that your friends won't likely have, the style and sophistication does come at a pretty hefty price tag. The Pasadena Cherry Rocker is available for $3200 while the Pasadena Walnut Rocker will run you around $3500. Keep in mind that the quality consciousness of a company like Thos. Moser means this chair will likely last through your retirement and your kid's retirement and your grandkid's retirement. So, while the piece is a large investment, it will rock on for years to come.
To learn more, visit www.thosmoser.com.