There are only a few more weeks to take advantage of this gorgeous weather and get an outdoor workout in before it gets insanely hot. There is nothing better than a workout with sunshine on your face and the breeze in your hair! Here is a full body workout that you can do in your backyard, a park or even in your living room with the french doors wide open. This 25 minute workout is short and sweet so make sure you work extra hard as you enjoy the fresh air.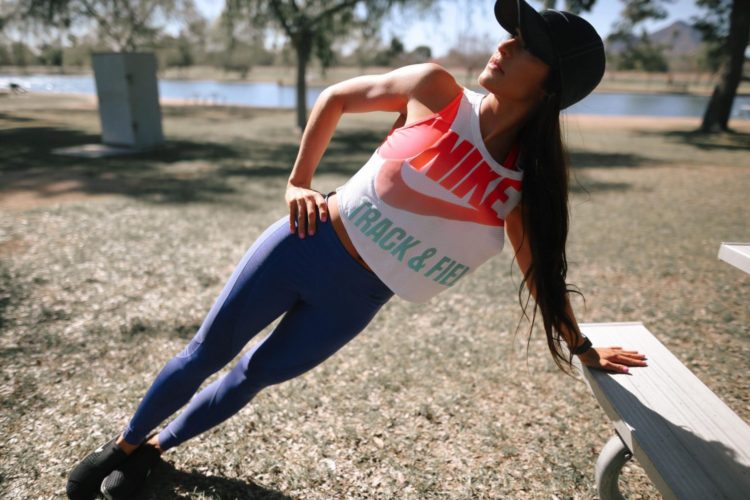 What you will need: Bench/Chair, Timer & your awesome self!
Instructions: You will do each move for 35 seconds. Complete all 9 moves then rest for 1 minute. Repeat until you have done 4 rounds total!
The workout:
35 sec. Elevated side plank (alternate sides each round)
35 sec. Walking Squats
35 sec. Incline pushups
35 sec. Plank walk
35 sec. Elevated split squat (alternate sides each round)
35 sec. Tricep Dips
35 sec. Hollowbody
35 sec. Elevated Hip lift
35 sec. Toe Taps
x4
Form Check:
Elevated side plank: Pictured
Walking Squats: Walk side to side staying in a squat position the entire time. Keep your feet outside of your hips, toes pointed forward, chest up.
Incline pushups: Pictured
Plank walk: Place both hands on bench with feet on the ground. Line body up in a straight line from head to toe. Keeping your body in that position, walk your arms down to your forearms and back up to straight arms.
Elevated split squat: Place one foot on the bench with shoe laces facing down. The other foot with be on the ground out in front of you. Slowly drop your knee on the elevated side to the ground and slowly bring it back to the up position.
Tricep Dips: Place both hands on the bench. Body is facing away from the bench. Finger tips pointed forward. Elbows stay pointing back. Legs at 90 degrees. Dip your body down and press through your arms to bring back to the starting position.
Hollowbody: Lay on the ground with your arms over head, shoulder blades off the ground. Extend your legs out straight and hold them out 1-2 inches above the ground.
Elevated Hip Lift:  Lay on the ground. Place both feet on the bench. Heels dug in, toes pointed up. Keep legs at a 90 degrees. Lift hips up. Squeeze glutes at the top and slowly lower down.
Toe Taps: Tap one foot on the bench. Tap the other foot on the bench. Repeat at a quick pace.
Pro Tips:
-Make sure to bring a water bottle.
-Throw in a yoga mat for the hollowbody.
-Make a playlist of your fave songs, blast the music and get to work!
Madison Murray is a certified personal trainer, group fitness instructor and a certified sports and exercise nutrition coach. For more information, visit www.madfitaz.com.