I actually had a request for this topic. I don't know if it is because she saw one too many butts through sheer pants or if she was sick of the girls bouncing around during high knees 😉 Either way I am here to give you my favorite tips on purchasing gym clothes.
Lets start with pants. When choosing a pair of workout pants you want to keep a few things in mind. First, as mentioned above, you want to make sure that they are not see through. Almost any workout routine will involve you bending down at some point. You don't to give the gym a show. With that being said, you want to make sure the pants are thick but not so thick that you feel stuffy and like you can't move. My favorite, tried and true, pants are Nike Legendary. Not only is the quality of fabric good but they are also flattering on any body type because of the high waist. I am not a lulu lemon girl but I have heard that lulus are just as good as the Swoosh! If you prefer to wear shorts just make sure they are long enough that you keep all the goodies in. Again, you don't want give the gym a show!
Next would be the sports bra. You want a bra that is supportive enough that you can do any exercise that is thrown at you, from sprints to tuck jumps. Some people think that if you just go down a size that will make it more supportive. Which can be true, but then you end up popping out at the arm pits and at your back. Most fitness lines are now labeling their bras as low support, medium support and high support. That way you can make sure to get a size that fits but it will also have the right amount of support for your activity. My favorite sports bra is the Nike Pro Medium Support Bra.
After that you can throw on your top. To me a top isn't as crucial. It is whatever you feel best in. I prefer my tops to be form-fitting. However, if you are more comfortable in loose fitting shirts that is totally fine!
Last would be shoes. Shoes are so important! You want to make sure that you are selecting the right shoe for the type of activity that you are doing. If you are running you need running shoes, if you are training you need training shoes, if you are hiking you need hiking shoes. I can't tell you how many times people come to my training gym in running or street wear shoes. It usually leads to pain or injuries. I could go into so much more detail, but I will save that for a different post. Just make sure to ask what the shoe is intended for before you buy it!
Below is an example of what not to do and what to do.
Photo 1 (What not to do): Top is not supportive enough and there is overflow out of the armpits. I would also feel weird working out in just a sports bra. I would definitely throw a top over this. The shorts would probably be too short to feel comfortable exercising in. The shoes are running shoes but I was preparing to train so I should have selected a training shoe.
Photo 2 (What to do) : There is a supportive sports bra that is the correct size underneath the top. The top is form-fitting but loose enough that I can move. The pants are not see through but not so thick that I get too hot or can't move in them. My shoes are training shoes which is the type of activity I was preparing for.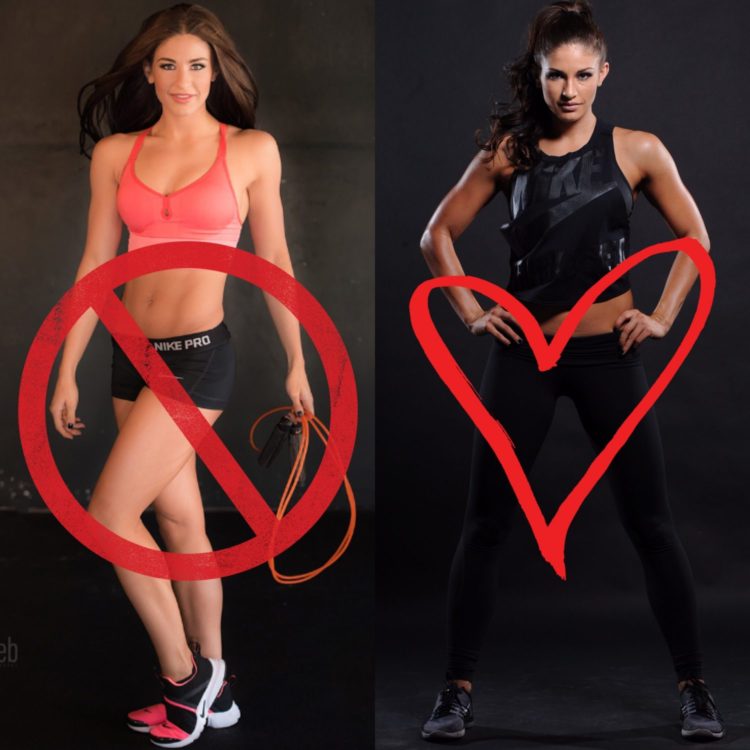 Madison Murray is a certified personal trainer, a group fitness instructor, a certified sports and exercise nutrition coach and a certified functional strength coach. For more information head to www.madfitaz.com or check her out on instagram at @mmmadisonmurray