By:  Jessyca Heinen (DC Ranch Village Health Club & Spa) – Shakti Yoga & The Shakti Yoga Wheel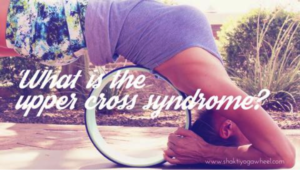 Over the course of the day, week, month, or year, our bodies can succumb to the effects of gravity. Instead of using the proper balanced muscle groups to support our joints, we start to rely more on the support of the connective tissues and muscles.
When this happens, the body is compensating—picking up the slack for shortcomings by working harder in one area. Chronic compensations lead to imbalances, which can lead to pain, decreased function, and increased risk of injury.
Generally, gravity pulls us forward and down, causing the shoulders to round forward and the chest to collapse. To compensate, the neck must extend and the head must move forward like a turtle sticking its head out of its shell (forward head posture) in order to see what's in front of us (e.g., computer screen, tv).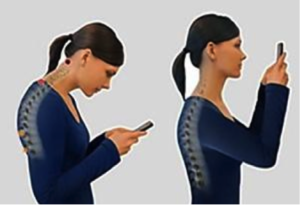 This posture tightens chest muscles (pectorals)
and fronts of the shoulders (anterior deltoids), weakens the muscles of the mid back (mid
and lower trapezius, rhomboids, and serratus anterior),
tightens the neck extensors/upper back (upper trapezius and levator scapula;
and weakens neck flexors (the muscles on the front of the neck, including the sternocleidomastoid).
This is known as upper crossed syndrome. This generally occurs as a result of poor posture, poor movement technique, and/or imbalanced training.
Correcting these imbalances would start with lengthening and opening the tight muscle groups (upper trapezius, levator scapula, and pectorals) with stretches like gomukhasana (cow face pose)
and cactus arms to open the chest and shoulders or using the yoga wheel
to lengthen upper traps and neck. We also need to strengthen the weak muscle groups (neck flexors, lower traps, rhomboids, and serratus anterior) with chin tucking
and pulling exercises to strengthen the upper back. With practice over time, this will create a more balanced posture.