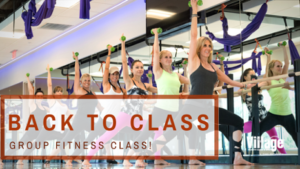 Come August, summer unofficially comes to a close in the Valley of the Sun. Residents are back in town from vacation, and schools are back in session. When it comes to fitness goals and routines, back-to-school time is an ideal time to get back into a routine. Attending group fitness classes for accountability and motivation is a great way to commit to a routine.
Scheduling
The calendar of group fitness classes offered throughout the day and the plethora of options not only spans a vast array of time frames that work for most busy people — from early morning to night time classes — they cover a wide variety of workouts including Yoga, Pilates, Spin, Zumba, Barre, Bootcamp, Kinesis and more.
Accountability
Whether you enroll online for a class, tell the instructor when you'll be back for the next class or plan to meet a friend for a sweat session, group fitness classes provide the accountability that is so important — and so effective — when it comes to sticking to a routine.
Motivation
If you're working out solo, you might not push yourself as hard as you might if say, a coach or instructor was watching you or the person in front of you in a group class is really nailing her workout. Add to that a fun atmosphere — including music and a high-energy instructor cheering you on — and you've got yet another reason to stay motivated to accomplish your fitness goals.
Variety
With all the group classes offered at the Village Health Clubs and Spas, you can pick and choose your desired workout on any given day and never feel stuck in a workout rut. If you want to rev up your cardio, jump in to a Zumba class; if you need to stretch and tone, try Pilates. The wide range of group fitness classes gives members an opportunity to try new workouts without having to commit 100 percent to doing the same routine every visit.
Guided Instruction
Having an instructor lead your group fitness class not only provides motivation, it offers the benefit of having personal and customized assistance reaching your fitness goals. Watching an instructor give step-by-step tutorials to each move ensures you're doing it right, and beyond that, instructors can help give pointers on proper form, which is essential to every workout.
Find the group class that fits your back-to-school routine at the Village Health Clubs and you'll be achieving your fitness goals before fall break!