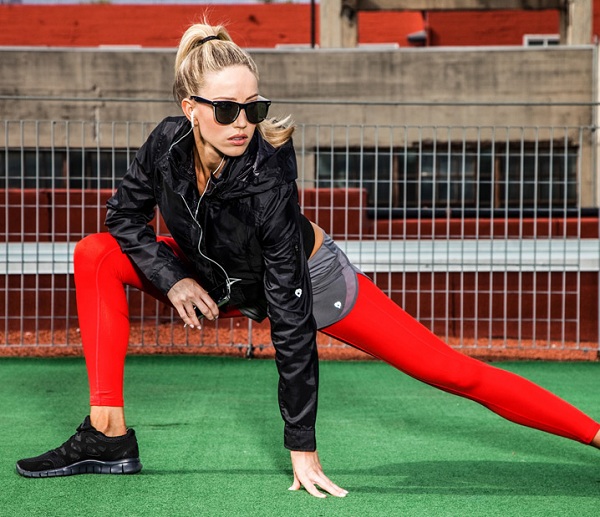 Colosseum Brand
I am to workout clothes what Carrie Bradshaw is to shoes: a total workout wear whore. My dresser's packed with spandex in all shapes and colors and I could probably dress in head-to-toe Lululemon for a week without doing laundry. But I've decided it's time to branch out of my Lululemon comfort zone and discover some of the other hip workout brands out there. Here are the three favorites I found. Get ready to fall in love…
(PSST: *For more fitness fashion tips, follow me on Twitter and Pinterest)

Colosseum – Designed for motion
I first say this brand in a magazine and it was love at first sight. By the time I scrolled through their website we were practically engaged. Designed for those who don't want to sacrifice style for performance (me!), Colosseum is for fit fashionistas. The look: Sporty spice meets posh spice. The test: I admit, I was afraid they'd be good on paper and bad in person (like many of my past boyfriends). Not in the least (giant sigh of relief!). The stunning duds not only come in stylish cuts and colors, they have ruching in all the right places and fabrics that are made to move with your body— and they did! I ran and yoga'd in the 'Breeze Tech2' Capris and 'Sweet Pocket' Bra and the fabric moved right along with me. And I swear the bra has push-up power. Bonus: Their Spring look book is ever better than fall!
Nux – Pretty performance wear
Nux doesn't just look oh-so good and feel oh-so good, it's engineered oh-so good. Their unofficial mantra: Compression matters. That's why they're the first brand to categorize garments by compression (translation: the level of hold and support). In other words, they're like an outer-wear version of Spanx that'll tuck and tame your trouble spots. But the science geek stuff aside, I can totally see why Katie Holmes and Kim Kardashian are lovin' the Nux look. The look: Trendy and timeless. The test: First, I strutted the NUX Spectrum Focus Leggings for friends and they all gave them a fashionable thumbs up for look and feel (they feel like a fashionable outer skin). They're so cute, I was hesitant to get them all sweaty, but I finally broke down and biked in them and they performed as great as they look. Bonus: No uncomfortable side seems! Plus the website lets you zoom in so you can scrutinize every sleeve and slit.
Teeki – Sweat-wicking and sustainable
I saw these kickass tights on Katie Makaroff, a kickass yoga teacher at Urban Yoga, and had to keep myself from drooling. "Where did you get those?" I asked, totally sounding like a teen girl with a giant crush. "We sell them here," she smiled—and there they were in a wall of otherworldly colors. As soon as I got home I checked out their website. Yes, the tights are to-die-for, but they also sell stellar swimwear, bootie shorts and tanks. Even better, Teeki isn't some bimbo company with a lot of style and no substance. The fashions are made from recycled plastic bottles. So it's fashion-forward, functional, eco-friendly and even affordable. The look: Totally something Drew Barrymore would rock.
The test: The company claims that their Hot Pants are moisture wicking, chafe resistant, camel toe free and breathable. I put them through the Power Yoga paces and they passed all of the above. And to top it off, I got two complements from strangers within 2 minutes – unheard of! Bonus: Each pair recycles about 25 water bottles!