By Melissa Larsen
Sunshine and good food—two things the Valley is certainly in no shortage of. Dig into these top picks for local finger-lickin'- good favorites.
Best Acai Bowl and Best Juice Bar: Kaleidoscope Juice
Kaleidoscope Juice makes eating healthy oh-so appealing. At its five Valley locations, customers can choose from more than 20 grab-and- go cold-pressed juices. For a power breakfast, the 16- ounce açai bowl is a delectable blend of acai, fresh bananas and raspberries, almond butter, Brazil nuts, maca, coconut oil, cinnamon, liquid vitamins, hemp seeds and coconut water. To top it off is, hemp granola, shaved coconut and a house-made dragonfruit drizzle. kaleidoscopejuice.com.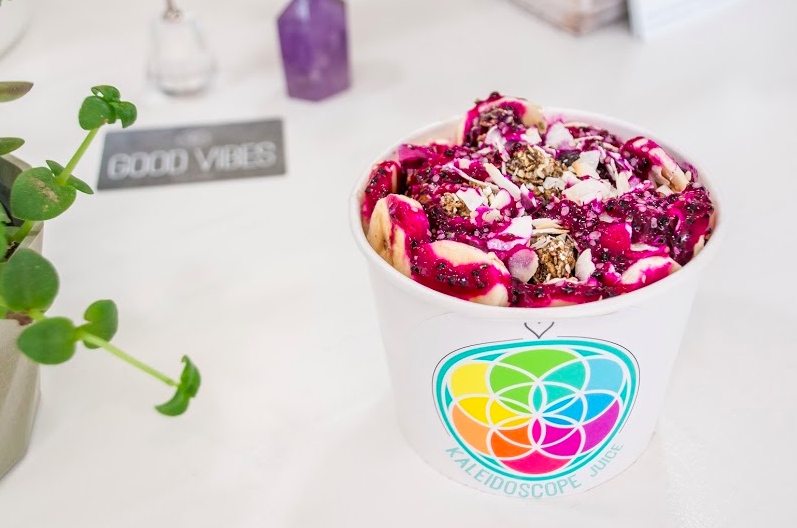 Best Asian Cuisine and Best Sushi: Blue Wasabi Sushi & Martini Bar
With both traditional and creative new-style sushi rolls and sashimi on its menu, Blue Wasabi Sushi & Martini Bar at SanTan Village pleases sushi lovers of all preferences. Diners come back again and again for the selection of 20-plus martinis, a cool, cutting-edge atmosphere and the restaurant's playful take on Asian fare (the rolls have names like Tail-er Swift and Wango Mango). Among the small plates menu are crispy spicy tuna and spicy rockin' shrimp tempura. bluewasabisushi.com.
Best Baked Goods or Sweets and Best Cupcake: Classic Cakes and Confections
Classic Cakes and Confections is in the business of making edible masterpieces. In their Phoenix bakery, Ella and Neil Levinson create gorgeous, mouthwatering cakes that have graced some of the Valley's most luxurious weddings and events. Classic Cakes even has a too-cute retail spot in Old Town that dishes up red velvet Twinkies, pies, cookies, iced teas, coffee, Italian sodas and pastries and more for a quick treat. Also a 2015 Winner! classiccakesandconfections.com.
Best Barbecue: Hammered Hog BBQ Hall & Saloon
Located in Phoenix, local barbecue fiends hightail it to Hammered Hog BBQ Hall & Saloon for the likes of brisket, pork tenderloin, ribs, catfish, cowboy beans, peach cobbler and much more. The restaurant also hosts weekly specials (think Tuesday Kids' Night and Free Breakfast Weekends). Also a 2015 Winner! hammeredhog.com.
Best Breakfast: Corner Bakery Cafe
With it latest locations in Tempe, North Scottsdale and at the Camelback Colonnade, diners head to Corner Bakery Cafe for their a.m. eats—whether they are seeking something healthy or hearty. Dig into scramblers, pancakes, paninis, flats (sandwiches created with flatbread), oatmeal or parfaits. To top off your morning meal, order up a truffle mocha or caramel latte—for something sweet—or a hot cup of hand-roasted coffee. cornerbakerycafe.com.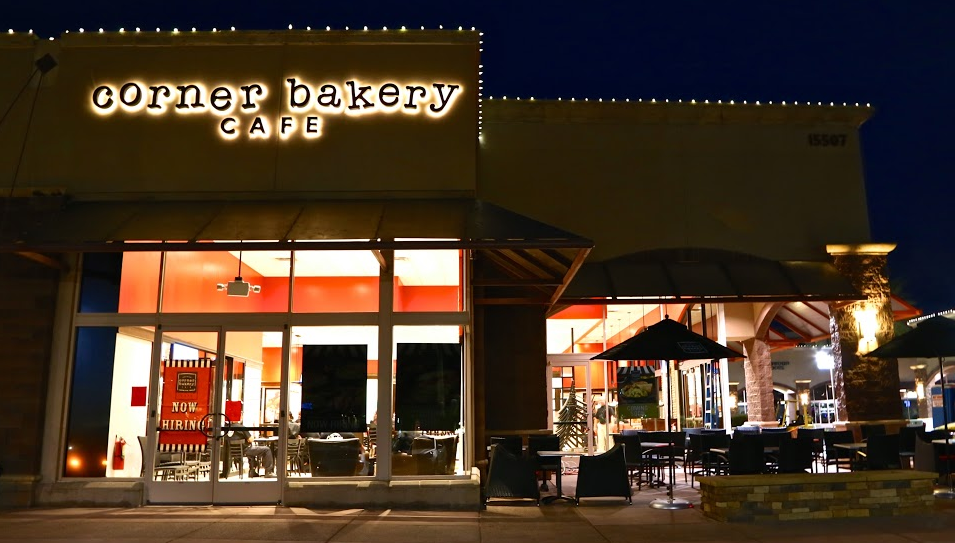 Best Burger: RnR Gastropub
Located in the heart of Old Town, RnR Gastropub provides the only two-story dining patio overlooking Scottsdale Road. RnR specializes in modern twists on classic comfort foods, including its menu of mouthwatering burgers. Try the bacon Brussels burger with fried Brussels sprouts and raspberry demi-glace or the Southwest burger topped with green chilies and guacamole. rnrscottsdale.com.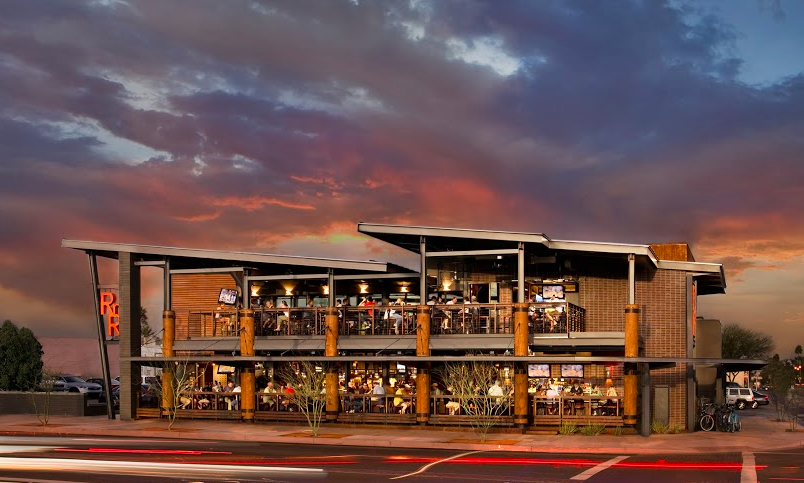 Best Business Lunch Spot and Best Sunday Brunch: The Gladly
A must during springtime in the Valley is a patio brunch at The Gladly in Phoenix (though the interior is also mighty handsome). Dig into grits and eggs, Noble Bread French toast, corned beef and beet hash and much more. During a power lunch, try the original chopped salad, one of the most popular salads in the Valley. Thirsty? Check out the new seasonal cocktail menu. thegladly.com.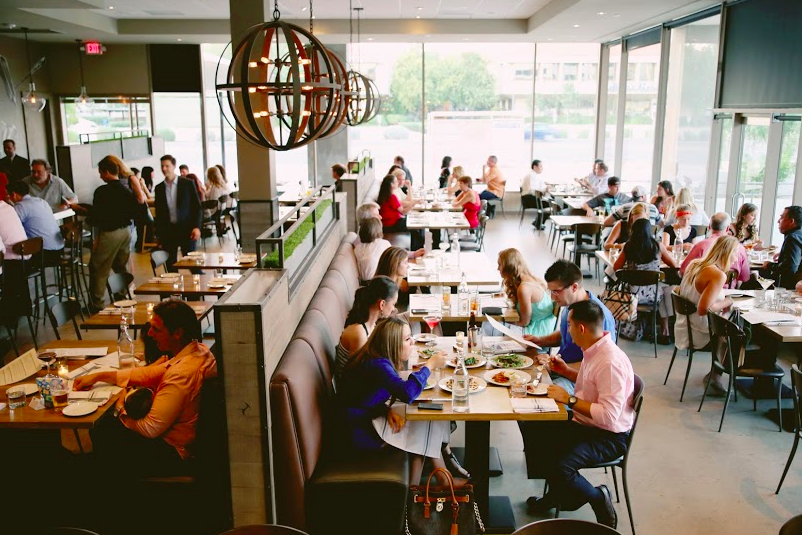 AFM FAVE: Best Sunday Brunch: El Chorro
It is no secret that El Chorro is one of the top patios in the Valley and that their complimentary sticky buns are the bee's knees. But El Chorro is also a weekend favorite as it dishes up a brunch that spotlights such scrumptiousness as steak and eggs, green chile pork stew, applewood- smoked salmon, giant shrimp cocktail, eggs benedict and a kids' menu for the littlest diners. elchorro.com.
AFM FAVE: Best Business Lunch Spot: The Henry
In an open, casual dining area with industrial and casual touches, The Henry offers a menu of salads, sandwiches and hearty entrees to enjoy during a business lunch. Before heading back to the office, grab a salted caramel roll and a cup of The Wildflower at the coffee bar (vanilla, espresso, steamed milk and a splash of chai) to get you through the 3 p.m. slump. foxrc.com/restaurants/the-henry.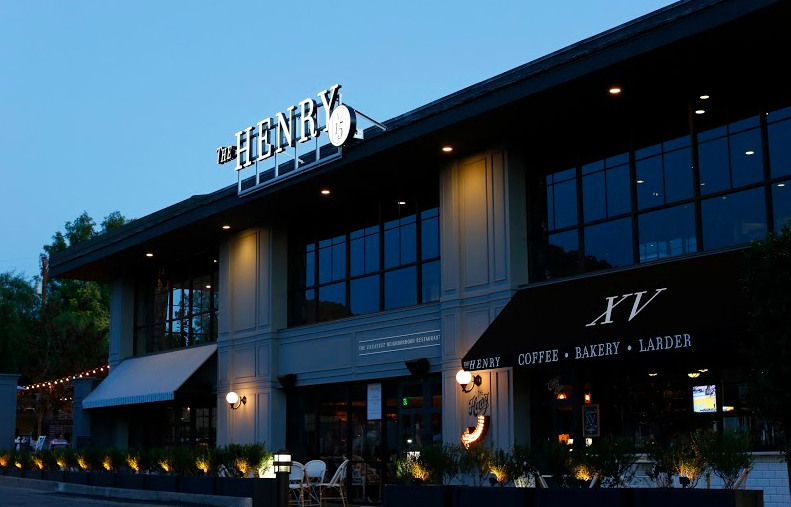 Best Comfort Food: Chelsea's Kitchen and Lo-Lo's Chicken & Waffles (tie)
Chelsea's Kitchen in Arcadia was envisioned as an Arizona roadhouse serving food that pays tribute to the heritage and history of the area. The menu—including a green chile burger, Dixie pan-fried chicken and paella, which was just added to the menu—features food that is clean, simple and follows this ideology. Also a 2015 Winner!
With five Valley locations, you're never far from the fried chicken goodness of Lo-Lo's Chicken & Waffles. Though Lo-Lo's is known for its chicken and waffle plates, diners can also savor the decadent likes of red velvet pancakes, catfish beignets, fried green tomatoes and much more. chelseaskitchenaz.com; loloschickenandwaffles.com.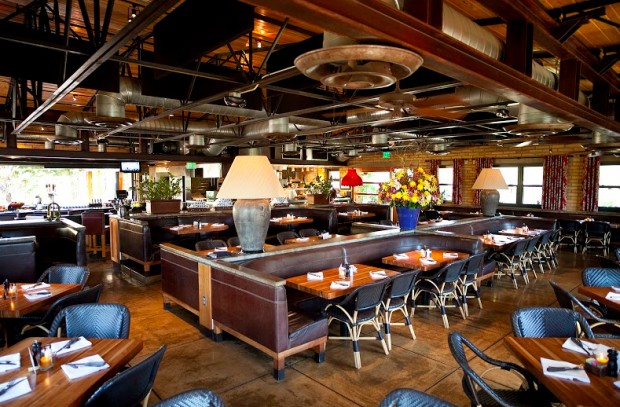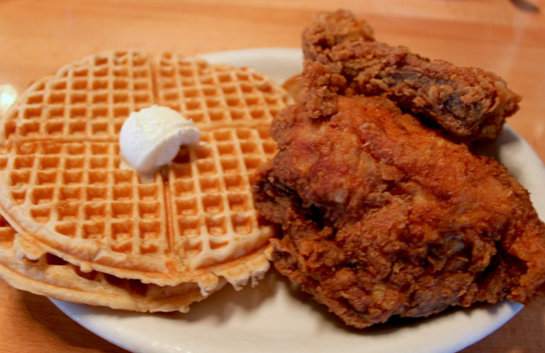 Best Culinary Event: Scottsdale Culinary Festival
The Scottsdale Culinary Festival activities typically span an entire week in mid-April. This year, however, the Scottsdale League for the Arts added new events and scattered them throughout the first part of the year. Coming up this month (April 16 and 17), Scottsdale Culinary Festival returns to the Scottsdale Civic Center Mall with 40 local restaurants, 30 craft breweries, 20 bands, a teen cooking challenge, chef demos, family zone, wine garden and a vodka lounge. scottsdalefest.org.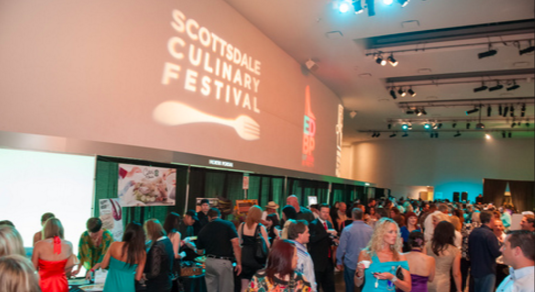 Best Cup of Coffee, Best Health Food or Vegetarian Food and Best Health Food Store: Luci's Healthy Marketplace
Luci's Healthy Marketplace has become a beloved neighborhood staple in Central Phoenix thanks to its selection of divine coffee drinks and menu of healthy eats (including many options for gluten-free or vegan guests). If you're in the market for wine and beer, ingredients for an at- home meal like meats, seafood, dairy, cheeses, or house-hold must-haves, from baby and pet care to quirky gifts, Luci's is a one-stop shop. lucishealthymarketplace.com.
AFM FAVE: Best Cup of Coffee: The Morning Joint (Mojo)
The Morning Joint (Mojo) at the clubhouse at Grayhawk Golf Club offers early-risers a host of tasty coffee drinks—hot and iced, espresso, drip, frappé—to perk up their day. Breakfast items, like the popular Mojo Burrito, are also available as well as a variety of juices and smoothies. Savor your selections on the cozy patio. grayhawkgolf.com.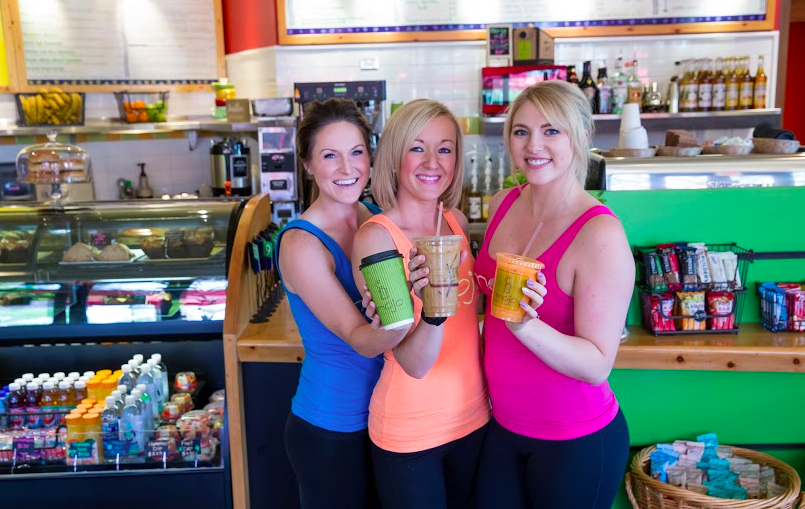 Best Date Spot and Best Outdoor Dining: Talavera, Four Seasons Resort Scottsdale at Troon North
The breathtaking view. The decadent menu. The divine wine list. Talavera at Four Seasons Resort Scottsdale at Troon North aims to impress, whether you're on a first date or celebrating an anniversary. Request a seat outdoors for romantic city-light and mountain views, and order up the likes of octopus, foie gras, venison loin and osso bucco on the fine-dining menu. talaverarestaurant.com.
AFM FAVE: Outdoor Dining: Sassi
In an Old World Italian villa setting, guests at Scottsdale's Sassi enjoy authentic Italian eats while taking in some of the most eye-popping panoramas in the Valley. Cozy up on the patio—because Sassi oozes romance—and savor the sunset alongside house-made pastas and a lovely wine list. sassi.biz.
AFM FAVE: Best Date Spot: elements, Sanctuary on Camelback Mountain
Celebrity chef Beau MacMillan dishes up farm-fresh American Cuisine with Asian accents at the super-sexy elements restaurant. Take in Valley views with a side of candied bacon, truffle mac and cheese, miso-glazed salmon and swordfish. Post-meal, savor a few sips of the inventive, out- of-this- world cocktails at jade bar. sanctuaryoncamelback.com.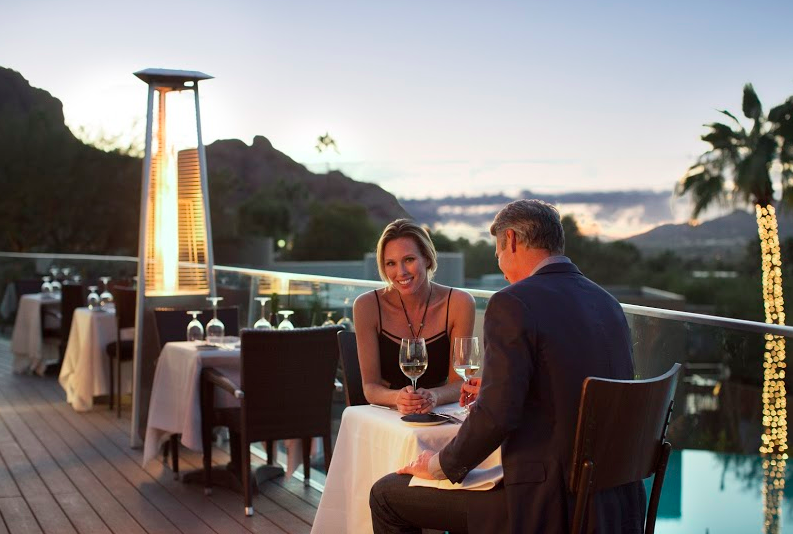 Best Dining with Live Music: EVO and 5th and Wine (tie)
Scottsdale's EVO hosts live music on Sunday nights with local artists and DJ's, while guests enjoy the friendly ambience with good company and great food. The restaurant just launched a new concept, Sunday Night Brunch, with live acoustic music from local artists. Thursday through Saturday, from 6:30 to 9:30 p.m., guests at 5th and Wine in Scottsdale can enjoy live music in a cozy, welcoming atmosphere while dining on homemade meatballs, stuffed mushrooms and more. evoscottsdale.com; 5thandwine.com.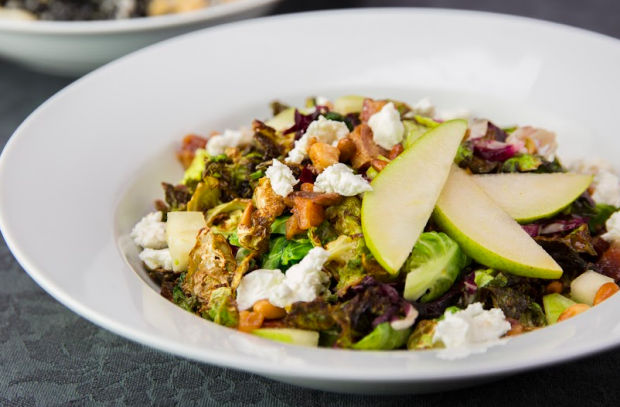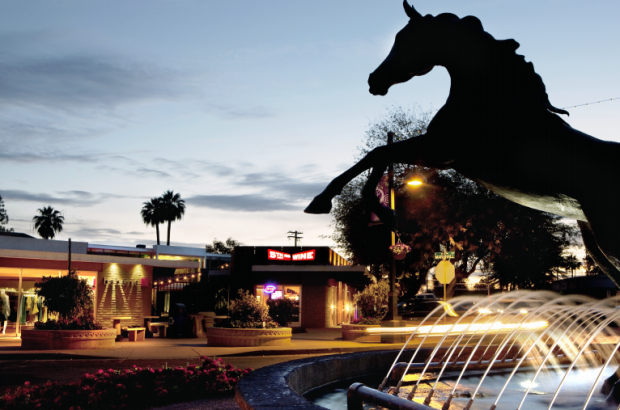 Best Doughnut: Fractured Prune
Don't expect to see a regular ole jelly doughnut on the shelves at Fractured Prune. This popular shop with locations throughout the United States, including six in the Valley (with two coming to Gilbert and Flagstaff shortly), impresses with finger-lickin'- good specialty selections like chocolate-covered cherry, peach pie, salted caramel and strawberry shortcake. fracturedprune.com.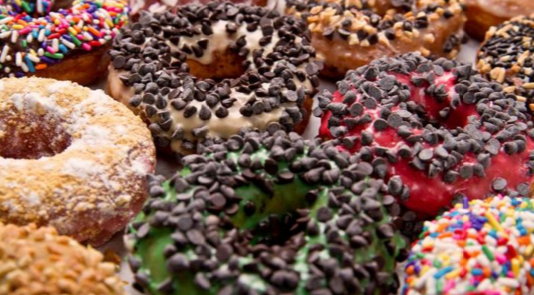 Best Farmers' Market: The Farm at South Mountain
Maya's Farm on nearly seven acres at The Farm at South Mountain is a small, sustainable operation which produces high-quality vegetables, herbs, flowers and eggs for local markets, restaurants and schools. Farm products are available from several sources. It hosts a popular farmers' market every Saturday and Sunday. thefarmatsouthmountain.com.
Best Fondue: The Melting Pot
The Melting Pot is hands-down one of the Valley's favorite spots to ring in a special occasion—with skewer in hand. The restaurant offers a unique and interactive fondue dining experience. Enjoy a variety of delicious cheese fondues, entrées, salads and indulgent chocolate fondue desserts, along with an extensive wine and drink menu. meltingpot.com.
Best Food Photographer: Debby Wolvos, DW Photography
Debby Wolvos says that her photography has allowed her to capture things that she most loves in life: good food, interesting people, stellar cocktails and travel. When photographing food, her goal is to see the dish as the chef does and especially enjoys the challenge of photographing cocktails. After 25 years as a radio and TV news reporter, Wolvos returned to her photography passion five years ago (she started as a photographer before reporting) and plans to travel the globe this year on food culture assignments.dw-photography.net.
Best Frozen Treat: Gelato Dolce Vita
Gelato Dolce Vita opened in 2007 after owners Walter Bergamaschi and Marti Printy came to the Valley directly from Italy to realize their dream of opening a gelateria. Some of the gourmet flavors you might enjoy when visiting the Mesa shop include gorgonzola-walnut, chocolate- habanero, cherimoya, plus grapefruit, orange and lemon made from fruits produced in the local groves. Many other ingredients are imported from Italy. Also a 2015 Winner! gelatodolcevita.com.
Best Gluten-Free Menu and Best Fun Lunch Spot: Venezia's Pizzeria
A guest favorite at Venezia's Pizzeria is the gluten-free pizza, prepared in-house away from known allergens and crowned with the guest's favorite toppings. For a quick, easy and, of course, delish midday meal, Venezia's has Daily Slice Specials—eight options for less than $8, including drink. If you're stopping by the North Phoenix location, get the most out of your free time by taking advantage of weekly beer and wine specials while playing cornhole on the patio. venezias.com.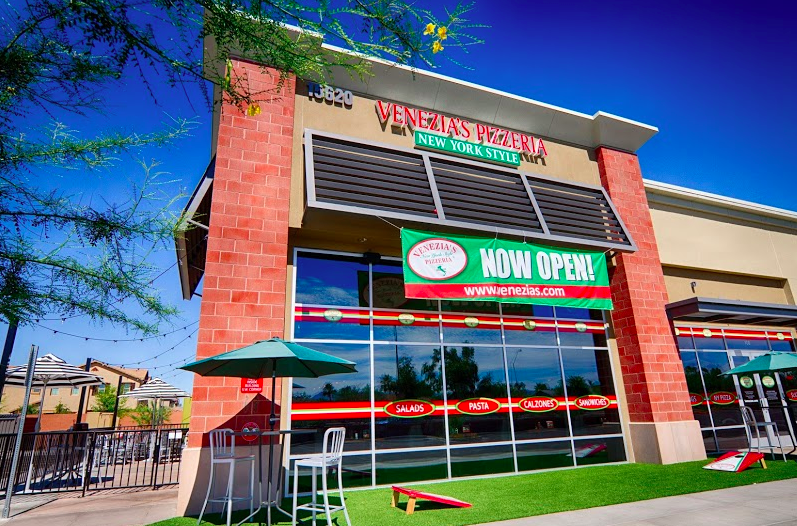 AFM Fave: Best Gluten-Free Menu: Flower Child
At its three Valley locations, diners at Flower Child can enjoy good-for- you eats including plenty of gluten-free goods: mac and cheese, wild mushroom pho, madras curry and Thai cashew quinoa bowls and much more. iamaflowerchild.com.
AFM Fave: Best Fun Lunch Spot: The Montauk
In The Montauk's cool, beachy atmosphere, grab a seat and linger a while over coconut- lemongrass ceviche, tuna tartare guacamole and grilled kebabs. To drink, the Old Town eatery has a big selection of specialty cocktails and, to really get the party started, punch bowls of Pimm's Cup, mimosa punch and more. themontaukaz.com.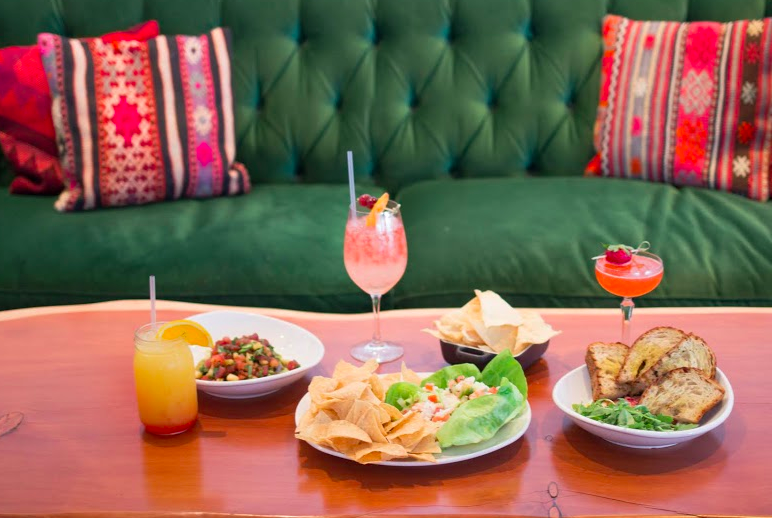 Best Grocery Store: AJ's Fine Foods
Whether for your usual weekly grocery shopping or if you're in the market for a special occasion, AJ's Fine Foods is a one-stop shop for fresh produce, quality meats and seafood, delicious baked goods, a stellar cheese selection and much more. You can even pop in from 11 a.m. to 2 p.m. for great ready-made lunch finds, like sandwiches, pizza and the popular salad bar. ajsfinefoods.com.
AFM Fave: Best Grocery Store: Sprouts Farmers Market
Sprouts Farmers Market promotes "healthy living for less" with its top-notch selection of produce bins, meat counter, dairy case and those super-popular bulk food containers chock-full of nutritious eats like granola, dried fruit and trail mix—and candy for your cheat days. sprouts.com.
Best Hot Dogs: Ted's Hot Dogs
A favorite in New York, where it has close to 10 locations, Ted's Hot Dogs serves the top dogs in the Valley from its Tempe restaurant. Its menu of hot dogs, sausages, burgers and chicken sandwiches are cooked over real hardwood charcoal. Sides include hand-battered onion rings and crisp golden French fries. Ted's also now has charcoal-broiled bacon to add to any sandwich as well as gluten free rolls. Also a 2015 Winner! tedshotdogs.com.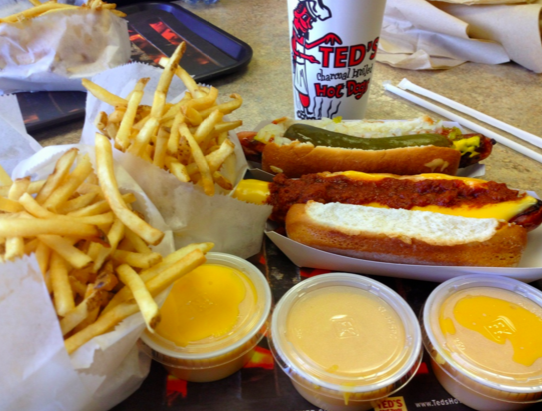 AFM Fave: Best Hot Dogs: Portillo's
Chicago transplants were thrilled when Portillo's opened locally in Scottsdale and Tempe in recent years. The restaurant offers a slew of hot dog offerings, including chili cheese dogs, jumbo dogs and char-grilled Maxwell Street–style dogs. Top the meal off with cheese fries and a malt. portillos.com.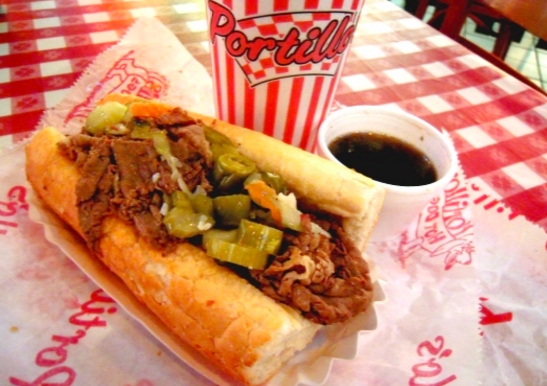 Best Italian: Marcellino Ristorante
Originally from the Campania region of Italy, Chef Marcellino Verzino has a love for authentic Italian cuisine running through his veins. He is passionate about crafting his cuisine of delectable, handmade pastas, Mediterranean seafood and imported wild game. Chef's wife, Sima, has returned to her love of music and is now performing with her trio two Thursday evenings a month at the Scottsdale restaurant. Also a 2015 Winner! marcellinoristorante.com.
Best Locally Owned Drive-Thru: The Stand Burgers & Tacos
By dishing up fresh ground beef, local veggies when available, antibiotic- and hormone-free chicken and hand-spun milkshakes crafted with real ice cream, The Stand in Phoenix has become a favorite drive-thru destination for juicy burgers, tacos and tempting sides that have been made from scratch. thestandbnt.com.
Best Macaron: Paris Rendez Vous
Formerly named Paris Gourmet, Paris Rendez Vous opened in 2014 at Desert Ridge Marketplace. Though the shop's specialty is beautiful macarons, in flavors like green tea, blueberry-lavender and orange blossom, it also has a great selection of French pastries and chocolates, Italian gelato from Gelato Dolce Vita in Mesa (a Best of Our Valley winner), coffee drinks and savory lunch items. paris-rendezvous.com.
Best Mexican Food and Best Taco: Barrio Queen
With a focus on authentic Mexican dishes, Barrio Queen—which has outposts in Gilbert and Old Town, both with fab patio seating—has a large selection of made-to- order tacos, hearty burritos, tortas and enchiladas and must-try Sonoran dogs. To wash it down, choose from a list of 300- plus tequila options. Also a 2015 Winner! barrioqueen.com.
AFM Fave: Best Mexican Food: Jalapeño Inferno
Get fired up by heading to one of Jalapeno Inferno's two Scottsdale locations. To start, put a fork in the popular green corn tamales before moving onto Mexican street tacos, the restaurant's famous fundido and, for dessert, a decadent burnt sugar caramel flan. jalapenoinferno.com.
Best New Restaurant: The Upton
Scottsdale's The Upton specializes in American cuisine and craft cocktails—with a playful approach. On the second Sunday of each month, The Upton welcomes a guest chef for a special Sunday Service family-style meal. On Saturdays, the restaurant just unveiled a new farmers' market brunch that focuses on what's available and fresh at the local market. theuptonaz.com.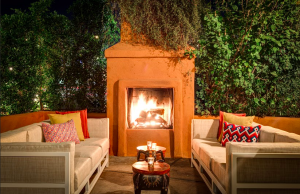 Best Pet-Friendly Restaurant: Randy's Restaurant
A classic diner in Scottsdale, Randy's Restaurant dishes up a miles-long list of breakfast, lunch and dinner options in a casual atmosphere. The longtime favorite is known for its fast, friendly service—and the fact that it doesn't accept credit cards, so be sure to have cash or checks available or be prepared to visit the on-site ATM. randysrestaurantaz.com.
Best Place to Watch the Big Game: Half Moon Windy City Sports Grill
During the spring months, Half Moon Windy City Sports Grill is the best place in town to watch NHL playoffs hockey—especially if you're a Blackhawks fan. The restaurant is also home to the Arizona Rattlers fans, who can catch all the action come summer. For sports-watching fuel, the restaurant features more Chicago-based food items than any other restaurant in the Valley, like real Vienna beef Chicago dogs, Italian beef sandwiches on hoagies from Alpha Baking Company and Eli's Cheesecake. halfmoonsportsgrill.com.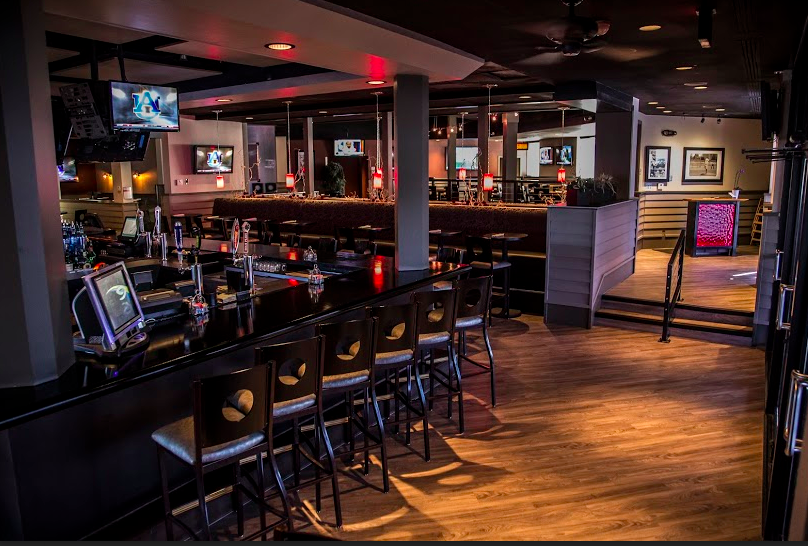 AFM FAVE: Best Place to Watch the Big Game: Wasted Grain
Home of the Scottsdale Seahawkers Booster Club, Wasted Grain is a two-level indoor-outdoor experience with more than 20 high-definition televisions for top-tier sports-watching. For game- day grub that won't break the bank, happy hour is Wednesday through Sunday, 3 to 8 p.m., with specials including $5 small plates (hello chicken tacos and pretzel sticks), house wine, draughts and wells. wastedgrain.com.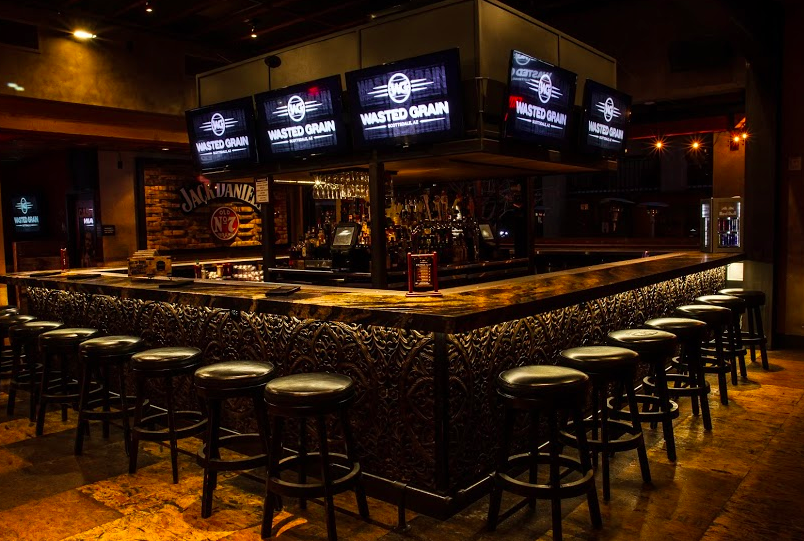 Best Private Dining: Christopher's + Crush Lounge
Christopher's + Crush Lounge at Biltmore Fashion Park offers an elevated private dining experience with space for 25 to 75 guests with presentation options available for corporate meetings, award banquets and more. For an interactive group dining experience, up to 10 guests are invited to the Chef's Table for a one-on- one encounter with Chef Christopher Gross. christophersaz.com.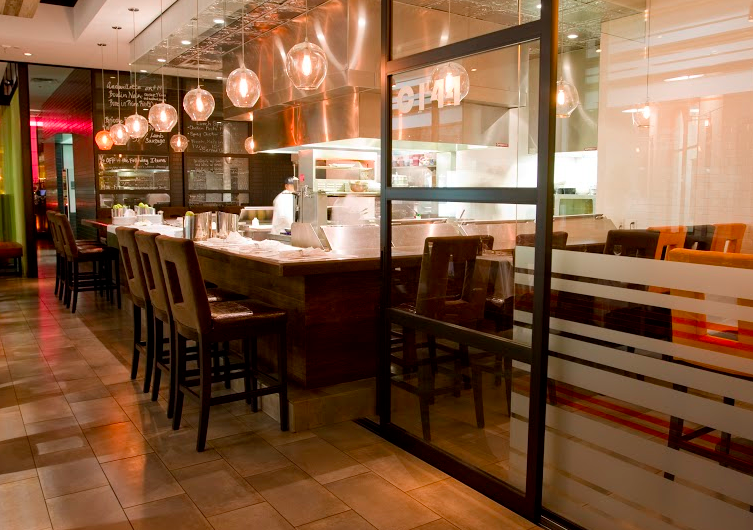 Best Resort Restaurant: Kai at Sheraton Wild Horse Pass Resort & Spa
Kai at Sheraton Wild Horse Pass Resort & Spa is Arizona's only Forbes Five-Star and AAA Five-Diamond awarded restaurant. For 13 years, Kai have been elevating Native American- inspired cuisine, always pushing the envelope on creative culinary concepts in a sophisticated dining experience. To truly dig in to all that Kai has to offer, settle in for the decadent 13-course Journey tasting menu. wildhorsepassresort.com.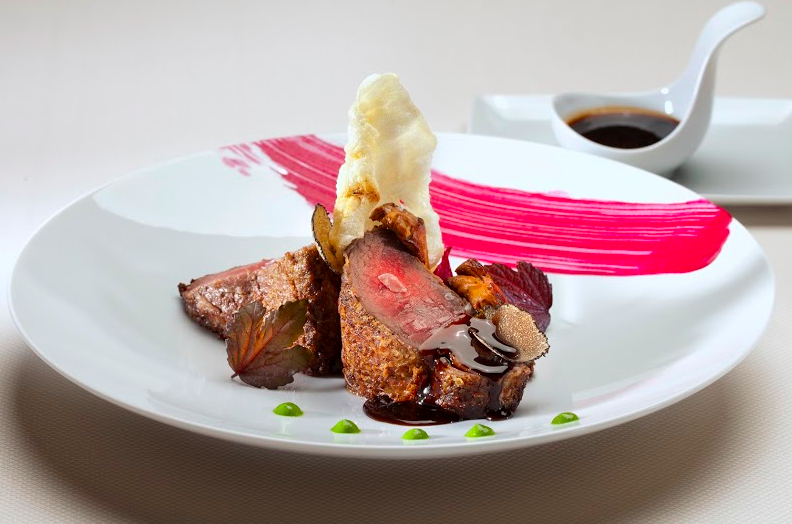 AFM FAVE: Best Resort Restaurant: T. Cook's at Royal Palms Resort and Spa, A Destination Hotel
When Chef Todd Allison joined the team at T. Cook's in the fall as executive chef, he began by reinvigorating the restaurant's Northern Mediterranean roots with cuisine that celebrates the regions of Spain, Northern Italy and Provence. In addition to standout dishes like Durham Ranch wild boar chop and braised pork cheek and pan-roasted John Dory, T. Cook's recently introduced a Sunday Market Brunch. royalpalmshotel.com.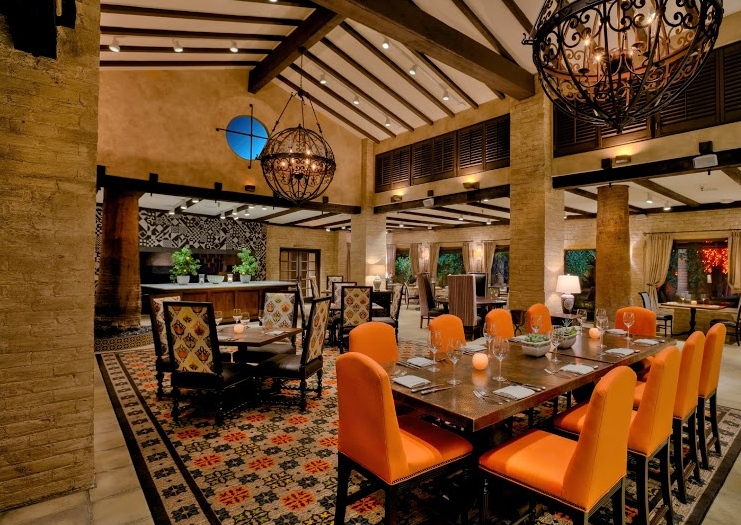 Best Restaurant to Get the Most Bang for Your Buck: Oregano's Pizza Bistro
If you have a hankering for pizza, pasta, salad and more, Oregano's Pizza Bistro is never too far away. The family-friendly restaurant has 14 locations throughout the Valley, with more to come in 2016. Oregano's is known for its large, shareable portions that come at a wallet-friendly price tag. For dessert, diners never miss The Original Pizza Cookie, with a new flavor just added to the menu: Salted Caramel Chocolate Chunk. Also a 2015 Winner! oreganos.com.
Best Seafood: Ocean Prime
The seafood at Ocean Prime is selected daily for freshness, and the menu features wild and naturally harvested fish recommended by the Monterey Bay Aquarium's Seafood Watch. On the menu, choose from 10 composed seafood dishes, six sushi offerings and a customizable raw bar—not to mention Ocean Prime's delish made-daily lobster bisque. On Sundays, the High Street dining destinations offers a Surf & Turf menu featuring an eight-ounce filet and your choice of "surf," accompanied by soup or salad and a side for $55 per person. ocean-prime.com.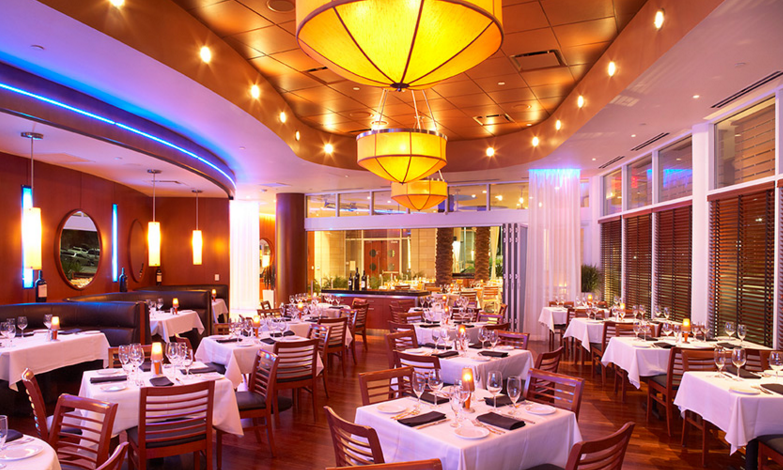 Best Sky Harbor Airport Dining: Press Coffee Food & Wine
Press Coffee Food and Wine opened in 2012 at Sky Harbor Airport in Terminal 4, near Gates B9 of the American Airlines gates. The popular coffee bar offer travelers a healthy alternative to traditional airport fare, thanks to low-carb and gluten-free dishes. The fresh bakery items are delivered every morning and are served alongside gourmet coffee drinks. For something stronger, Press is also known for its wine and imported and domestic beer options. presscoffee.com.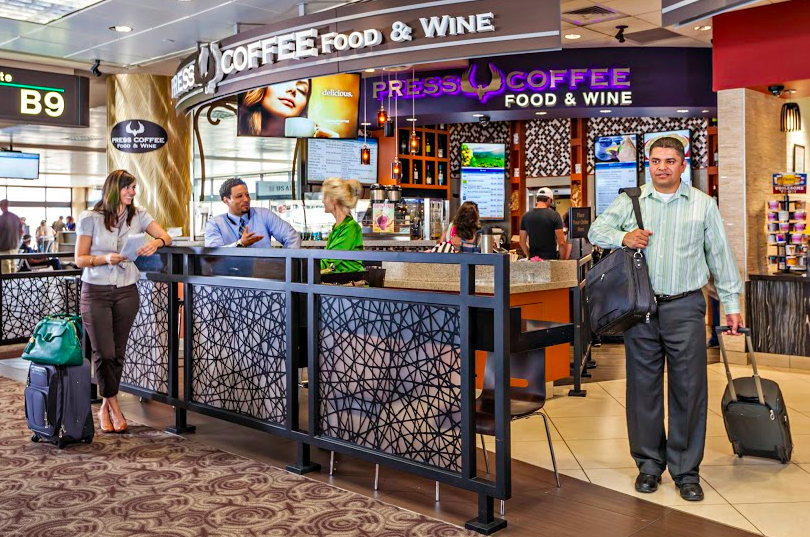 AFM FAVE: Best Sky Harbor Airport Dining: Blanco Tacos + Tequila
Located at Terminal 4 at Sky Harbor Airport, busy travelers stop by Blanco Tacos + Tequila for tasty tacos and burritos, crowd-pleasing cheese crisps and a tasty margarita to calm any pre-flight jitters. Breakfast and late-night menus are also available for those catching—or departing from—the red eye. foxrc.com.
Best Slice: Spinato's
Family-owned Spinato's is a longtime Valley favorite, opening its doors in 1974. Its list of delectable 'za recently welcomed a newcomer: Salsiccia Di Pollo with chicken sausage, light spinach, roasted red pepper, red onions, fresh garlic, pecorino romano, light mozzarella, fontina and an extra virgin olive oil base. Though Spinato's is synonymous with pizza, one of their most famous items is the spaghetti calzone. spinatospizzeria.com.
AFM FAVE: Best Slice: Pomo Pizzeria
The centerpiece of each Pomo Pizzeria restaurant is a glorious hand-built, wood-burning oven whose bricks are bonded together with volcanic sands from southern Italy. In the oven, Pomo's Neapolitan-style pizzas are cooked quickly and to perfection at 905 degrees. There are locations in Scottsdale, Phoenix, Glendale and Gilbert. pomopizzeria.com.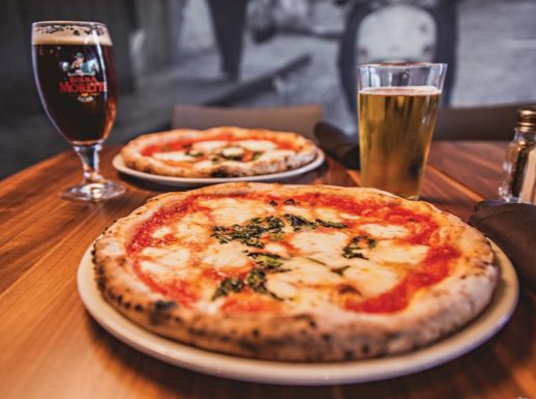 Best Spa Cuisine: Joya Terrace, Joya Spa at Omni Scottsdale Resort & Spa at Montelucia
From refreshing cocktails and Champagnes to energizing light bites (including shrimp gazpacho adorably served in an avocado bowl), Joya Terrace dishes up sustenance—and scrumptiousness—to spa-goers. This space offers breathtaking views of Camelback Mountain exclusively to spa guests from its beautiful rooftop, to boot. The Joya Terrace menu is available 11 a.m. to 5 p.m. omnihotels.com/scottsdale.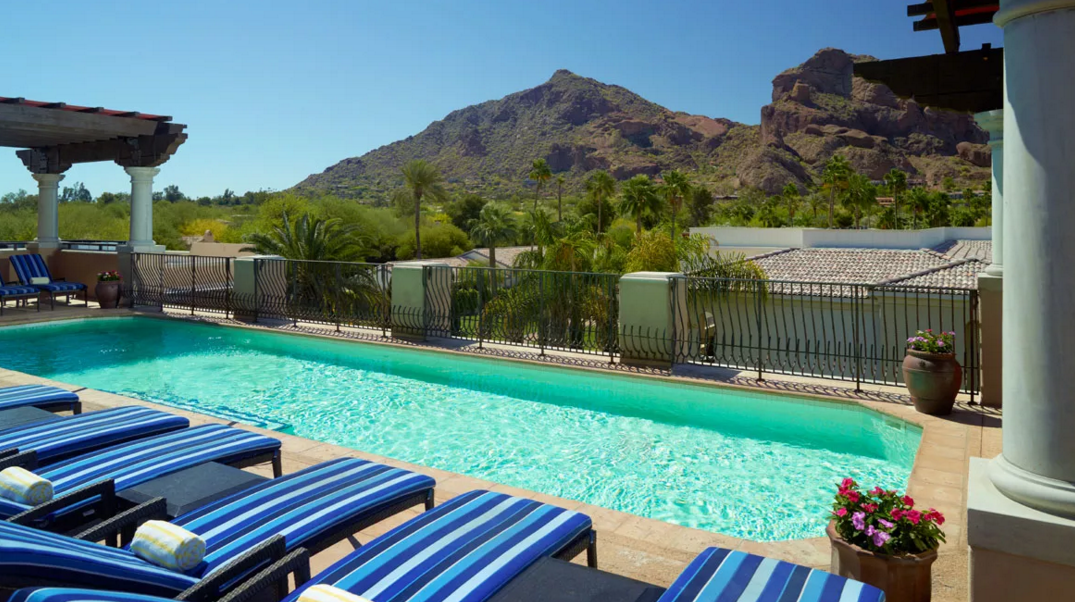 Best Steakhouse: Shula's Steak House
For true steak lovers only, Shula's Steak House is home to the infamous 48-ounce porterhouse. Those who finish it join Shula's 48-ounce club, which currently has more than 30,000 members. For a more figure-friendly portion, the steakhouse dishes up mouthwatering filet mignon, New York strip, ribeye and more, alongside Shula's signature sauces. The extensive wine list and always-rotating cocktail program are also fan favorites. donshula.com.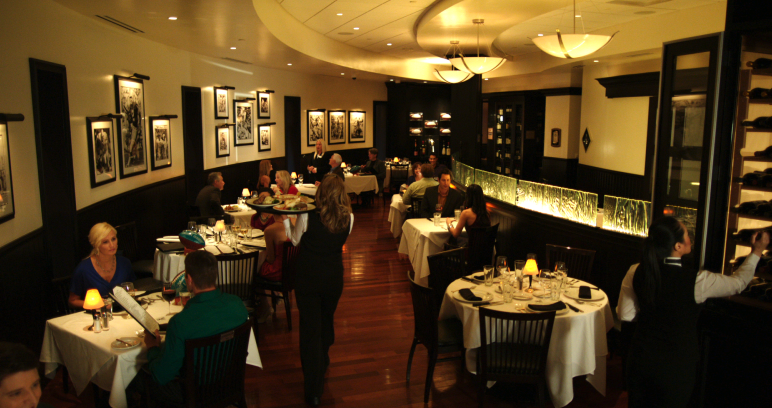 AFM FAVE: Best Steakhouse: Steak 44
A favorite Valley date-night destination, Steak 44 in Phoenix dishes up a sexy, glam atmosphere alongside a menu of prime steaks and chops, fresh fish, 20 mouthwatering side dish options and more. For dessert, share the red velvet bread pudding or grilled banana split to finish your feast on a high note. steak44.com.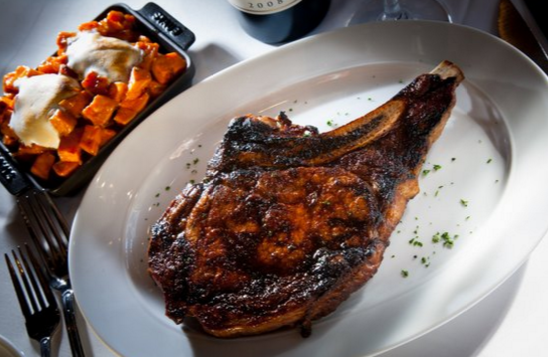 Best Tea Spot: The Phoenician
Full tea at The Phoenician means three courses that feature delicate finger sandwiches, scones with lemon curd, Devonshire cream and fruit preserves, and a variety of tempting pastries alongside a selection of premier teas. To top off the upscale experience, Afternoon Tea is accompanied by live piano standards. Be sure to make a reservation for Breast Cancer Awareness Month (October), when pastel linens and menus printed in pink accessorize the tea setting and specialty desserts and a sparkling Brut Rosé served.  At this time, a portion of the proceeds are donated to the Susan G. Komen Foundation of Central and Northern Arizona. thephoenician.com.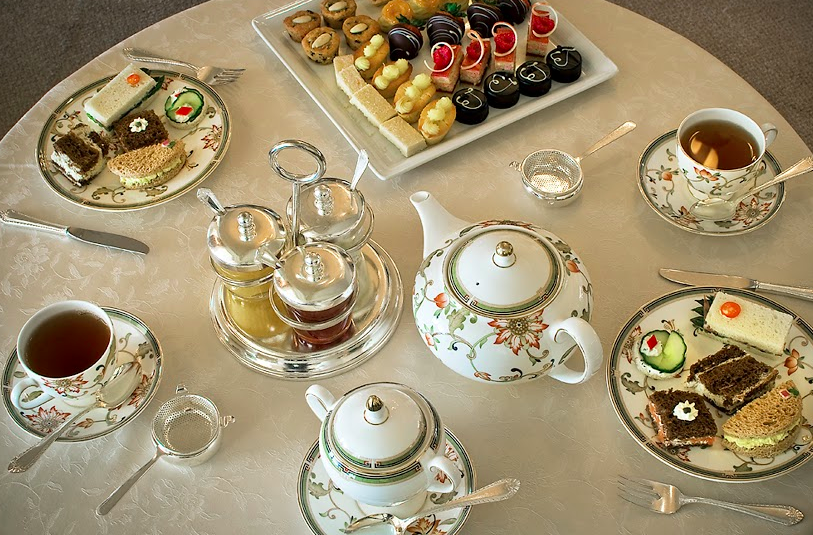 Best Teppanyaki: Sapporo
Who doesn't love dinner and a show? At Scottsdale's Sapporo, you can get both in one setting. Before your eyes, the teppanyaki chef whips the likes of wagyu beef, filet mignon, shrimp and calamari steaks with a result that is as entertaining as it is delicious. If you're celebrating a special occasion, consider reserving a spot for one of Sapporo's decadent Feasts. sapporoscottsdale.com.
Best Valley Food Truck: Saffron JAK
By using a Persian sourdough flatbread called Sangak in lieu of traditional pizza dough on their menu, Saffron JAK impresses the masses with its stonebread pizzas, and their smokey flavor, and has been since the fall of 2013. This year, the team announced the opening of Sangak Bread Bakery using a unique oven which is one of only 20 in the U.S. The bakery items will be available at Phoenix Public Farmers Market this fall. saffronjak.com.
AFM FAVE: Best Valley Food Truck: Waffle Love AZ
Waffle Love AZ dishes out liege waffles made with high-quality ingredients and crowned with a slew of toppings and house-made whipped cream. Most items on the menu are locally sourced (with the exception of pearl sugar imported from Belgium), and menu staples include The Red Wonder, topped with biscoff spread, fresh raspberries and strawberries and whipped cream and The Nutella Love, featuring the popular chocolate-hazelnut spread. A few months ago, Waffle Love AZ opened its first Arizona storefront in Gilbert where customers can savor the new grilled cheese waffle with tomato-basil bisque. waffluv.com/az.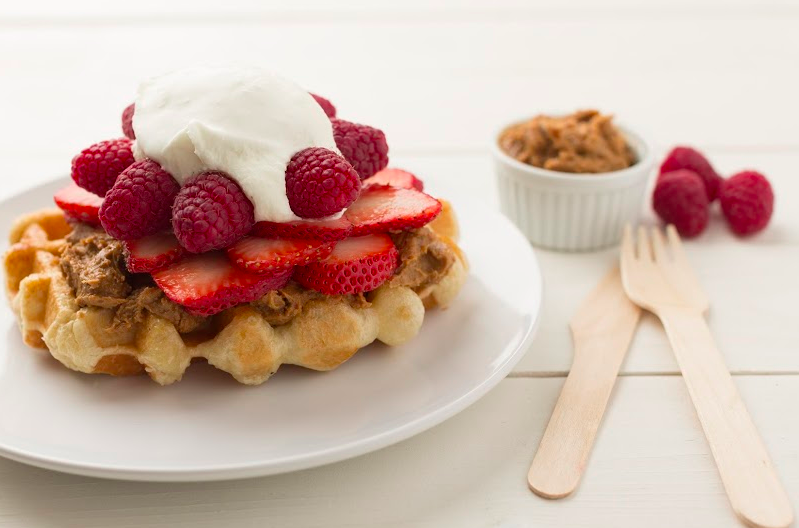 Best View: Different Pointe of View at Pointe Hilton Tapatio Cliffs Resort
For more than 30 years, diners have trekked to the mountaintop restaurant of Different Pointe of View to feast their eyes on the beautiful desert landscape and twinkling city lights below. Request a spot outdoors for a front-row seat, though every seat in the house proffers incredible panoramas. On the menu, order up pork belly, port-braised short ribs, seared Scottish steelhead and much more. tapatiocliffshilton.com.
Favorite Local Food Blog or Website: Write on Rubee
After time as a food and beverage writer for Arizona Wine Lifestyle for seven years, Christina Barrueta wanted her own outlet to showcase the state's culinary and beverage talent. Thus, Write on Rubee was launched. Readers come by time and time again for interviews with chefs, sommeliers, winemakers, bartenders and independent business owners, coverage of events, recipes, restaurant reviews, travel recommendations and gardening tips (Barrueta is an avid gardener). writeonrubee.com.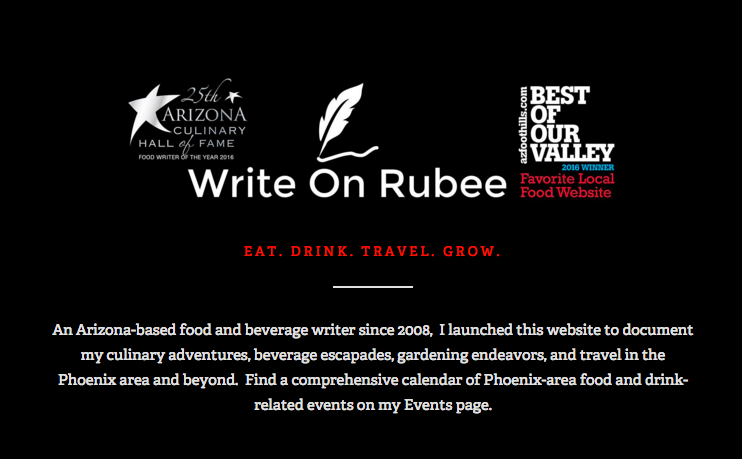 Most Amazing Restaurant Interior: Quiessence at The Farm at South Mountain
As memorable and unique as its ever-changing farm-to- table menu is Quiessence at The Farm at South Mountain's gorgeous, rustic setting. Tucked away in the back of the 10-acre pecan grove surrounded by towering trees, Quiessence is an old house brimming with charm with a squeaky wood floor and a sprinkling of twinkle lights. thefarmatsouthmountain.com.
AFM FAVE: Most Amazing Restaurant Interior: J&G Steakhouse
J&G Steakhouse at The Phoenician somehow marries masculine good looks with bits of glitz and glamour in its beautiful dining space. The restaurant is draped in a rich palate of purple and gold with a modern flair. If they can avert their eyes long enough from the lovely interiors, diners will enjoy dramatic sunsets and views of the Valley as well. jgsteakhousescottsdale.com.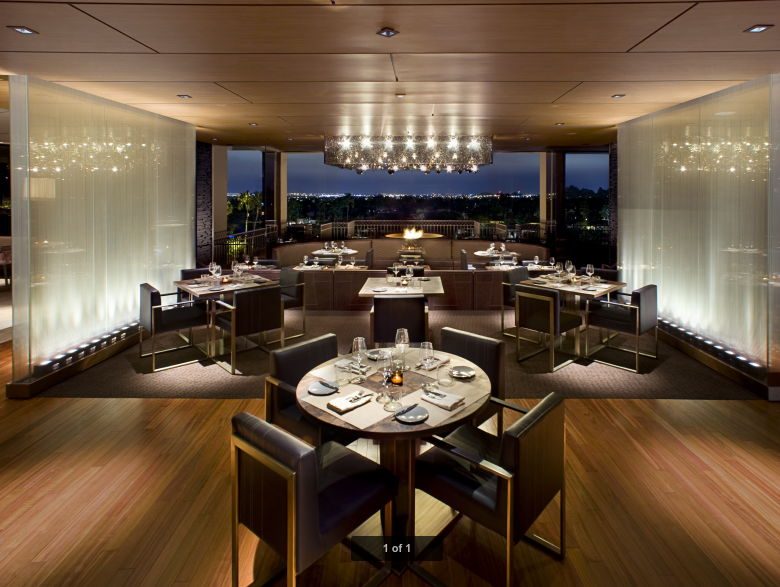 Old Favorite: Durant's
Serving the Valley for more than 65 years, Durant's in Phoenix is a beloved neighborhood staple dishing up classic steakhouse eats (think crab cakes, jumbo shrimp, filet mignon and liver specials). When visiting, be sure to enter through the back doorway. durantsaz.com. CLOSE CALL: Tomaso's Italian Restaurant lagged Durant's by a mere four votes.
Spiciest Dining: Los Dos Molinos
The two Phoenix locations of Los Dos Molinos serve authentic New Mexican fare—with a kick. A longtime favorite for locals who like a little heat with their meal, Los Dos Molinos designates their spiciest dishes—including adovada ribs and shrimp Veracruz—with a picture of a red hot chili pepper to warn the heat-opposed. losdosmolinosphoenix.com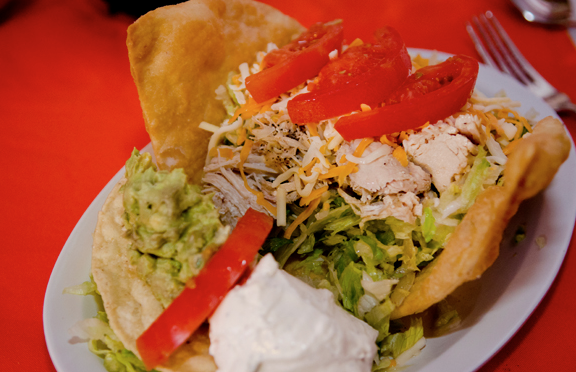 Buy your copy of Arizona Foothills Magazine Best of Our Valley 2016 Collectors Edition issue here or get the digital version here.