It's the season of pool parties in the Valley.  Whether you're just looking to kickback and relax or attend a poolside concert, there is a place and a pool for you.  Featured below are the hippest pool parties in Arizona this summer!  This ultimate guide will help you find the hottest destinations to escape the heat.
Mark-Taylor's Summer of Love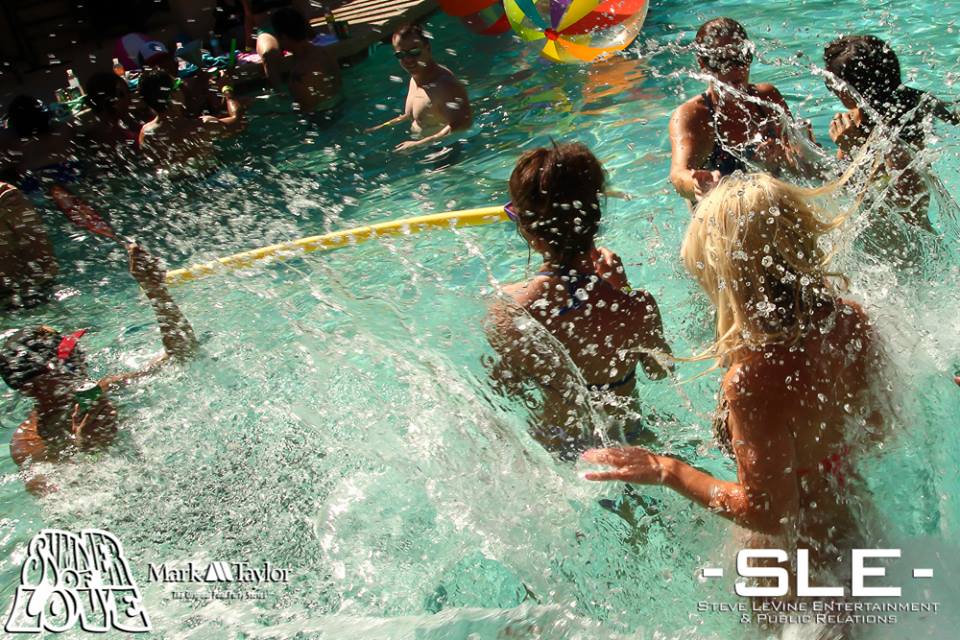 Image courtesy of Jacob Tyler Dunn
Mark-Taylor's Summer of Love pool parties are a must this summer.  Mark-Taylor's Summer of Love is back and better than ever with its eighth year.  Season 8 will give you the chance to win a personalized pool party for whatever you want to celebrate.  The contest winner will receive a personalized Summer of Love pool party complete with an Uber ride to and from the party, VIP Cabana, playlist preferences and more!
Below is a list of the upcoming pool party dates and locations. The pool parties will go from 12 p.m. until 4 p.m.
Upcoming pool party dates:
Saturday, June 14 – San Palacio (2255 W. Germann Road, Chandler, AZ85286)
Saturday, June 28 – San Pedregal (16601 N. 12th Street, Phoenix, AZ 85022)
Saturday, July 12 – San Capella (1155 W. Elliot Road Tempe AZ 85284)
Saturday, July 26 – San Norterra (28515 N. North Valley Pkwy Phoenix AZ 85085)
Saturday, August 9 – San Lagos (5901 W. Behrend Drive, Glendale, AZ 85308)
Saturday, August 23 – San Cervantes (400 N. Coronado Street, Chandler, AZ85224)
Saturday, September 6 – San Marbeya (1720 E. Broadway Road, Tempe, AZ 85282)
For additional information, visit Mark-Taylor Pool Party.
W Scottsdale's WET deck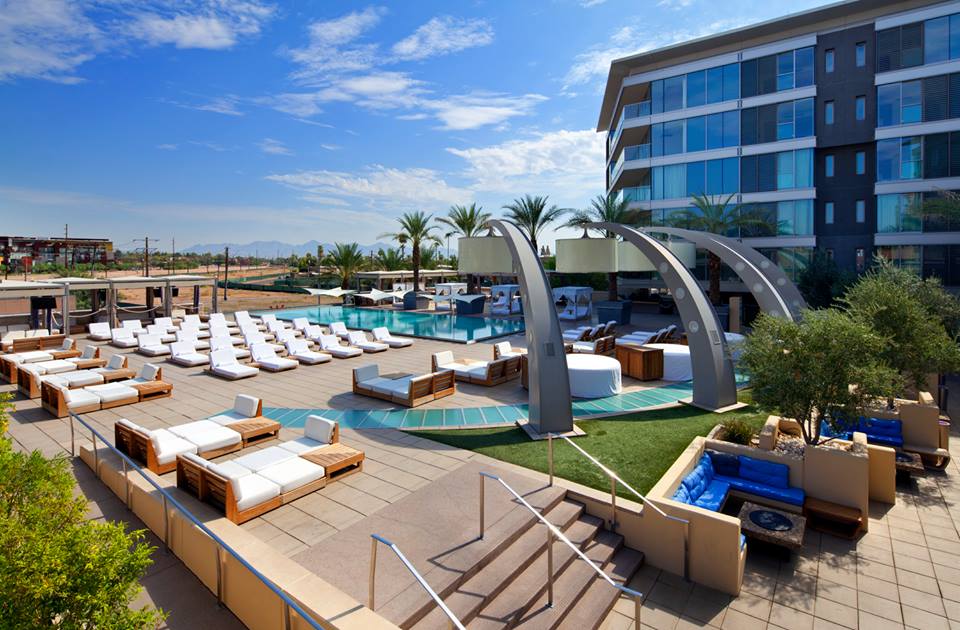 If relaxing and sipping on a summer poolside cocktail sounds appealing to you, W Scottsdale's WET deck is the perfect place for you.  W Scottsdale's WET deck is open all day and night, and is the it scene for some of the Valley's best.  The W Scottsdale Hotel is open for a weekend staycation, but you can also spend a day beside the pool with friends. The WET deck offers a poolside bar that provides food and drinks for all of the guests, keeping your stomach happy as well.  The WET deck pool parties are every weekend all day.
For additional information, visit the W Scottsdale.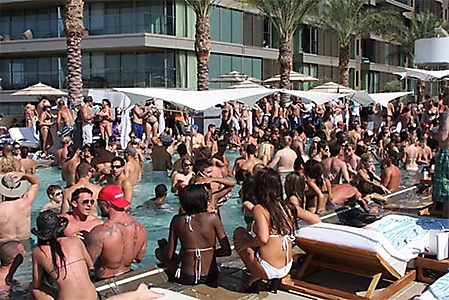 Images courtesy of Shutterbug Photography and Jordan Loyd Photography
Maya Day + Nightclub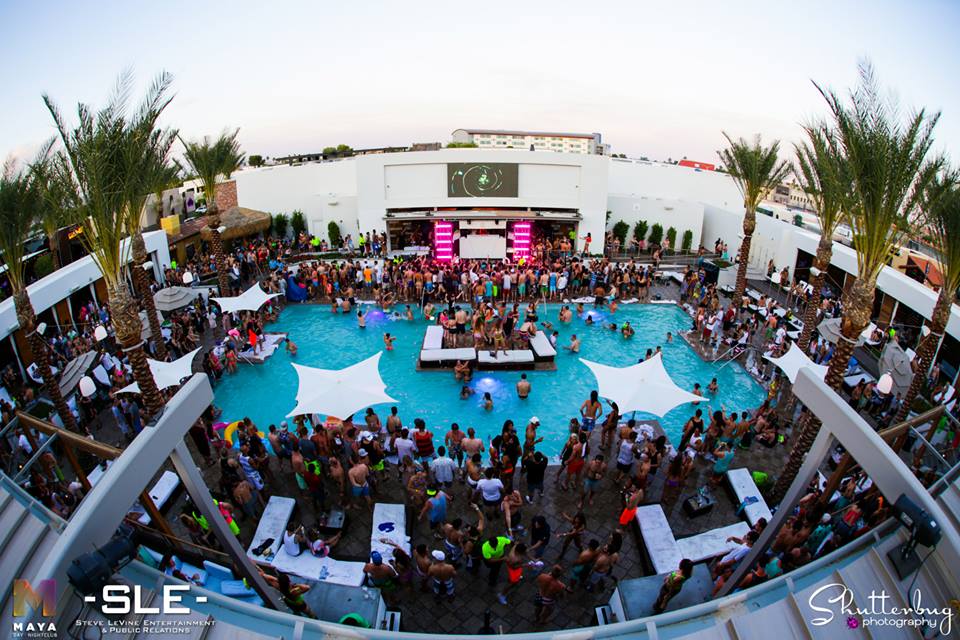 Image courtesy of Shutterbug Photography
One of the hottest clubs in the Valley is also home to one of the best pool scenes.  In the heart of Old Town is the ultimate resort-style day and nightclub, bringing some of the top artists from around the world.  Maya's pool is open every weekend day or night.  If you're looking for a Vegas-style night, this club is the prime scene.  Complete with daybeds, VIP cabanas, three separate outdoor bars, a poolside taco bar and signature cocktails, Maya has everything you need to have the ultimate pool party experience.  Past artists include Tiësto, David Guetta, Above & Beyond, Calvin Harris, The Chainsmokers, Adventure Club, Lil Jon, Steve Aoki, Showtek and many more.
Doors open at 11 a.m. – 6 p.m. for the pool parties.  Cover charge upon entry is $15.
Upcoming Shows:
Every Saturday & Sunday: Pool Party with beats by local resident DJs. Doors open at 11 a.m.
Friday, June 13: Ferry Corsten 9 p.m.
Friday, June 27: Brazzabelle 9 p.m.
Sunday, July 6: Jayceeoh 9 p.m.
Friday, July 11: Milo & Otis 9 p.m.
Friday, July 25: Seven Lions 9 p.m.
Friday, August 8: Markus Schulz 9 p.m.
Friday, August 22: Borgeous 9 p.m.
Talking Stick Resort Pool Parties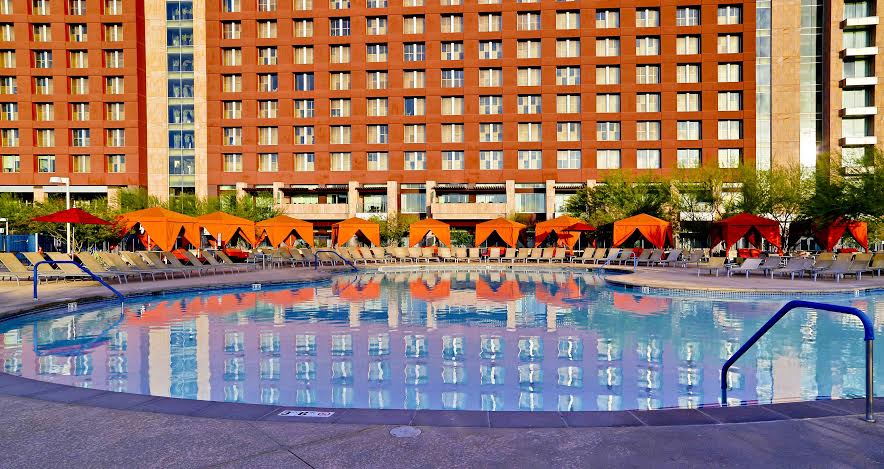 Another epic series of summer pool parties at the Talking Stick Resort is coming to the Valley this summer!  The parties will run every weekend throughout the summer, and will feature live DJs, food, cocktail specials, concerts and more.  Admission is free on most weekends.  Parties will take place from 11 a.m. until 6 p.m. until September.
For additional information, visit Talking Stick Resort's website.