Fans of the country-themed bar will soon have another location to kick up their heels at. Opening on February 27 at Heritage Marketplace in downtown Gilbert, Arizona native Dierks Bentley's alongside Riot Hospitality Group will open its third Arizona Whiskey Row restaurant. Embracing its location with a design reflective of the town's agricultural roots. the 8,700-sq.-ft. restaurant will include contemporary finishes mixed with rustic materials lending to its ambiance of an agriculturally-inspired warehouse.
"This Class-A restaurant was developed using best-in-class construction featuring reclaimed woods and steel, with an emphasis on high ceilings and natural light, giving the restaurant the feeling of an old barn or trading post," said Ryan Hibbert, CEO of Riot Hospitality Group. "The restaurant's entrance and exterior windows face Gilbert Road, which really fosters connectivity to the lively, pedestrian-friendly downtown atmosphere, while also providing significant frontage for everyone that passes by."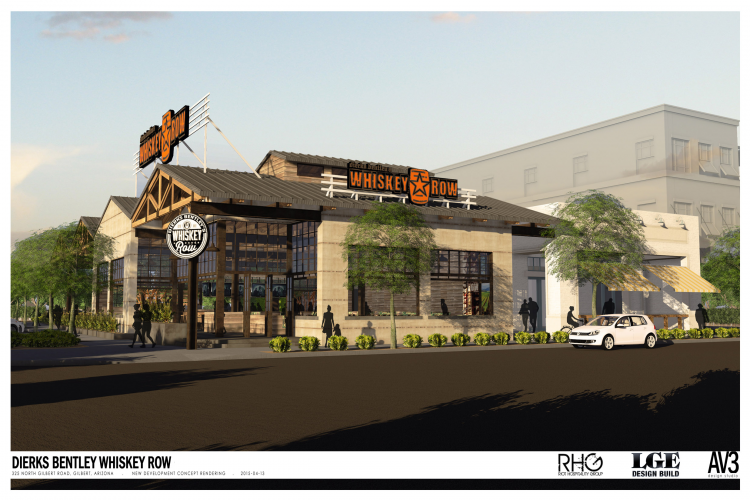 Along with its unique construction and up-and-coming location, the restaurant's menu will be 30 percent larger than the other locations and will boast modern American fare using local ingredients, more than 50 beers on tap and daily happy hour specials. Entertainment will include TVs, live music on the weekends, a dance floor, a stage and a 4,600-sq.-ft. outdoor patio with cornhole and ping-pong.
"When we opened our first Whiskey Row three years ago, I never would have guessed we'd be three bars in, in three years," said Bentley. "The Riot group and I have spent a lot of time making sure each Whiskey Row is our version of the perfect place to listen to music, watch a game or grab some great food and drinks. The vibe is really unique and special, and it's awesome to see so many people enjoying themselves at Whiskey Row."
For more information, visit: dierkswhiskeyrow.com/gilbert-az