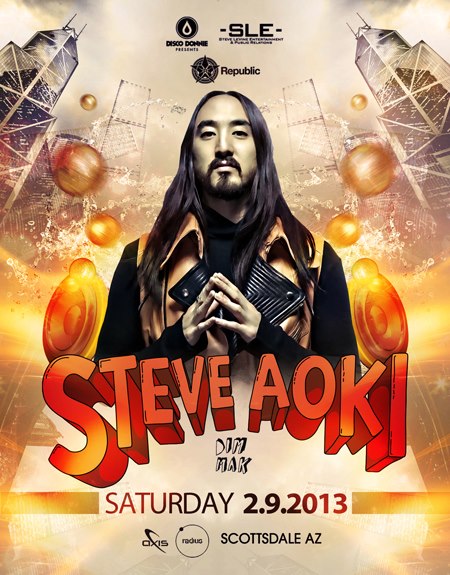 REPUBLIC Features Electro DJ on February 9
Steve LeVine Entertainment & Public Relations (SLE), Disco Donnie Presents (DDP), and Evening Entertainment Group (EEG) bring DJ and producer Steve Aoki to Axis Radius for REPUBLIC on Saturday, February 9, located at 7340 E. Indian Plaza Scottsdale, Ariz. Doors open at 9:00 p.m. and the event is 21 years and older.
California native Steve Hiroyuki Aoki has made a name for himself as a DJ, producer and founder of his record label, Dim Mak Records, in 1996. He began his career producing records and hosting concerts in his Santa Barbara living room while attending the University of California. Aoki released his first mix album "Pillowface and his Airplane Chronicles" in 2008, which was named best mix album of the year by Billboard Magazine. Dim Mak Records helped to launch acts such as Bloody Beetroots, Felix Cartal and MSTRKRFT.
Aoki debuted his solo album "Wonderland" in January 2012. The album featured a variety of electronic dance music genres and renowned guest vocals and musicians like LMFAO, will.i.am, Lil Jon and more.
His latest EP, "The End of the World as we know it", was released December 2012 as a three track electro compilation featuring acts such as Angger Dimas, Kay and Miss Palmer.
Aoki was Ranked No. 15 on DJ Mag's Top 100 DJ Chart in 2012. Aoki performs an average of 250 shows annually worldwide including Future Music Festival in Australia, and Lollapalooza in Brazil.
For more information or to purchase tickets, please visit www.sletickets.com.
For skybox, limo, bottle/table reservations please call Axis Radius 480.208.4824
Steve Aoki
► www.steveaoki.com
► www.facebook.com/Steve.Aoki
► www.twitter.com/steveaoki
Steve LeVine Entertainment & Public Relations
► www.facebook.com/slemusicevents
► www.twitter.com/slemusic
Axis Radius
► www.axis-radius.com/
► www.facebook.com/axisradiusaz
► www.twitter.com/axisradius