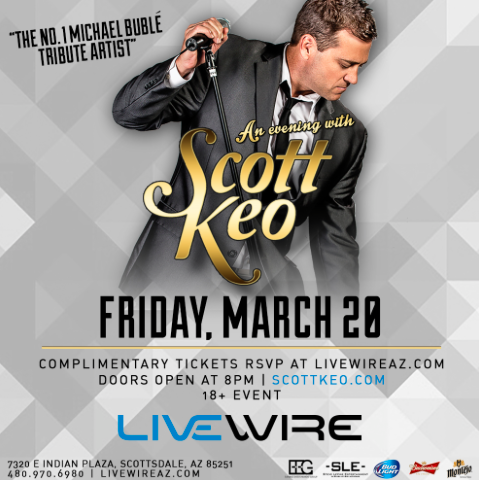 What better way to welcome the season of spring than by listening to the soulful sounds of Scott Keo, the number one Michael Bublé tribute act. With more than fifteen years of experience, Scott has passionately captivated audiences all around. "I never loved jazz music," Scott explained, "but I never hated it either." He first was introduced to the swooning sounds of Michael Bublé while dj'ing at a wedding when he played the song "Home." "After that I started looking his music up and completely fell in love." After growing up on music like Guns N' Roses, Scott described discovering Michael Bublé's voice like "finding my twin." As an audience listening to him, it would be easy to say it's like listening to his twin as well. With his debut single "All To You" selling over 40,000 copies and grabbing the No. 1 spot on WeddingWire.com's list of "Groom-Mother Song," Scott is enjoying every moment.
Extremely passionate, his love for jazz music is about as big as his love for our beautiful state. Scott has recently finished writing and recording a song completely dedicated to Arizona. "I specifically mention Scottsdale, and the Bird's Nest, and how it gets hotter at night," Scott explains. When asked what his inspiration was for writing such a song, he contributes it to the love that teams like the Los Angeles Dodgers and New York Yankees receive when their songs play at games. "The Dodgers have 'I Love L.A.' and the Yankees have 'New York, New York,' but when the Cardinals and Diamondbacks, and Suns play they don't have anything. I wanted to give them something."
When asked what he loves most about Scottsdale, Scott simply replied by saying he "loves Scottsdale because of how much Scottsdale loves their nightlife." "I don't even know if Beverly Hills can compete!" he says. Headed to Old Town, Scott is set to perform at Livewire again on Friday, March 20 after being the very first, opening act to ever perform there. "Livewire is like a mini arena," he explains. Describing the venue and sound quality as amazing, Scott is convinced that this performance will be even bigger and better than the first time. And if his enthusiasm for this performance is any sign of how the show will be, then it's going to be spectacular.
Doors open at 8 pm. 18+ event. Tickets on sale here.
Livewire
7340 E. Indian Plaza
Scottsdale, AZ 85251
(480) 970-6980
-By Suzanne Koch