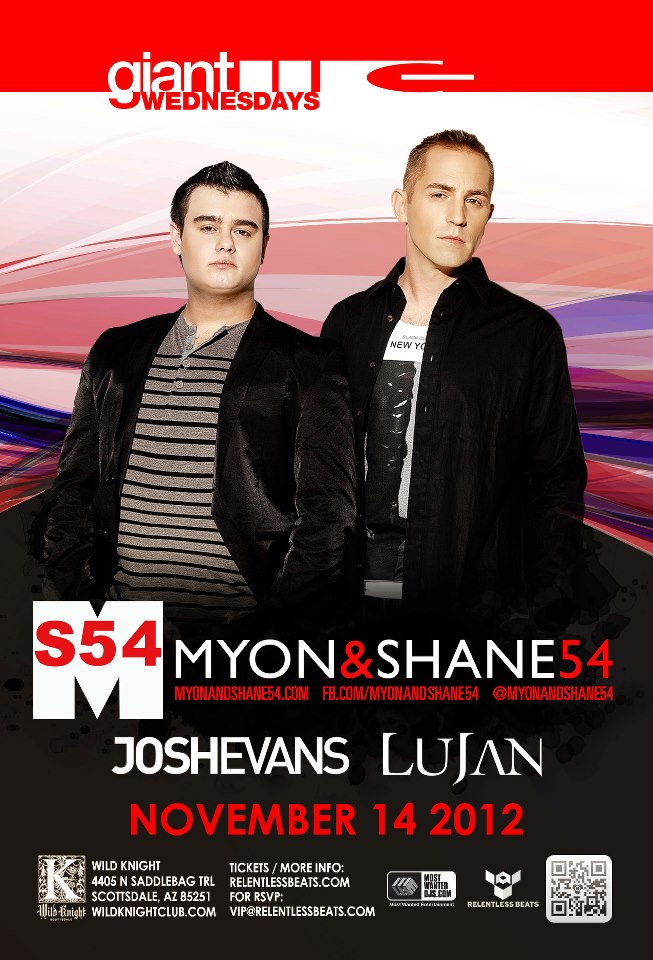 Relentless Beats presents GIANT Wednesday featuring Myon and Shane 54 at Wild Knight in Old Town Scottsdale on Wednesday, November 14, 2012. Tickets are a steal at only $10 and you better act fast because Relentless Beats is currently running a promotion that will allow you access to both Myon & Shane 54 on Wednesday and Emma Hewitt on Friday for only $20!
Although this show might be on a Wednesday night, it's undoubtedly worth the rough morning at the office Thrusday. This Hungarian Duo made our editors top 5 EDM artists of the year and consistently destroys dance floors with their uplifting and melodic Summer of Love Remixes. Tomorrowland, ASOT 550, and Ultra Music Festival attendees, there isn't a track out their that these guys can't turn into a massive hit, including Jessie J's Domino, which was also one of the top tracks of the year.
[youtube id="2YhshSW02Gw" width="600″ height="350″]
DJ/Producers Myon & Shane54, known to their mothers as Márió Éget? and El?d Császár, come packed with one of the most unique attitudes in the trance scene. And you won't hear these guys complaining about the explosion of 'EDM' in America; in 2012, it's opened more doors for them than at any other time in their career.
The quality of their work was quickly spotted by #1 DJ Armin van Buuren, whose fans voted them straight into the live ASOT 400 live broadcast; featured on the last two ASOT compilations, and remixing his own productions. This has been echoed by other top producers including Andy Moor and Above & Beyond, who quickly signed them up to feature on their compilation albums.
"It's been an incredible year for us. We were finally able to work on projects by pop artists like Jessie J and Craig David, and we're pushing the boundaries of what people think is acceptable in dance music. Our Andain remix became a major radio hit in the US, where we played a lot this year. We now have more fans there than in the rest of the world combined."
[youtube id="MT3okDXF874″ width="600″ height="350″]
Along the way, it's been their distinct approach to remixes and mash-ups that's helped them stand out from the trance pack. "We always went after our own style, even when mash-ups weren't as popular as they are now. They inject freshness into tracks you'd love to play, but might be a little bored of and, if done right, a good mash-up can elevate two average tracks into megahit territory. It's a very powerful, but mostly underrated weapon." On top of this they have a new 'Anjunaband' called 'Velvetine', a partnership with legendary trance singer Aruna on Ajunabeats.
EDM fans are demanding them at gigs across the globe leaving little time to unpack the suitcase between events. Myon & Shane 54 are becoming something they've always dreamt about: a driving force in dance music.