The Valley has some of the best happy hour deals of any major metropolitan city.  If you're looking for all the hottest happy hour deals, look no further!  With so many places to experience and so little time, AZ Foothills made it easy for you.  We've compiled a list of the best happy hour destinations in Phoenix for single people.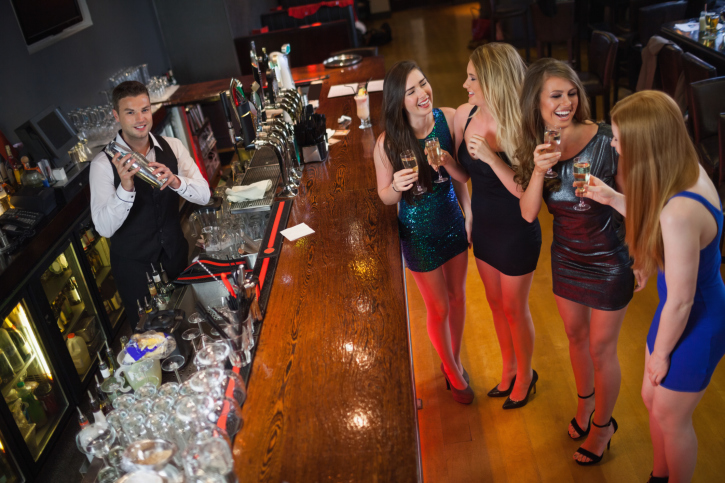 Biltmore Area: Christopher's Crush
Hidden away in the back parking lot by Saks in the Biltmore, Christopher's Crush is hands down the trendiest place to mingle with some of the hottest urban signles.  Attracting a young crowd, you will find everything from attorneys to bankers at this hip place.  While grabbing a vodka soda or glass of champagne, you might even get the chance to chat with Chef Christopher Gross!
For more information, visit www.christophersaz.com.
Arcadia: The Henry
The Henry, one of Fox Restruant Concept's newest gems is one of Arcadia's finest.  The Henry attracts a great crowd, with everything from young professionals to basketball players.  Restaurant guests will often be in the midst of some of the Valley's greatest visionaries formulating some of their best creations!
For more information, visit www.foxrc.com/restaurants/the-henry/.
Old Town: The Mission
There is a never a night where The Mission isn't buzzing with some of the Valley's finest residents.  While enjoying some of the mini appteziers and margaritas, you can chat and unwind with friends in the romantically lit indoor and outdoor scenes.  With some of the best guacamole in Phoenix, guests will never leave disappointed by the culinary expertise of Chef Matt Carter.
For more information, visit www.themissionaz.com.
Kierland Area: Deseo
The Westin Kierland's highly acclaimed restaurant Deseo has a small hidden bar that was as must have on the top happy hour list.  Guests can enjoy fresh mohitos made daily, with your choice from an assortment of fresh ingredients.  With a smaller area, this fun atmosphere is the perfect place to meet someone.
For more information, visit kierlandresort.com.
North Scottsdale: Isabellas's Kitchen
Looking for a happy hour that has it all?  Isabella's Kitchen is a prime destination for people watching and enjoying delicious food.   They are well-known for their mouthwatering bruschetta.  This open air restaurant has an unbeatable view overlooking Grayhawk Country Club's golf course.  From rocking chairs to fire pits, this is an experience every Arizona resident needs to experience.
For more information, visit grayhawkgolf.com/isabellaskitchen/.
Down Town: Bar Smith
For those looking for a more wild night out, Bar Smith Phoenix is the place for you!  With a rooftop dance floor, disco funk by local DJ Rebel Disco, and amazing drink specials, this is the best place for a night out with friends if you're in your twenties and early thirties.  Ladies, there is even a $2 fireball and coronas deal until midnight on Thursdays!
For more information, visit barsmithphoenix.com.
Gilbert: Postino Wine Cafe
In addition to their other locations around the Valley, Postino Wine Cafe is our pick for the best happy hours in Gilbert.  You can't go wrong with the food, fashionable people and, of course, a wine flight.  This is the perfect place to spend a week night out in the Gilbert area.  Postino offers $5 wine by the glass and pitchers of beer from 11 a.m. to 5 p.m. seven days a week.  With a friendly staff and open feel, you will feel right at home at Postino Wine Cafe.
For more information, visit www.postinowinecafe.com.
Gilbert: Blue Wasabi Sushi
Sushi and a martini anyone?  Another of our favorite happy hour destinations in Gilbert, Blue Wasabi has everything you could want. With excellent service, lively people and great patio, this is our pick for the best sushi and happy hour in Gilbert.
For more information, visit bluewasabisushi.com.
Chandler: SanTan Brewing Company
Known as a hot spot for Sundays, SanTan Brewing Company is one of Chandler's favorites, along with our pick for best happy hour for singles in Chandler.  Ever since its opening in 2007, SanTan Brewing Company has been one of Historic Downtown Chandler's best gems.  Not only do they have great craft beer and food to match, but a happy hour that is certainly happy.  This brewing company attracts all the young and trendy Chandler residents.
For more information on their happy hour times, vist www.santanbrewing.com.
Tempe: Z'Tejas
While Z'Tejas has several locations around the Valley, the Tempe patio scene at Z'Tejas is the place to be.  Guests can enjoy their thirst quenching signature margaritas for $5, $2 off glasses of wine, and many other noteworthy deals during their happy hour.  Great ambience and killer happy hour.  What more could you want?
For more information, visit ztejas.com.
Gendale: Rock Bottom
One of America's finest chains, Rock Bottom has a little bit of everything for this happy hour.  With hand-crafter beers and made-from-scratch foods, this is the perfect destination for a night out with friends.  Happy hour times are from 4 to 7 p.m seven days a week, and from 10 p.m. to close.
For more information, visit www.rockbottom.com.