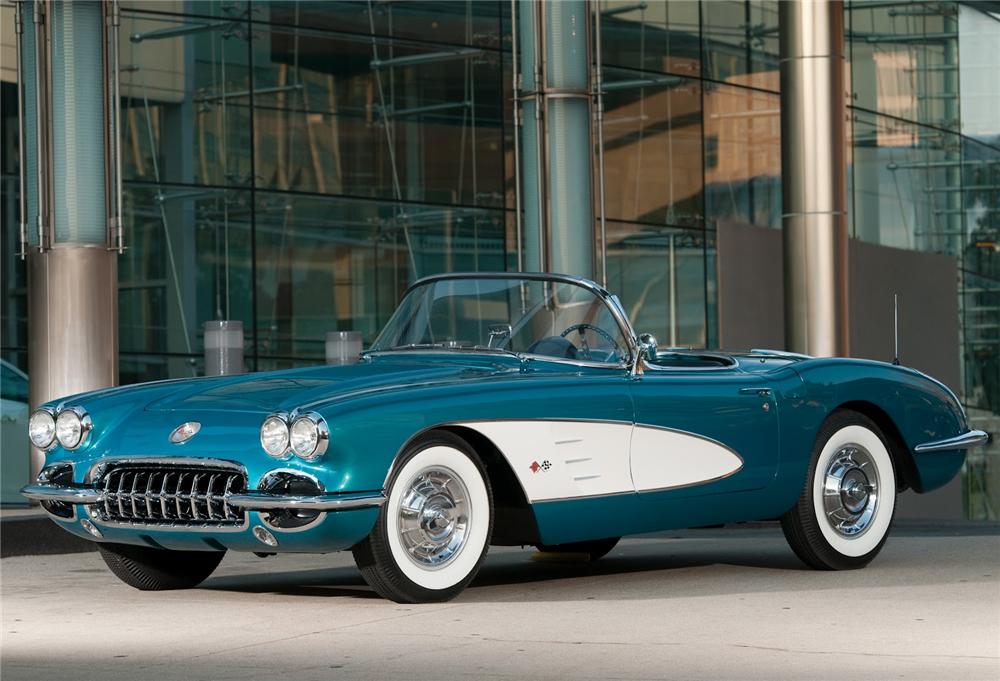 On Wednesday at Barrett-Jackson, Rusty Wallace's one-of-a-kind 2013 Ford Mustang GT NASCAR Race Car sold for $200,000, with proceeds benefiting the NASCAR Foundation. Over the next few days, 19 more cars will cross the block to raise money for charities benefiting children, military personnel, medical research and community organizations.
Thursday at 8 p.m., celebrity chef and restaurant mogul Guy Fieri will auction off his 2013 Chevrolet Corvette 427 Convertible to benefit Cooking with Kids. A pair of 2010 Indian Chief custom motorcycles with Jack Daniels paintwork will be sold to benefit Camp Southern Ground. Other vehicles' proceeds will support Arizona Special Olympics and Cox Charities and Childhelp.
On Friday, General Motors Chairman and CEO Dan Akerson's 1958 Regal Turquoise Chevy Corvette Convertible (pictured above) will go up for auction to support Habitat for Humanity, along four other vehicles whose proceeds will benefit Edith and Benson Ford Heart & Vascular Institute, TGEN Foundation, SEMA Cares, and St. Jude Children's Research Hospital,
Saturday's offerings include the one and only 2013 Shelby GT500 Cobra Fastback, a tribute to the late Carroll Shelby by Friends of Carroll, with all proceeds to benefit the Juvenile Diabetes Research Foundation, and President George W. Bush's 2009 Ford F-150 King Ranch Super Crew Pickup, autographed by the former president and benefitting the Fisher House Foundation. Other charities that will benefit from Saturday's auction include American Heart Association, AARP Drive To End Hunger and Center for Creative Studies.
Finally, on Sunday, the Armed Forces Foundation will benefit from the sale of a 1969 Ford Bronco Custom SUV, a 2010 Ford Mustang GT Custom Fastback designed by Steve Carpenter of Galpin Auto Sports will support the Austin Hatcher Foundation and the first 2013 Camaro ZL1 convertible produced for retail sale will be sold to benefit Achilles International.
A complete list of all of the charity vehicles at Barrett-Jackson can be found here. If you can't be at the auction, SPEED will broadcast the show from 5 to 10 p.m., Thursday; Friday and Saturday from noon to 11 p.m.; and Sunday noon to 4 p.m.