So here we are… the countdown to SATC 2 just a mere nine days until the big premiere. Oddly, I didn't think that I would be having this reaction, but I am. The anticipation is building and after seeing Sarah Jessica Parkers interview last night on some random E channel show I am just chomping to see what the Sex and the City team has in store for us. And like most girls who love fashion, I can't wait to see what Patricia Field is up to for the little adventure. If you recall Ms Field snapped up looks straight from the runway for the last movie so the looks were actually hitting stores as exactly the same time that we were bombarding theaters to view the love affair of Carrie and Big.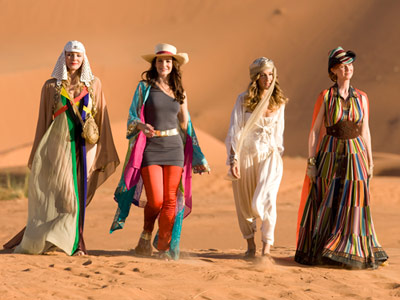 So this time we all know that the girls go on a little trek to Adu Dahbi and Fields certainly doesn't shy away from injecting a little couture into the camel filled rides across the desert. For this flick Carrie has and unbelievable 60 costume changes and the rest of the ladies were not far behind with forty-something of their own.
Pat Fields predicts a few trends will be gleaned from the sequel as they were from the first and the HBO series.
Easy Breezy Diaphanous fabrics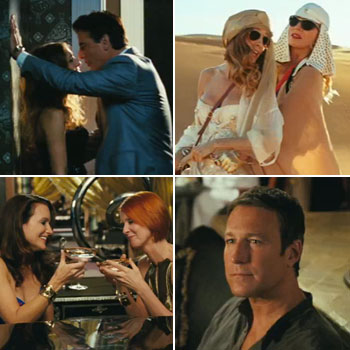 "Long, flowing things look beautiful," she says of a breezy style she employed on all the stars. "The mood and movement of the diaphanous on the desert landscape provides this compatibility with the Middle East style." Fields notes And for us desert dwelling Arizonans what could be better.
The White Halston Dress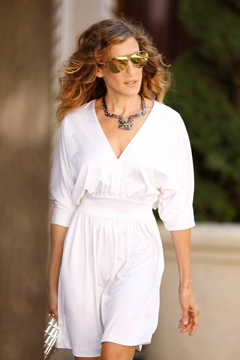 For the city scenes Fields chose to go with a more simple chic approach instead of the extreme shapes of scenes in the past. The White Halston Heritage dress has already caused a stir in boutiques across the country including our own local favorite Estilo who was the first and only place to buy the delicious line in town.
Head Wraps


In the last movie Fields departed from any of the characters wearing hats but in the sequel she was given free reign to adorn as needed so of course even by her admission Fields says– "I went beserk" Interestingly enough, I encounter so many women that want to wear hats or wraps and maybe the Fields/Carrie duo is giving us permission to go at it!
The same way that the Carrie monogram necklace from the first season of the show caused an avalanche of look- at-me-necklace imitators, the lucky clover leaf in the movie may have the same effect. This was one of Fields favorites. You can find one inspired by the movie at amazon.com
Sex and The City 2 opens May 27th